Get a taste for the top attractions in Madrid on this 2.5-hour panoramic tour of the city by coach. Stop by well-known Madrid landmarks like the city's Alcalá Gate (Puerta de Alcalá), its Royal Palace (Palacio Real) and Cybele's Fountain (Fuente de la Cibeles). Along the way you'll tour historic plazas like Plaza Mayor and Plaza de la Villa, see intriguing neighborhoods like Barrio de la Morería and view the city's grand boulevards, listening as your guide shares details on their history and significance. This overview tour of Madrid also offers both am and pm departure times plus a complimentary drink at the Hard Rock Cafe.
Highlights
2.5-hour panoramic sightseeing coach tour of Madrid
Admire top city attractions such as the Royal Palace of Madrid and Cybele's Fountain (Fuente de la Cibeles)
Marvel at Baroque and Renaissance architecture in Madrid's beautiful Plaza Mayor
Cruise down beautiful avenues such as Gran Vía and Paseo de la Castellana
Listen as an expert guide reveals insight into the city's history and heritage
Choose from a morning or afternoon tour
Recent Photos of This Tour
Panoramic Madrid Sightseeing Tour
What You Can Expect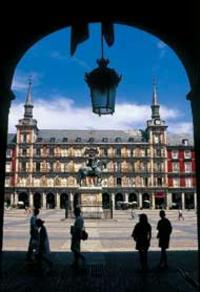 Take a sightseeing overview tour of Madrid during this 2.5-hour exploration of the city by air-conditioned bus. During the course of your ride you're sure to get a sense of the many centuries of history, landmarks, culture and architecture that give this unique Spanish capital its distinct charm.
Start your discovery of the city by choosing to depart at either 9am or 3pm, then meet up with your guide at the Plaza de España in central Madrid to board your bus and start your excursion. Head first to the Barrio de la Morería, where you'll get a sense for the city's ancient foundations that date back to the medieval era. Hear about the Royal Alcazar of Madrid, a historic Arabic fortress that once occupied the area, and admire the elegant design of the city's Royal Palace, located nearby. Continue next to Madrid Rio, where you'll pass across the picturesque bridges, Puente del Rey and Puente de Segovia.
Proceed by bus next to the Plaza Mayor and Plaza de la Villa, two iconic city plazas that exemplify the baroque and renaissance styles favored by Spanish monarch King Philip II in the 16th century. Move on to Cybele's Fountain (Fuente de la Cibeles), arguably one of Madrid's most famous sights, along with the elegant neoclassical beauty of the Alcalá Gate (Puerta de Alcalá).
Drive next along Madrid's broad Gran Vía avenue, along with its Paseo de la Castellana towards Barrio Salamanca, where you'll have a chance to explore a more modern version of the Madrid cityscape. Then drive past the city's renowned Santiago Bernabéu Stadium (home of Real Madrid) and the famous Las Ventas bullring, ground zero for Spain's bullfighting traditions.
Finish your excursion at Plaza de Colón, where you'll disembark from your bus to enjoy an included refreshment at the Hard Rock Cafe followed by a return to your departure point to conclude the trip.
September 2015
saw al we needed to see to get out bearings for the next few days
July 2015
Totally enjoyed our city tour but most importantly our tour guide Javier was the best.
May 2015
Our guide was great!! He really made this tour fun and gave us lots of information about Madrid! He answered everyones questions and made this tour a great one. Great way to start our vacation in Madrid! We came back to places that he recommended, totally worth the money!!!

April 2015
Great way to see the city at the beginning of your stay in Madrid.
February 2015
Very good introduction to Madrid for you to explore at leisure later.
January 2015
February 2014
Loved the tour we saw so much of Madrid which would of been impossible in the two days that we were there, wasn't too keen on the tour guide she wasn't very friendly but we wasn't there for her, Madrid spoke for itself beautiful, enchanting, clean and magical will definetly return one day!!!
PatandIan Canada
October 2013
Excellent introduction to Madrid with knowledgeable and helpful guides. WE got to see all the main tourist attractions with good insight into the history of this city.The walking tour of the central core including Plaza Mayor, tips on restaurants etc were most helpful. This was a morning tour and left us with the afternoon to return to the places we wanted to explore in more depth.
September 2013
September 2013
This was a good overview of the city.
It was so much more helpful having a guide instead of a headset.
Advertisement
Advertisement