Explore the unique culture of Andalusia during your visit to Seville on this 15-hour day trip including high-speed AVE train from Madrid. Climb aboard your train for the ride to Seville, where you'll meet your guide for a three-hour tour of the city's principal landmarks including its famous bullfighting ring, Santa Cruz district, cathedral and Plaza de Espana. You'll also have plenty of time to wander on your own. This Seville day trip also includes all entrance fees on the guided tour and round-trip train tickets from Madrid.
Highlights
Seville day trip by High-Speed rail from Madrid

Enjoy a three-hour tour of Seville with a knowledgeable local guide
Visit Plaza de Espana and the cathedral
See the Torre del Oro, the Triana, the bullring and La Maestranza theater

Tour the plazas and courtyards of the Santa Cruz neighborhood
Explore and enjoy free time in Seville after your tour

Round-trip train tickets from Madrid included

Recent Photos of This Tour
What You Can Expect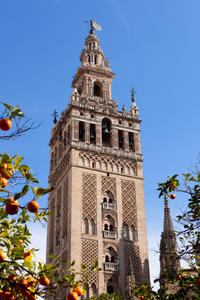 Enjoy the unique history and rich culture of Southern Spain during this 15-hour day trip by high-speed rail leaving from Madrid. During the course of your day you'll spend three hours with a guide exploring some of Seville's top sights before having a few hours to explore on your own.
Start your excursion to Seville at Madrid's Atocha Station at 7am, meeting at the station's AVE Train departures area. Make sure to arrive a little early for your journey. Upon arrival at Seville's train station you'll be met by your guide, beginning a three-hour exploration of some of this Andalusian city's most famous landmarks. Depending on the day of the week you visit you may be taken on either the Classic Seville tour, which investigates some of the urban area's most interesting architectural landmarks, or the Historic Seville tour, which takes a deeper dive into the many centuries of history of this ancient town.
During the Classic Seville tour, you'll have a chance to visit the beautiful environs of the Plaza de España, before checking out the city's iconic bell tower, the Giralda, once a minaret during the years the city was occupied by the Moors. Head next to the Torre del Oro watchtower and then wander the banks of the Guadalquivir River, crossing the beautiful Triana Bridge. For those who take the Historic Seville tour, you'll stop first at America Square, a plaza designed to celebrate the Ibero-American Exposition of 1929. After taking a look at its Muslim pavilion, explore the beautifully manicured grounds of the royal fortress, admiring its many statues, lush garden and mosaics.
No matter which tour you end up receiving, you'll also get to explore Seville's Barrio de Santa Cruz, the city's medieval-era Jewish quarter, which is characterized by an atmospheric maze of narrow streets, ancient churches and intimate public squares flanked by orange trees. After the three-hour tour you'll have several hours of of free time to wander this gorgeous city on your own before following your guide's directions back to Seville station for your trip back to Madrid.
August 2012
This was great. Logistics were incredibly easy and smooth and our guide, Angel, was GREAT. At first his accent was heavy for us but our ear tuned quickly. He is extremely knowledgeable and went out of his way to give us local insight. This was expensive but well worth it!
Rosemary V USA
March 2010
We loved the rail tour. The train was was fast and quiet. Our guide was a little hard to understand in Seville. They were prompt in picking us up.
Susan C USA
August 2008
Great guide, great city. Very different from Madrid.

Keith Australia
September 2012
It's not so clear in the description that you will pretty much be left in Seville to wander around for 6 hours after the initial ~2hr walking tour, so be prepared and get a good map as Seville city center is very disorienting.
I was the only person on this tour and arrived by train (note it usually leaves about 5 mins before the set time!) When I arrived I was driven by a nice driver to the city center where I was pointed at to the meeting point for the walking tour at 11am. The tour guide was excellent and very knowledgeable. The tour is a little short and only visited the Palace (pay your own) Jewish Quarter and the Cathedral. There are many many other nice places to visit in Seville for the remaining hours, including Plaza de Espana, the Bullring. The train station is a walkable distance (about 1 km) from the center to catch the fast train back to Madrid.
Another note is that you will need to go to collect your train tickets at a travel agency a day or 2 before the tour - this is not obvious in the Viator description. Also the Atocha train station is massive and you need to go to the Renfre departures section, not the same as the Metro station so give your self plenty of time to get there. I almost missed that 7:30am train in the morning.

February 2012
Good. Confused with a meeting point at Seville. So that instructions are not enough
November 2011
This was a great tour. We had to catch the train at 6.30 am in Madrid and arrived at Seville at 9.15 and went to a hotel near the station for the start of the tour. Our tour guide was very good and we enjoyed walking through the Jewish quarter (Santa Cruz). We had a tour through the Cathedral and then surprisingly the tour ended. We were stranded in the middle of Seville at lunchtime with no idea where we were but managed to eventually find a tourist information centre (not an easy task) and get a map. We had wanted to visit the Royal Palace (Real Alcazar) which we did. At the end of our tour our guide gave us various options to fill in the rest of the day but didn't mention the Alcazar which was on our wish list. He also pointed in the general direction of how to get to various places like the river but that proved not to be easy without a map. Our train back to Seville did not leave until 7.15 pm so we had plenty of free time in Seville but without a map were unsure of how best to use that time.
Michael S USA
August 2010
Tour was very good, but I had problems understanding the guide
December 2008
Seville is a gorgeous city that is definitely worth seeing. However, I found it a bit confusing to understand the tour operator because she spoke so incredibly fast in both Spanish and English. I do speak both languages fluently and found myself translating and recapping what she had covered to some of the other travelers. Overall, I did enjoy the trip and would consider doing it again to Barcelona next time.
Analeah N USA
August 2008
Enjoyed our trip to Seville. Very nice place to visit, plenty of sights to see. Very good restaurants.
May 2015
The guide made this experience less enjoyable. She knew a few facts but she kept repeating them as if they were new and interesting. She was also bossy. She told one participant to stop taking pictures so they could keep up and hear what she was saying. They preferred to stay back and take pictures but she kept reprimanding them. It was very awkward and totally unnecessary. If we had a different guide, I bet this is a wonderful tour. The sites are beautiful.
Advertisement
Advertisement