Catch football (soccer) fever at a live Real Madrid match in Santiago Bernabéu Stadium. Visit the spectacular stadium in Madrid and sit side by side with passionate, local football fans. Watch as one of the world's best teams takes to the pitch to show off their envious skills, while competing against other top Spanish clubs. Soak up the intoxicating atmosphere in the stands as spectators get caught up in the excitement, chanting and shouting encouragement at their sporting heroes on the pitch below.


Highlights
Admission to Real Madrid's Santiago Bernabéu Stadium
Sit with Real Madrid's faithful followers and enjoy a good view of the match below
Watch the talented team play against other top clubs
Get swept up in the wave of emotion and excitement
Belt out chants and cheer along with the other fans
What You Can Expect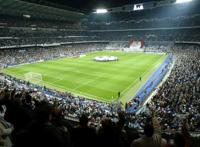 Arrive at Real Madrid's Santiago Bernabéu Stadium and make your way to your allocated seat. This spectacular stadium is the second largest stadium in Spain and it has hosted some of football's most prestigious events, including the 1982 FIFA World Cup final.
Settle into your well-positioned seat among the crowd of Real Madrid fans; if you've come as a group, you'll be seated together. Watch the famous footballers come onto the pitch and square up to an opposing club. Real Madrid are known as Los Merengues (The Meringues) and Los Blancos (The Whites) because of their distinctive all-white kit. As they race around the pitch, see them swerve swiftly past their opponents and show off with nimble footwork.
While the two teams battle it out, listen to the fans around you cheer on their players. Witness them erupt in joy when Real Madrid gets near the opponent's goal and listen to their howls of disappointment when a shot lands just wide of the posts. Allow yourself to get caught up in the rousing atmosphere and join in with the various chants and cheers.
Come halftime, refuel and reenergize with snacks such as hot dogs and pies, which can be purchased at the stadium (own expense.)
The experience concludes when the referee blows the full-time whistle.
Please note: Dates of scheduled matches may change; see Additional Information for details
Itinerary
Real Madrid Fixtures:
December 5: Getafe
December 8: Malmo FF
December 16: Cadiz
December 20: Rayo Vallencano
December 30: Real Sociedad
January 10: Deportivo La Coruna
January 17: Gijon
January 31: RCD Espanyol
February 14: Athletic Bilbao
February 28: Atletico Madrid
March 6: Celta Vigo
March 20: FC Sevilla
April 10: Eibar
April 20: Villareal
May 8: Valencia
May 2015
When in Madrid and there is a football game on at such a well known venue, Santiago Bernabeau, it's a must see for us. Not cheap but it cost a lot to get here and who knows if we'll return so it was a no brainer. We got the public train to the stadium. The station is just across the road. We were told it was a quiet night, thank heavens, as the roars and chants were deafening great atmosphere. Even if you're not a footy fan I think you'll get wrapped up in the moment.
Jan
December 2014
I paid $310 for seats I could have gotten for $125.... best to just buy the seats online next time
Advertisement
Advertisement