Experience Madrid from an entirely unique perspective on a 2-hour rooftop walking tour led by a knowledgeable guide. See the spectacular sprawl of the city from a vertiginous vantage point as you stroll over five of central Madrid's most remarkable rooftops; scour the skyline for monuments like the Prado Museum and Madrid Royal Palace (Palacio Real) and gain fascinating insight into the Spanish capital's culture and history from informative commentary. Enjoy a small-group experience on this intimate walking tour, with numbers limited to 12.
Highlights
2-hour Madrid skyline tour from the city rooftops, led by a local guide
Visit a total of 3 to 4 rooftops including the stately La Casa Encendida, a cultural center and exhibition site
Admire bird's-eye views of top Madrid attractions such as the Prado Museum and Madrid Royal Palace (Palacio Real)
Learn fascinating facts about Madrid's history
Small-group tour with a maximum of 15 ensures personalized attention at all times
What You Can Expect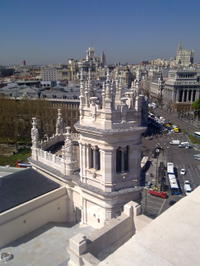 Greet your guide in a central Madrid location and venture to the charismatic cultural center of Casa Encendida to ascend to its secretive and spacious rooftop. Climb to the summit of the structure and admire spectacular city vistas as your guide regales you with tales of history and culture.
Next, venture to up to three other rooftops that all afford panoramic vistas of Spain's captivating capital; from your vertiginous vantage point atop each terrace, marvel at unsurpassed views of landmarks like the picturesque Prado Museum, the gorgeous Gran Via shopping street and the atmospheric Plaza de Cibeles. Capture fantastic photographs of the Buen Retiro Park and Madrid Royal Palace from your unique perspective as your guide commentates in an interesting and informative manner.
Gather insightful advice about the city's secret spots and allow your attention to be directed to hidden gems from a birds-eye view. After three hours of viewing pleasures, return to a central location perfectly positioned to allow independent exploration.
June 2016
Madrid from another level! Wonderful to see the places only locals visit and enjoy the atmosphere of Madrid. Myrte was our guide and was very friendly and knowledgeable. It was great to experience every rooftop and neighborhood.
February 2016
we were so happy we did this tour early in our visit to Madrid - we say some great vistas - but the bonus was that we learned about the layout of the city, found some great rooftop bars and restaurants we would have never known about - a few I wonder if even all the locals know about.. take notes, you'll want to come back for a nice dinner - and for sure plan to stay after the tour at the last stop - you'll be in a phenomenal bar, with an awesome city view right at sunset! a great place to hang out over a drink or two and watch the city lights come on :-
November 2015
WE didn't know what to expect form this tour, but we extremely glad we booked it. The different views from each rooftop were amazing and we saw contrasting views from each rooftop too. Definitely showed us an alternative side to Madrid. The tour guide was extremely friendly and knew a lot about the city and buildings.
November 2015
We really enjoyed seeing Madrid from the rooftops!! Our guide was brilliant, well informed and very friendly.
September 2015
This is a great tour and Lupe was a wonderful guide. As the group consisted of only my husband and I on that day, we had the full attention of the guide who gave us a good insight into the life of ordinary people in Madrid. The rooftops we visited were awesome and the last rooftop was a fitting end cause we had a bird's eye view of the whole city. I would encourage anyone who is visiting Madrid for the first time, to go on this tour as it helps you to understand what it is like living in Madrid.
June 2015
Lupe was an excellent guide. The walking was easy and all of the roofs were available that she had planned for us. It was great to see a side of Madrid most tourists never get to see and I would definitely recommend it to anyone visiting Madrid!
June 2015
The tour was amazing. Lupe (the tour guide) was great. Despite an initial setback (rooftop closed) she readjusted the tour route and showed us amazing places that only a local would know. Lupe was ready going and after the tour we felt we had made a new friend.

June 2015
Fantastic experience. We went around 5 different areas of Madrid and not only showed the views but given an insight into the cultureof the city. Great fun and would recommend to everyone for a great experience. We revisited several rooftops afterwards just to prolong the great fun
November 2014
This tour was very nice -I recommend it ;-))
We were Lucky to have a great guide who was very knowledgeable and we also had a lot of fun with him.
The rooftops we saw during the tour were interesting and very different.
April 2015
The 2 young ladies guiding our tour were excellent! Madrid must be seen from the rooftops to get true understanding of the city. It's not only rooftops, we learned so much more about the culture in the different barrios and discovered restaurants/cafes that are hidden away from the tourists. Should have done this tour when we 1st arrived, many places we should have gone too.
Advertisement
Advertisement