Explore the world-famous Santiago Bernabeu Stadium in Madrid, home base for the city's Real Madrid football club, with this entrance ticket to stadium's main facilities and on-site museum. Stop by the presidential box, see the team's impressive trophy room and go inside the very changing rooms used by stadium players. You'll also have the chance to explore the incredibly legacy of this iconic sports club thanks to on-field video screens as well as the many fascinating displays at the stadium's on-site museum.
Highlights
Entrance ticket to Santiago Bernabeu Stadium in Madrid
Explore the prestigious Real Madrid stadium at your own pace
Visit iconic sites like the tunnel to the locker rooms and the presidential box
Watch videos about the stadium and Real Madrid played on screens near the pitch
Walk around the stadium museum to learn about Santiago Bernabeu's history
Recent Photos of This Tour
Santiago Bernabeu Stadium Entrance Ticket
What You Can Expect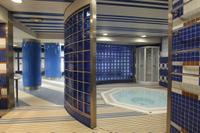 Take a trip through the history of the storied Real Madrid football club as you explore the team's the iconic Santiago Bernabeu stadium and on-site museum in Madrid with this entrance ticket. This world-famous home base for Real Madrid since 1947, which has played host to numerous championship-caliber games such as the 1982 FIFA World Cup and a number of European cup finals, is a must for any football fan visiting Spain's capital.
This famous monument of sporting glory, named after one of the team's former coaches, is known for its starring role in Real Madrid's dramatic rise in prestige, success and international acclaim. Stadium visitors are free to enjoy the various attractions inside for as long as they wish during the stadium's opening hours.
Upon entering the stadium, check out the enormous video monitors located on the playing field, which display highlights of the club's history and sponsors. Then explore numerous stadium highlights, including the changing rooms which have played host to renowned players like Sergio Ramos and Cristiano Ronaldo, along with the stadium's presidential box, the preferred seating area for visiting dignitaries. You'll also have a chance to check out the bench area used by both home team and visiting players during games, and stop by the stadium's trophy room, home to a huge wealth of trophies celebrating the club's countless victories.
Finish your exploration of Santiago Bernabeu by paying homage to the team's on-site museum, containing numerous artifacts that chronicle the team's history and many years of victories. For those that are hungry or thirsty, the stadium's on-site café is available to purchase refreshments at your own expense.
June 2016
June 2016
June 2016
how well organized it was organized without any off limits such as barcelonas stadium tour where the players area is private. tha staff whom direct us are friendly and helpful.
June 2016
Excellent, superbly organised, very interesting, value for money, done in your own time no rush. fab.

May 2016
Excellent self guided tour of the Bernabeu

May 2016
Excellent trip around Real Madrid stadium. Access to everything most football lovers would want to see
March 2016
Great experience for anybody to see the shrine of football!
March 2016
Surreal experience. Highly recommended.
December 2015
The tour was very good and well worth doing even if you are not a football fanatic like my Partner. I found the trophy room awesome and the tweet board fascinating. Would highly recommend.
November 2015
Excellent! Even if you not a footy fan. Nothing less than a modern day shrine.
Advertisement
Advertisement