Escape the metropolitan mayhem of Madrid in favor of the verdant vineyards of Vinos de Madrid on a full-day Spanish wine tour. Accompanied by an accomplished guide, explore the beautiful winemaking region and learn about complex production processes in atmospheric wine cellars, known as bodegas. Sample signature wines grown in the area and gain fascinating insight into the culinary heritage of Spain's capital city on this enriching epicurean tour.
Highlights
Full-day Spanish wine tour from Madrid

Explore Vinos de Madrid -- a DO-classified wine region just outside of the capital city
Tour three prestigious wineries in the areas and sample glasses of their produce
Learn about biodynamic and organic wine that is made in the region from your expert guide
Small-group tour with a maximum of 19 people ensures a more personalized experience
Recent Photos of This Tour
Spanish Wine Tour from Madrid
What You Can Expect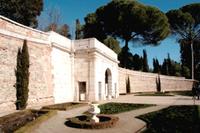 Depart from central Madrid in an air-conditioned minivan and note the contrast in scenery as you venture into the countryside. Listen as your guide offers intriguing information about the winemaking traditions of the region then arrive in the heart of Vinos de Madrid, Madrid's principle winemaking area.
Visit three of the region's contemporary and classic wineries, all of which are nestled amid sprawling vineyards and boast gorgeous views of the picturesque mountain perimeter. Stop for lunch at a restaurant recommended by your guide (own expense) then venture first to the family-run winery in UNSECO-listed Aranjuez to delight in one of Europe's largest butterfly farms.

Return to your minivan when our tour concludes and enjoy the scenic journey back to Madrid.
April 2016
This was the best tour of the several that I took while in Madrid. Enrique is knowledgable about the area and particularly about wine he's a winemaker himself and has also studied viticulture. We had a small group of eight and this made touring a joy. The three wineries we visited were each very different from one another, and each had its own charm, history and great wine so I couldn't pick a favourite, I liked them all. The restaurant he chose for lunch extra cost was a small local one and the food and wine were great and the price was very reasonable. I didn't feel like it was a tourist spot at all it seemed to be all locals except our little group. This tour was a wonderful introduction for me to Spanish wine and showed us some of the rural winemaking area around Madrid. It's a great tour, especially if you are fortunate enough to have Enrique as your guide.
March 2016
My mother and I participated in the Wine Tour in the Madrid Wine region Madrid Rutas de Vino and we had a great time. We met with our tour guide Enrique and the other 6 tourists. We were a small group and Enrique drove us around all day. We visited 3 wineries in the South East region of Madrid, around Aranjuez.
Enrique is a winemaker himself so he knows what he is talking about! The 3 wineries we visited were very different. The first one was an old royal winery that was used during Carlos III to frabricate the royal wine. The newly reformed facilities are absolutely impressive. We tasted 2 amazing red wines, 1 tempranillo from 2006 and 1 crianza. Both were to DIE FOR! We ended up buying 3 bottles.
The second winery was a family owned winery founded in 1882. We met Antonio who recently retired and is now having his son run the business, therefore bringing new ideas to a traditional way of making wine. We got to taste some 1 white and 1 red accompanied by some home cured cheese and ham. Ended up buying 6 bottles: 2 whites, 2 rose, 2 red. The prices are very reasonable for those wines.
The last winery is a smaller winery with 93 acres of organic vines. Consuelo who manages the winery was so nice. She showed us how she makes the wine and she also let us try the organic olive oil she makes. We ended up tasting 2 reds, 1 white and 2 types of organic oil.
I fell in love with her wines, filled with lots of flavour and decently priced. I ended up buying 2 organic reds and 2 bottles of organic olive oil.
After visiting the 3 wineries, we went to a local restaurant where they served us a 4 courses menu at our expenses. Very reasonably priced at 18 euros with wine included YES MORE WINE!.
I definitely recommend this tour to everyone who is interested in wine making, having a good time, and paying for quality!
March 2016
The tour to the vinos de Madrid wine region was a fascinating experience. Our guides, Jaime and Jorge, were very knowledgeable about Spain and #39;s wine regions, wineries (bodegas), and wines. They took us to three outstanding wineries, each with a unique character and atmosphere. The wine producers we met, particularly Don Antonio and Doña Consuelo were endearing. We felt treated like family. We fully enjoyed the wines we were offered and they were nicely accompanied by iberico hams, manchego cheeses, and breads. An added treat was being able to taste the exquisite olive oil produced in Doña Consuelo and #39;s property. Jaime and Jorge also added relevant history to the tour, and we even stood on a Plaza where bull fights (corridas) are still held. The scenery was also delightful. After touring the wineries, we had an appetizing lunch at a local restaurant. Also, we were lucky to enjoy the company of a very friendly and pleasant fellow traveler in this very personal tour. We would definitely repeat this tour the next time we visit the beautiful country that is Spain!
March 2016
Tour was highlight of my week in Madrid. Tour guide was very knowledgeable and wine was wonderful. Would recommend anyone who visits Madrid to take this tour.
January 2016
This was a great wine tour and our guide, Enrique, was very good as well! I would definitely recommend this tour!!
December 2015
This was such an enjoyable day! We toured several really authentic bodegas and were made to feel like extended family while sampling a variety of wines. The lunch stop at a small, local restaurant was fabulous and I was able to enjoy some outstanding Spanish food that I probably would not have been brave enough to order on my own. Enrique was a great guide and did a wonderful job of translating throughout the day.
TEEGUY United States of ...
November 2015
This was a fabulous tour! Our guide Enrique did a superb job of personalizing the tour. He knew all of the owners of the wineries we visited and was well informed and informative throughout the entire tour! This is a must do if you enjoy fine wines and enjoy personal customer service! We would do this again in a minute and highly recommend it without hesitation!!
November 2015
This was a special tour. Our tour guide, Enrique, was very knowledgable and warm. We felt welcomed at all the wineries and appreciated the personal touches and attention. The wine was very good and the scenery was lovely.
November 2015
The tour provided a wide experience in wine making techniques, not just wine tasting. Also, the meal was outstanding.
November 2015
Nice experience. Toured a small farmer's vineyard with bio-friendly methods, one a bit larger with very interesting history can see old clay pots that used to hold wine in cellar and a small family vineyard, followed by a delicious lunch. Spanish wines are good but not outstanding imo, and they are priced accordingly. Great deals on the wines' prices.
Advertisement
Advertisement