Get a tantalizing introduction to Morocco on this 3-day tour to Tangier from Costa del Sol. Cross the Strait of Gibraltar by ferry, arriving just an hour later in Tangier, known as the gateway to Africa. See the city's sights on a coach tour, and then awaken your senses with a guided visit to the tumbledown medina. Breathe in the heady aromas of the souks, and explore the hilltop kasbah. Ample free time is included, as is hotel pickup and drop-off, select meals and two nights of 4-star accommodation.
Highlights
3-day Morocco tour to Tangier from Costa del Sol

Admire views of the Mediterranean Sea and Atlantic Ocean on a ferry trip through the Strait of Gibraltar

Take a sightseeing coach tour of the modern part of Tangier

Enjoy a guided walking tour of Tangier's historical city center

Visit the souk, kasbah and medina and get a glimpse into local culture

Have free time to explore more of Tangier at your own leisure
Two nights of accommodation, transportation, hotel pickup and drop-off and meals per itinerary are included
Recent Photos of This Tour
What You Can Expect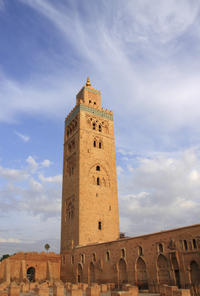 Day 1: Costa del Sol – Tangier (L, D)
After pickup from your hotel, relax on the drive through the Andalusian countryside. Learn interesting facts about the region from your guide as you travel to Tarifa or Algeciras (depending on your pickup location). Then, embark on a ferry ride and admire views of the Atlantic Ocean and the Mediterranean Sea as you cross the Strait of Gibraltar.

One hour later, arrive at Tangier harbor and start your Moroccan adventure with a sightseeing coach tour through the modern part of Tangier, and continue on foot to the historical center to visit the kasbah and souk.

Next, head to a typical Moroccan restaurant to sample some local delicacies (included), like tagine (meat and vegetables slow-cooked in an clay pot) or couscous.

Continue to a traditional bazaar where Moroccan carpets, traditional slippers, leather objects and other traditional Moroccan handicrafts are displayed. Time permitting, visit a Barbary pharmacy, also called a 'spice shop,' where the locals buy natural beauty products and spices for cooking. Continue to your centrally located hotel, where you can sample more Moroccan delicacies at dinner (included).

Accommodation: Hotel Chellah in Tangier

Day 2: Tangier (B, D)
After breakfast at your hotel (included), the day is yours to visit Tangier on your own. Your guide will recommend landmarks to visit, such as the fishing port with its white-washed houses. Explore more of the local markets and soak in the cultural atmosphere at your leisure. Dinner and accommodation are included at the same hotel.

Accommodation: same hotel in Tangier

Day 3: Tangier – Costa del Sol (B)
On your last day, enjoy breakfast before checking out of your hotel. You'll be picked up by your local guide by coach (at the time agreed on the first day) and head to Tangier harbor to begin your journey back to Spain.
August 2014
Will recommend the 3-day tour. From Malaga it's too long transportation time for a one day trip. Good restaurant in tangier. Breakfast ok at the hotel and dinner too but it's boring to be alone in the restaurant in the evening. Why not recommend more interesting restaurants. Taxi service fine.

February 2013
Great tour company. Send detailed address and pictures and time of pick-up point in Malaga - so we were able to check it out before the tour. Lovely tour guide from Malaga - informative and made us all feel comfortable. Great tour of Kasbah - good to experience new places and food and culture...
June 2014
Two important things to start with: This is the one-day trip with two additional days latched on to them where you are left to your own devices in Tangier with hotel included. Nothing more, nothing less. Secondly, you can book and pay for this trip starting on Saturdays. THIS IS REALLY REALLY BAD AS THERE ARE NO 3-DAY TOURS STARTING ON SATURDAYS! We luckily found out by chance when talking to Viajes Rusadir who are the contractor that does the actual trip. We instantly called Viator to re-book and informed them but it seems they have not bothered to update their booking system yet.
If you enjoy being herded around Tangier at a brisk pace, visiting some cringe-inducing spots like camel rides (a patch of dirt next to the road on a hill, how genuine!), enjoying the views of fog and a building site (supposed to see Spain, but why take us there on a foggy day when there is nothing to see?) and snake charming (no context, two minutes tops on a parking lot, then we get to give them money!) then following the program for the first day might be worth it. Otherwise, just leave the group at the ferry terminal.
To be fair, the lunch was fine, and the "Barbary pharmacy" was not as bad as we expected (though it was little more than an hour long sales pitch for various herbal remedies.
Hotel Chellah has a great staff that is really helpful and it is in a good location. The food in the restaurant is really good too.
We paid a total of €385 for two people to take this tour. We'd recommend you instead take the 07:30 Avanza bus from Malaga to Tarifa and then the boat to Tangier. It is not complicated, the buses are comfortable and many Moroccans speak some if not good English.
Lastly something worth noting: While it is true that the locals are very friendly, many will help you either by taking you to shops and restaurants where they get kickbacks, or expect you to pay for their guiding services. Keep this in mind before accepting help.

Erue USA
September 2013
Morocco is a great country to visit but unfortunately my tour was very unprofessional and unorganized. I would not recommend, nothing left to say.
June 2013
This tour was TERRIBLE. What the tour company fails to included is that this is not in fact a three day tour but a one day tour where they drop you off at a hotel with no one to contact within the country, no recommended sites to visit and no idea of when you will be picked up to head back.
Advertisement
Advertisement