16 Reviews
Location:

Malaga, Spain

Duration:

5 days

(approx.)
Discover the allure of Morocco on this 5-day tour from Malaga with hotel accommodation, a round-trip ferry crossing and city tours included! Led by an expert guide, your package includes visits to the country's five most enchanting cities. Explore Casablanca -- Morocco's largest city -- and get to know the medieval city of Marrakech. Visit the Imperial city of Meknes, see architectural marvels in Rabat, and discover the delights of Fez – Morocco's cultural capital.
Highlights
5-day Morocco tour from Malaga with an expert local guide
Admire Casablanca's Mauresque architecture on a city tour
Explore Marrakech and see Dejna El Fna Square and Saadines Tombs
Spend time in Meknes and marvel at its iconic landmarks like Bab Mansour Gate
Walk around Fez's UNESCO World Heritage-listed Old Town
Accommodation in your choice of superior- or standard-grade hotels included
What You Can Expect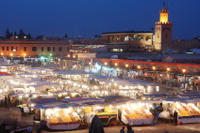 Your tour includes four nights of accommodation in your choice of standard or superior hotels; enjoy overnight stays in Casablanca and Marrakech, and two nights in Fez. All hotels are centrally located for maximum convenience, and you'll have time to enjoy these incredible towns independently in between excursions.
Itinerary
Day 1: Malaga - Casablanca (D)
Meet your guide in Malaga and then travel to Algeciras or Tarifa to board your ferry to Morocco. After a crossing of just under an hour, you'll continue to Casablanca by air-conditioned coach. Check into your hotel, enjoy dinner, and then spend your evening at leisure.

Overnight: 3-star P. Paris or 4-star Atlas Almohades in Casablanca

Day 2: Casablanca - Marrakech (B, L)
After breakfast, enjoy a city tour by minivan, taking in Casablanca's distinctive Mauresque architecture – inspired by the Art Deco movement. In the afternoon, leave the city and travel to Marrakech, one of the country's most colorful cities. Enjoy lunch at your hotel, and then spend the rest of your day exploring the city independently. If you want to visit the city's popular folklore show, Chez Ali Fantasia, your guide will help you arrange this at your own expense.

Overnight: 3-star Almas or 4-star Asni in Marrakech

Day 3: Marrakech - Meknes - Fez (B, D)
Enjoy breakfast and then head out to see the sights of Marrakech with your guide. On a walking tour, see Koutoubia Mosque with its famous minaret towers, and pass Saadines Tombs – only discovered in 1917. Discover the delights of Bay Palace and Dejna El Fna Square -- packed with fortune tellers, snake tamers, acrobats, dancers and more.

Stop for lunch (own expense), and then leave Marrakech to travel to the town of Meknes. Enjoy a panoramic tour of this Imperial city by coach, seeing historical landmarks like Hedine Square and the grand Bab Mansour Gate. Continue your journey east through the Atlas Mountains to the city of Fez, and check into your hotel in time for dinner.

Overnight: 4-star Zalag 2 or 4-star Menzeh Zalag/Sofia in Fez

Day 4: Fez (B, L)
Meet your guide after breakfast and then explore this fascinating city by foot, seeing highlights like the Royal Palace and the Christian and Jewish Quarter. Visit the UNESCO World Heritage-listed Old Town to discover Fez's treasure trove of architectural delights.

After lunch in the city with your guide, spend your afternoon and evening at leisure. Speak to your guide for details of optional evening activities like a dinner and traditional dance show (own expense).

Overnight: 4-star Zalag 2 or 4-star Menzeh Zalag/Sofia in Fez

Day 5: Fez - Rabat - Malaga (B)
Relax over breakfast in your hotel and then depart to Rabat – Morocco's diplomatic and administrative capital. On a short coach tour you'll see the city's most significant sights like the majestic Royal Palace, Mohamed V Mausoleum and the Hassan Tower with its eye-catching red facade. Hear about Rabat's laid-back culture from your guide while exploring, and then head out of the city to board your ferry to Algeciras. Continue your journey to Malaga where your tour ends.
January 2014
This was my first trip to Morocco and I was very pleased with the service. I was staying at a hostel near the Alameda Principal and the pickup location for this tour was easy to find as it was within walking distance of the Alameda. (A good focal point to be near for a lot in Malaga, btw.)
Immaculada was a great "pickup liason" and explained everything we would need to know before we even reached the port, including the fact that passport control for Morocco was on the ferry itself.
Karim was a most wonderful guide. I am bilingual Spanish/English so I would switch constantly between the Spanish-speaking half and English-speaking half of our group and enjoyed everything thoroughly. Karim didn't miss a beat and made sure everyone made it out of the souk OK.
Currency exchange is at the ferry terminal, all the meals were great (especially at Chez Ali) and, on long drives between cities, rest stops are taken for one to relieve oneself and refuel thoroughly.
Definitely recommend this tour!
November 2015
The tour was very much as described. No one should be surprised at the lengthy bus rides since most reviews mention them but there is really no other way to see Marrakech and Fes which to me were the highlights of the tour. We were fortunate to have an excellent guide, Karem, and a very capable bus driver, Mustafa. They both contributed to a very smooth and enjoyable tour.
The standard hotels were more than adequate for us but most people chose the higher end hotels. The food at the hotels was plentiful but ordinary. We chose to go to the first dinner and show in Marrakech and it was worth it just because of it's size and grandeur. We heard that the second dinner and show were OK but on a smaller scale.
Overall, we very much enjoyed the tour and recommend it. Part of our pleasure was that we went on November 13th and it was not crowded neither in the bus nor at the various sites.
September 2014
This is a great tour to get a real feel for Morocco. However as previous reviewers have mentioned, you do spend quite a bit of time on the bus so be warned as you cover a lot of miles. I read many of the reviews and these were very helpful to understand this tour. My tips are: bring food and drink for the first day because it's a very long stretch until lunchtime. I came prepared with a sandwich, water and cereal bars and that really helped. Lunch and dinner on the tour tend to be much later than I would normally eat (2pm and 9pm respectively on most days). You need to pay for the optional dinners in cash (in any currency) but we thought we could pay by card so had to re-look at our budget for other things. The dinners were worth it. The food was excellent and the shows entertaining. Both dinners were very different and reflect different aspects of Moroccan culture. Our guide Nadil was great and we also had good local guides but we were mainly listening to him in Spanish as it was stronger than his English. We paid for the Superior hotels (4 star) and this was definitely worth it. The hotel in Casablanca was great and the food excellent but the drinks were expensive and the watery orange juice not worth the 5 euro it cost, especially as we had a fresh OJ at lunch which was fabulous and much cheaper! The second hotel in Marrakech was also very nice but the food selection was nowhere near as good as the first. The third hotel in Fez was older and had lots of character but was a bit creaky and our AC didn't work. No one looked at it despite us asking. There are pools in all these hotels. Be prepared for the price bargaining you need to do everywhere in the markets. I learned by the end that if you are interested in something start your offer with less than half the price because you can often get it for half the original price quoted to you or a bit more. However be prepared to walk away as they often come running after you! Overall an amazing experience!
July 2014
Great to see so much but be prepared to sit in a bus for hours after hours!!!! Never got to visit a mosque because we were always pressed for time but it all worked out just fine.
January 2014
We were picked up from hotel A/C Malaga Palacios right on time and then bused to Tarifa. The journey took over 2 hrs as we picked up passengers enroute in costa del sol. The ferry left at 11:30 am and we were in Tangier in 45 min's. Morocco is an hour ahead as they follow GMT. We were met by our guide Nabil and driver Arafat. We were 19 tourists on the bus from different countries. We drove directly to Rabat with lunch at Larache. The only issue is that the day becomes very long and you might do well to bring some snacks and water with you.
Then we drove to Casablanca for the night stay. Early next morning, we got a whirlwind tour of Casablanca and then drove to Marrakech. I would suggest that Casablanca can be dropped from the tour.
Lunch was at the hotel which was very late. We did a evening tour of the city and saw the lost tombs and the medina. The visit to the spice market was a total waste. We were hurried by the local guides and would have loved to spend more time watching the snake charmers and other vendors.
That night went to the optional show (chez Ali ), it was raining and the arena was not well lit. Food was excellent and our guide ensured vegetarian options were available for those who wanted. The show with Arabian horses was good.
Next morning was back on the road to Meknes and Fez. Long day on the road with a panoramic tour of Meknes. We were glad to rest that night in Fez. Next morning was tour of the Medina at. Fez with local guides( Kamal) for English group. The guide was very knowledgeable but was steering us towards stores. It became more of a shopping expedition. This tour would have been better if we could have tasted local food at the medina instead we were bused back to the hotel for lunch. That night we attended the optional dinner and show with belly dancers. This was less crowded and there was more audience participation. Food was great and once again, our guide ensured vegetarian food was made available.
Last day was very long.
December 2013
I enjoyed visiting all the towns. Fez and marrakesh were my favorites. I was not aware that the distances between towns was so huge. Each day we spent a huge proportion of time on the bus. Our guide gave the barest amount of information. He was lazy and slept on bus. The hotels in three star were fairly ordinary, the best one being in fez. Many Canadians and Americans and Australians were bitterly disappointed in the time spent on the bus. I was not as critical because i felt it was a budget tour, and it was certainly only that.
One day we went six hours without a toilet stop. We had to instruct the driver we wanted to stop at gas stations, to buy drinks and use the toilets. We did not see anything in Casablanca, tangiers, and meknes.
The ferry is good but the access with heavy suitcases is bad, many steps to reach boat. Huge queues to have passport looked at on boat, going into morocco. Not told to bring some food with us onto ferry. Other tour operators had the hotel make up picnic packages, because we left without breakfast that day.
July 2013
This was a great tour, which could be significantly improved by providing Moroccian food options on the included meals, rather than very poor western style food (our first lunch in Morocco - extremely disappointing!)
July 2013
Excellent tour - all the sights and sounds of Morocco. Only complaint is Hotel Sofia in Fez was really appalling, not even 1 star standard and in terrible location.
October 2015
April 2014
Advertisement
Advertisement