Get acquainted with some of Spain's most spectacular cities on a 7-day tour of southern Spain from Torremolinos to Madrid. Delve into the rich history and remarkable architectural tableaux of Granada, Toledo, Madrid, Cordoba, Seville and Ronda and see an array of UNESCO World Heritage-listed sites in each. Marvel at the sugar-cane columns of Cordoba's magnificent Great Mosque; explore the medieval majesty of Toledo; immerse yourself in the metropolitan splendor of Madrid; discover the opulent chambers of Granada's Alhambra palace complex; observe the stunning natural surroundings of Ronda; and enjoy the vibrant atmosphere of Seville, reputed birthplace of feisty flamenco dancing.
Highlights
7-day tour of Spain from Torremolinos: Granada, Toledo, Madrid, Cordoba, Seville and Ronda

Discover Southern Spain's most beautiful cities as you explore the Andalusia region
Visit with your expert guide UNESCO World Heritage Sites like Alhambra palace, the Generalife Gardens in Granada and the Alzacar in Seville

Explore Toledo, the hometown of painter El Greco, and see the Great Mosque and the Jewish Quarter in Cordoba

Enjoy free time in Madrid, Seville and Ronda to explore more on your own
Six nights of accommodation in standard or superior hotels, six breakfasts and three dinners are included
Transport by comfortable, air-conditioned coach
What You Can Expect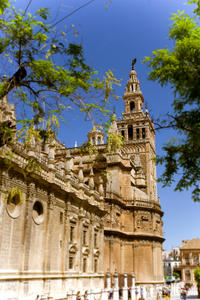 Delve into the rich historical heritage of southern Spain on a 7-day tour of some of the most beautiful cities in the country; explore the captivating capital of Madrid and discover the vibrant region of Andalusia with guided tours of the area's UNESCO World Heritage-listed landmarks. See the candy-striped columns of the magnificent Grand Mosque in Cordoba; stroll through the charming neighborhood of Santa Cruz in Seville; and marvel at the opulent chambers and beautiful gardens of Granada's Alhambra palace complex.
Choose to see an optional flamenco show in Seville for an authentic insight into Andalusian culture and opt for a comprehensive walking tour around Cordoba's old quarter. Spend leisurely time exploring Ronda, Seville and Madrid independently and enjoy six nights of accommodation in either standard or superior hotels. Six breakfasts and three dinners are included.
Please see the Itinerary section below for further details of each day.
Itinerary
Day 1: Torremolinos (Malaga) – Granada (D)
Start your 7-day tour of Spain traveling by comfortable coach from Torremolinos to Granada. With your guide, visit UNESCO World Heritage-listed Alhambra palace and the Generalife Gardens, an amazing historic site that served as the last stronghold of the Moorish Kingdom until 1492. Have lunch at a local restaurant (own expense) before heading to your hotel for dinner and an overnight stay. At night, you may take an optional gypsy tour. This tour is focused on gypsy legends.

Accommodation: Los Angeles Hotel (standard) or Hotel Abades Nevada Palace (superior) in Granada

Day 2: Granada – Toledo – Madrid (B)
After breakfast at your hotel, relax on the drive to Toledo, a UNESCO World Heritage City where the three cultures of Spain – Christians, Moorish and Jewish – are melted together. After lunch (own expense), take a tour of the city's interesting architectural mix of mosques, synagogues and churches. Wander through the narrow streets and visit Toledo to see famous Damasquinado – an ancient technique of hammering gold into slits in metal, followed by an oxidizing process to create the blackened areas. Proceed to Madrid for dinner (own expense) and an overnight stay.

Accommodation: Hotel Mayorazgo or Tryp Washington (standard) or Hotels Husa Princesa, Tryp Menfis or Catalonia Gran Via (superior) in Madrid

Day 3: Madrid (B)
Start your morning with breakfast and spend the day exploring Madrid, the capital of Spain. Go on a guided sightseeing tour and see top Madrid attractions such as Plaza de España, one of Madrid's most beautiful squares, where you'll see a statue of the Spanish writer Miguel de Cervantes. Enjoy lunch (own expense) and spend the afternoon at your leisure visiting various historical sites, such as Plaza de España, and discovering the enchantments of this beautiful city. Dinner is not included on this day, but your guide will happily recommend the best local restaurants that offer paella, the traditional dish for which Spain is famous.

Accommodation: Same hotel in Madrid

Day 4: Madrid (B)
Enjoy breakfast at your hotel before enjoying the whole day on your own to discover scenic views, try local appetizers, or wander through the quaint, narrow streets. See Plaza Mayor, built in typical Herrerian style, and pass by Almudena Cathedral, a place of worship since the city's earliest settlement. Be amazed by the magnificent Templo de Debod, a 4th-century-BC Egyptian temple which was saved from the rising waters of Lake Nasser and transported block by block to Spain in 1970. Afternoon Madrid panoramic city tour. At night, relax at an elegant restaurant for dinner (own expense) or check out the local nightlife.

Accommodation: Same hotel in Madrid

Day 5: Madrid – Cordoba – Seville (B, D)
After breakfast at your hotel, relax on the drive through the land of Don Quixote to Cordoba. Take an optional walking tour of Cordoba's old town, a UNESCO World Heritage Site and the second-largest old town in Europe. Visit the Jewish Quarter (Juderia), part of Cordoba's historic center, and follow your guide through its medieval streets. Visit the gorgeous Cordoba synagogue and learn about Cordoba's Jewish history.

After a break for lunch (own expense), head to the most famous landmark in the city – the Great Mosque of Cordoba. Have a look inside and admire the forest of columns and red-and-white arches. Then, board your coach for the drive to Seville, where you'll enjoy a delicious dinner and spend the night.

Accommodation: Hotel Catalonia Santa Justa (standard) or Melia Lebreros (superior) in Seville

Day 6: Seville (B, D)
After breakfast, spend the day in Seville, the capital of the Andalusia region and the cultural center of Southern Spain. Enjoy a panoramic city tour with your guide and visit sites such as the Cathedral of St Mary, one of the largest Gothic cathedrals in the world. Then, take a guided walking tour of the Santa Cruz quarter, the former Jewish quarter with winding alleys and picturesque lime-washed houses. See the famous UNESCO World Heritage-listed Alcazar, Seville's magnificent royal palace.

After a short lunch break (own expense), continue your tour around the Alcazar and to the beautiful Maria Luisa Park, home to grand Plaza de España. You'll have the rest of the day to discover more of the city on your own. After dinner (included), you have the option to go on a flamenco tour to see a performance of Spain's traditional flamenco dance (own expense).

Accommodation: Same hotel in Seville

Day 7: Seville – Ronda – Torremolinos (B)
Have breakfast in your hotel and head off to Ronda. When you arrive, enjoy free time to discover every corner of this enchanting town independently. At your leisure and expense, stroll through this town of Celtic origin; soak in marvelous views of the valley and mountain range of the Serranía de Ronda; and learn about the history of this town at one of the various museums. In the early afternoon, depart Ronda for Torremolinos, where your 7-day tour will finish.

Please note: Hotels are subject to change; if this happens, you'll stay in hotels similar to the ones listed.
June 2015
Excellent value for money
The itinerary should also include a walking tour of Granada , which was exceptional . The tour stays just outside of Granada - make sure you take a taxi to St Nicholas square
Madrid : ensure you visit the palace ( open to the public)
May 2014
Is a reasonable price to see Spain. We had a good time. Our guide Josef is a great guide. Excursion in Seville is worth the money.
August 2015
This was a great trip if you want to have some time to explore Madrid on your own as we did.
June 2015
We had superior Hotels, did not like them at all, all of them were too far from the centres, very cold atmosphere, too modern , too much business class , food was just about ok, food in Seville was disaster for two days, I would not give it to the dogs, and I am not exaggerating. Coach was very good, drivers perfect , organisation was very good, except one time in Madrid they did not come to pick us up at all as promised , we waited for half an hour then we had to ring them international call , to find them, take taxi and get to the meeting point our self.
Guides were very informative and absolutely fab except personal attitude one of our guide elderly lady towards us when we were late for a pick up 30 min, not for our fault, we were ready for the time we thought we had to she made faces, angry remarks, body language was unacceptable, humiliated us in front of all the coach, not even gave us a chance to explain or even say sorry so we did not , it was very very unpleasant to continue the rest of our tour with her although she was very good at her job as a guide. Flamenco show in Seville was nice but if you get the first line front seat next to the stage , forget you will see a nice show, organisers just taking advantage of squeezing as much people as they can but not thinking of visibility of the show, it's like watching TV 10 cm away from your face, I was in a front seat and can say I want a full refund for that unpleasant experience.
Also, it was said in description that the tour will finish on a certain day 7ish p.m. , but it finished at 4 p.m., small detail but it's not right.
Bear in mind the tour - very tiring , every day early wake ups. Overall would recommend.
June 2016
Local guides used on city tours generally quite knowledgeable. Hotels used and meals provided are good value. Organization by the Julia Travel agency who ran this tour is sadly lacking. Size of group was too large.
October 2013
Overall I was disappointed with this tour - I don't believe it was a tour really with the group changing and spending two days left to my own devices in Madrid. The activities were great, travel in coach great and hotels satisfactory but the feeling of being on tour was not there at all :-(
Advertisement
Advertisement