Immerse yourself in the sublime serenity of Malaga's heavenly Hammam Al Ándalus during a 1.5-hour session in the opulent Arabian baths. Venture within and sip fresh mint tea while soothing mind body and soul in thermal pools and relaxing Jacuzzis. Stimulate your senses in the icy plunge pool; inhale the aromatic scents of the steam room; then indulge with a 15- or 30-minute massage with exfoliating scrub. Upgrade to enjoy a purifying Kessa massage that stimulates blood circulations and exfoliates.
Highlights
1.5-hour spa session inside Hammam Al Ándalus, Malaga's Arabian baths
Relax at leisure, enjoying the steam room and thermal baths
Soak up the ambiance of Moorish Malaga while sipping on mint tea
Select your preferred massage oil from a selection of lavender, red amber, rose or jasmine flower

Choose from three different massages including a Kessa purifying experience with red-grape oil

Why Our Insiders Chose This Tour
Switch off your brain for an hour and a half and enjoy a professional massage in a relaxing and decadent environment. The fragrances of perfume and fresh flowers will stimulate all of your senses; it's a unique experience!
What You Can Expect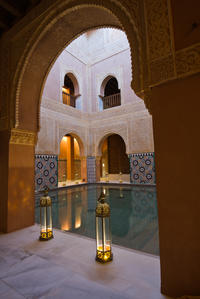 Navigate the ambient labyrinth of Malaga's Old Town to discover the relaxing resplendence of Hammam Al Ándalus. Steeped in centuries of rich history, the luxurious bath complex features candle-lit walkways, decorative Arabic tiles and impressive vaulted ceilings.
Pour a refreshing cup of complimentary mint tea then soothe aching muscles in the warm waters of the hot thermal bath. Jump into the freezing plunge pool to tauten your skin then immerse yourself in the scented steam of the steam room for some invigorating inhalation. Then, venture to the Aroma Corner to indulge in your 15-minute massage delivered by an expert masseuse.
Select oils scented with rose, violet or lavender then succumb to serenity as gentle pressure is applied on your body. Upgrade to enjoy both a 30-minute massage and therapeutic Kessa massage, a treatment that involves exfoliating Kessa gloves and red-grape oil.
Freshen up in the lavish facilities then emerge onto the streets of Malaga with smooth skin and a serene smile.

Mark P USA
May 2016
A great place to spend the siesta hours of the late afternoon, especially after a day of tromping around Malaga. Add a massage and be good to yourself.
August 2015
Very relaxing and plenty of time was given to enjoy the pools and massages.
May 2015
I highly recommened this, this spa itself and the decor is very traditional and beatiful. There are a number of baths to try out. We opted for a scrub aswel which was lovely, we felt totally refreshed and relaxed afterwords. The staff are most helpful and welcoming. Complimentary tea is also available when you are taking some time out between the baths. I could not be happier with our experience and definately worth the price. Thank you for a 5 experience.
March 2015
This tour was a highlight of my recent trip. The baths were really beautiful, clean and the staff nice and friendly.
The facilities were wonderful and I enjoyed my keso massage.
My friend also really enjoyed it.
November 2014
We had a great stay and enjoyed the two hours. It is a real need and silent place. Everybody who needs to relax should go there. German spas are way to crowded...
July 2014
The best shore excursion on your own. Treated royally and very relax. Don't hesitate to experience this special place.
July 2014
This place is amazing and I truly recommend it to anyone even thinking about it. We did the 30 minute massage and then spent about an hour and 15 minutes in the baths going from the steam room to the cold, warm and hot pools of water. It was beyond my expectations!!! I cant say anything bad about our experience it was a perfect way to end our stay in Malaga!!!

Timetable Tim United Kingdom
June 2014
A great way to spend a lazy afternoon! As it happened, for once it was raining in Malaga so our visit was perfect timing. I had the 30-minute massage with exfoliating scrub which was very refreshing, so much so I fell asleep :-) There is a choice of several hot, cold and medium temperature pools and you can relax and enjoy a cup of tea and admire the Moorish architecture of the building.
Anonymous
February 2014
Great experience. The hammam is amazing, the decoration reminded me of the Alhambra. We booked an early slot so the spa was quite quiet, which was very nice. Definitely worth getting the massage + kessa.

December 2013
I've been to a few spas and hammams before and this one is definitely on top of my list. The venue is simply stunning; as you walk in the pools area you feel like you are inside the Alhambra (I had been to the Alhambra the day before so this was a beaufitul surprise!). The attention to detail in the decoration and other parts of the Hammam is admirable; even the tea in the chilled area was very good! The massage and kessa exfoliating bath was wonderful. You also get to choose the scented oil you want for your massage (each one has different properties and benefits) and if you want the therapist to focus more on your back or your legs (or both!). I would have easily stayed for longer!
Advertisement
Advertisement