22 Reviews
Location:

Malaga, Spain

Duration:

10 hours

(approx.)
Enjoy an authentic cultural experience of southern Spain on an enriching full-day excursion to Jerez and Cadiz from central Malaga and Costa del Sol. Accompanied by an expert guide, pleasure your palate with a tasting session at an established winery and watch an exhilarating equestrian show typical of the region. Admire breathtaking panoramas of the Andalusian countryside; cruise along Cadiz's curvaceous coastline by ferry; and conclude your cultural day with a guided tour of the city's historical heart.
Highlights
Day trip to Jerez and Cadiz from Costa del Sol and Malaga with an expert guide

Take in views of the Spanish countryside on the famous Bull Route (Ruta del Toro) to Jerez
Enjoy a guided tour and wine tasting at the prestigious Williams and Humbert winery

Watch an exhilarating Andalusian horse show
Admire the beautiful Bay of Cadiz on a sightseeing cruise
Soak up panoramic views of central Cadiz on a coach tour
What You Can Expect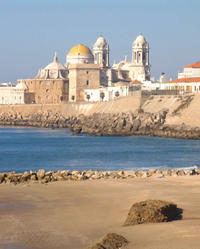 Greet your knowledgeable guide in central Malaga or Costa del Sol and climb aboard a comfortable, air-conditioned coach to Jerez de La Frontera. Follow the renowned Ruta del Toro (Bull Route) and admire the agricultural beauty of the region as you pass cattle farms and farming terraces.
On arrival, enrich your knowledge of complex winemaking processes during a tour of Williams and Humbert winery. Enjoy interesting demonstrations and discover fascinating facts as an expert winemaker guides you through the winery. Your tour culminates with a tantalizing tasting session in which three types of wine are available for sampling.
Next, feel your adrenaline levels surge as you watch a exhilarating Andalusian equestrian show in which masterful horse trainers interact with powerful Adalusian horses. Return to the coach and listen to local legends and entertaining anecdotes as you travel towards Puerto de Sants María. On arrival, embark an awaiting ferry and set off on a smooth sail along the blissful beaches and pristine bays of Cadiz.
When your ship docks, disembark and explore the historical highlights and impressive monuments of the city. Visit the renowned Puertas de Tierra monument and admire the Baroque beauty of Cadiz Cathedral. Sample some of the city's seafood specialities in a rustic restaurant (own expense) then reunite with your guide for a panoramic sightseeing coach tour of the city.
After the coach tour, rest and revitalize during the journey back to the Costa del Sol.

Cj Sear United Kingdom
June 2014
A jam packed day of sightseeing. The tour of the sherry distillery was very interesting and the horse show amazing (although wish it could have been longer). The boat ride over to Cadiz takes in some of the industrial sites of the area. There's not much to do in Cadiz apart from browse the shops and have lunch, but the coach tour round the town afterwards was interesting. The scenery during the whole trip was breathtaking. Full marks to all the guides for being so multilingual. The only critisism I have is that they switch languages so seamlessly you end up listening to the whole narration, even if not in your own language - this can get very tiring, and then you end up missing a sentence or two in your own language. It would also save time during the tour of Williams and Humberts if there was only one language group - there's so much information to take in that the trip takes double the time if the guide covers two languages, and then it becomes rushed and the tasting and shopping is curtailed. The only other downside is that if you join the tour from the east of the country (Torremolinos, as I did), it can take 2 hours to complete the pick ups - it can get quite tedious (and there was a coach swap on my trip too); however, the coach was very comfortable and the scenery gorgeous. The highlight has to be the horse show.
May 2014
This was the only option to get from Malaga to Cadiz and back for one day. It is available only once per week. The Jerez experience while a first class was a clear bonus for me. The guide was very entertaining and spoke three foreign languages, pretty fluently by the way. Given the long distance to be covered, everything was quite well planned and there was lunch possibilities for those interested (as well as short breakfast and late afternoon break). Pricing seems very competitive.
September 2015
A very well organized trip to Cádiz. The local guides have provided a lot of interesting information
September 2015
Wish we had more time in Cadiz, it is a marvellous city. Our guide Rossy spoke very bad English, so I could get the infos from the other languages like French, Spanish and Italian. Although I do not speak French and Spanish. Otherwise, she was a lovely lady. May be that's why the following day I could not tolerate the horrible treatment on the Tanger day trip.
April 2015
My only complaint was communication on pick-up time and communication as to where I was to be picked up. After an almost sleepless night I did get picked up by chance. Mini-bus driver was standing outside our hotel and my husband spotted him as asked if he was from Viator. My husband was then told that I had exactly 2 minutes to be downstairs and on mini-van.
We had been in Morocco for almost a week and had had no internet access nor cell phone usage. Lack of communication was very bad but trip itself was good.
April 2015
We were happy with this excursion and would recommend it to others.
December 2014
TIRESOME.-ESPECIALLY FOR GETTING THE PEOPLE ON THE BUS. ALONG THE WAY-BESIDES AN ENORMOUS BUS DIFFICULT TO DRIVE ON NARROW STREETS.-However it would have been nice to visit JEREZ as well .-
August 2014
It was great for our group. Just be patient with so many pick ups. Quite a long trip. Best to stay in Cadiz overnight.
Lily S R USA
April 2014
We had a great guide. She pointed out the bulls running in the fields and the history and culture surrounding them. The tour of the sherry factory was very interesting. The horse show was a nice piece of culture. We did not see much else in Jerez, but the boat ride was pleasant. We could have used more time in Cadiz. We really had time for lunch and an hour to walk around the old town. It had lots of narrow streets intersecting at odd angles. We had a good bus tour of the rest of Cadiz so it is an interesting city. I enjoyed where we had our out and returngoing and returning rest stop, very Spanish and fun to watch the people.
September 2012
cadiz was very nice, you need to stay loner there to enjoy the city
Advertisement
Advertisement