Discover some of Mallorca's top attractions on a day trip to the Majorica Pearl Factory and Cavern of the Dragon (also known as Caves of the Drach or Cuevas del Drach). Head to the town of Manacor to learn how the famous Majorica pearls are made, and discover the fascinating 1.5-mile-long (2.4-km) Cavern of the Dragon, which has an impressive height of 82 feet (25 meters)! You'll also enjoy a boat trip on Lake Martel (one of the world's largest underground lakes), listen to a live classical music concert and watch a spectacular light show! Finish the day with a panoramic sightseeing tour of Porto Cristo and a liqueur tasting in Manacor.
Highlights
Day trip to two of Mallorca's most popular attractions

See how Majorica pearls are made at the Majorica Pearl Factory

Discover the 1.5-mile-long Cavern of the Dragon (Cuevas del Drach)
Enjoy a boat trip on Lake Martel, one of world's largest underground lakes
Listen to a live classical musical concert and watch a light show on Lake

Explore Porto Cristo on a panoramic sightseeing tour
What You Can Expect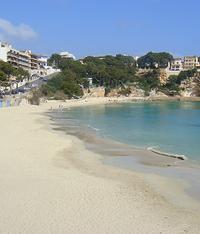 This exciting and comprehensive day trip on Mallorca starts with a drive in a comfortable, air-conditioned vehicle. Head inland through the beautiful villages of Santa Margarita and Petra as you make your way toward the town of Manacor. Here, visit the Majorica Pearl Factory to see how its famous man-made pearls are crafted. Note that if you choose the transport option from the northern part of the island, you will visit Perlas de Mallorca factory instead.

Next, discover one of Mallorca's best natural wonders, a series of caves called the Cavern of the Dragon. The caves, mentioned in Jules Verne's book Clovis Dartetor, were discovered around the year 1338. In total, they are 1.5 miles (2.4 km) long, but only half of that is accessible – enjoy a one-hour guided tour along the 0.75-mile (1.2-km) route. While you're in the cave, enjoy a 10-minute live performance of classical music.

At Lake Martel, one of the world's largest underground lakes that's hidden within the caves, watch a fascinating light show that imitates the sun rising over the lake, and enjoy a short boat ride. Alternatively, you may continue the Cavern of the Dragon tour on foot and join the rest of the group outside the caves.

When you leave the caves, head to Porto Cristo, a fishing village on the east coast of Mallorca, for a panoramic sightseeing tour. Porto Cristo is located on a sheltered bay with beautiful sandy beaches, coastal caves and shallow water. You'll have some free time here to take a lunch break (own expense) in the center of town, which offers a wide selection of bars and restaurants, or walk past Porto Cristo's 15th-century watchtower.

Then head back though Manacor, the birthplace of top tennis player Rafael Nadal, to your original departure point.

See the Itinerary section below for information on the pickup locations within each area of Mallorca.
Itinerary
North area includes the following locations: Port Alcudia, Port Pollensa, Cala San Vicente, Playa de Muro, Can Picafort.
South area includes the following locations: Paguera, Camp de Mar, Santa Ponsa, Cala Viñas, Magalluf, Palmanova, Cala Mayor, Portals Nous, Illetes, Palma, Son Armadans, Arenal, Can Pastilla, Playa de Palma.
East area includes the following locations: Colonia Sant Jordi, Cala Santanyi, Cala Figuera, Cala Barca, Porto Petro, Cala Dor, Cala Ferrera, Cala Egos, Porto Colom, Calas de Mallorca, Cala Domingos, Cala Murada, Cala Ratjada, Canyamel, Font de Sa Cala, Cala Mesquida, S'illot, Cala Millor, Cala Bona, Costa de los Pinos, Porto cristo, Sa Coma.
September 2013
That was great! Especially thanks our guide Ester, she is very interesting person and you will not disappointed if you choose this trip!
September 2013
From start to finish the tour was a great success. The general organisation was excpttional and the Caves are the best we have visited.
June 2013
June 2015
The tour was well organized with timely pick up and arrivals at all locations. The tour guide was professional and ran a smooth operation.
May 2015
Loved the Dragon caverns. We also could not get over how beautiful Porto Cristo and the coastline was. Water so blue. I could have done without the stop at the pearl gift shop.
Parents, please leave infants and toddlers at home. This is a long day on a bus. Our music and light show was ruined by screaming babies.
May 2015
The pearl factory wasnt that exciting. The Cave of the Dragon was great, especially with the boatride and ochestra on the lake at the bottom of the cave. Nice day, except I got in trouble for being the last one on the bus. Toni, our guide, was a bit scary. Apart from that, a nice tour.
August 2013
We've never reached Majorica Pearl factory, we were taken to pearl shop instead. Cavern is great! Worth visiting.
October 2012
Fantastic day trip and well worth the money. I really enjoyed the Pearl Factory (however I missed the liquor tastings as I didn't see them). I felt soooo moved by the symphony in the Cavern of the Dragon... it was one of the best experiences on my entire trip. Highly recommend it to anyone traveling to Mallorca.
July 2012
July 2012
Bus was a little hot and so I deducted 1 star, but the experiences were wonderful. So amazed by our tour guides ability to speak 4 different languages. There was plenty of time in a small beach village. Wow, all the sites in 1 day and to get us back right on time was amazing.
Advertisement
Advertisement