Discover Mallorca's rugged north coast by horseback and then return to the ranch for a barbecue dinner and dancing. Set off along a scenic trail on Mallorca's north coast in the evening. Depending on your level of experience, you'll either continue through pretty woodland with the Mediterranean coast in the distance or enjoy a gallop on the sands. After your ride, return to the stables for a hearty dinner of barbecued meat, salad, bread and fruit served with Spanish sangria, before closing off the evening with dancing and live country music.
Highlights
Evening Mallorca horseback-riding adventure

Ride along scenic trails and admire the picturesque landscape
Enjoy a typical Mallorca barbeque dinner served with famous Spanish sangria
Dance to the rhythm of live country music
Visit the ranch's chicken and rabbit mini farm

What You Can Expect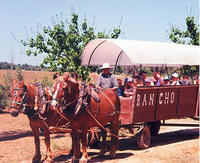 At selected Mallorca hotels, you'll climb aboard an air-conditioned coach destined for Rancho Grande — a traditional ranch located in Son Serra de Marina. On arrival, you'll receive a refreshing glass of sangria and form groups according to your horseback riding ability.
Then, saddle up and enjoy a 1.5-hour ride through rugged Majorcan scenery abundant with flora and fauna. Beginner and intermediate riders will explore the forest at a relaxed pace, while expert riders will gallop along the gorgeous curve of Mallorca's coastline.
After your ride, you'll gaze at adorable baby animals at the ranch's farm and then revitalize with a well-deserved barbeque dinner. Feast upon grilled meat, bread and salad while sipping drinks such as sangria, orange juice or water.
Sated, immerse yourself in the spirit of the ranch during a fun-filled line dancing session accompanied by country music. Dance, drink and be merry before returning to your hotel in an air-conditioned vehicle.
See the Itinerary for a full list of zones that include hotel pickup and drop-off.
Itinerary
North area includes the following locations: Port Alcudia, Port Pollensa, Cala San Vicente, Playa de Muro, Can Picafort.
South area includes the following locations: Paguera, Camp de Mar, Santa Ponsa, Cala Viñas, Magalluf, Palmanova, Cala Mayor, Portals Nous, Illetes, Palma, Son Armadans, Arenal, Can Pastilla, Playa de Palma.
East area includes the following locations: Colonia Sant Jordi, Cala Santanyi, Cala Figuera, Cala Barca, Porto Petro, Cala Dor, Cala Ferrera, Cala Egos, Porto Colom, Calas de Mallorca, Cala Domingos, Cala Murada, Cala Ratjada, Canyamel, Font de Sa Cala, Cala Mesquida, S'illot, Cala Millor, Cala Bona, Costa de los Pinos, Porto cristo, Sa Coma.
September 2015
The staff was very courteous and friendly and I loved how they were fluent in so many languages so they could communicate with everyone. The ranch was beautiful and my husband and I had a great time riding, drinking, and dancing throughout the night .The food and drinks were delicious and the after dinner entertainment was incredible.
Janice F United Kingdom
September 2013
Well organised and exactly as described. The ideal opportunity to allow my horse mad daughter to gallop through the fields whilst I was able to travel along much more sedately with horses just at walking pace. Would definately do this experience again.
June 2013
This is a fantastic tour. We were picked up and brought to the Ranch and handed a sangria drink upon arrival. After meeting everyone we did the horseback riding for about 1.5 hrs. through beautiful countryside. The horses were good and we were well taken care of by the guides. We trotted quite a bit we think the next time we will do the galloping. Upon our return we were served a beautiful barbeque supper and then a wonderful evening of dancing and country music. Honestly, this was a fantastic evening, we felt like we were with friends at home having a summer evening party. Whoever planned out this tour did a fabulous job. We felt so relaxed. This is a great tour for anyone who wants something a little western. Coming from Edmonton, Alberta we loved it.
October 2012
A great chance to see a bit of countryside (outside of Palma where I stayed). Really hospitable owner and staff, and was appreciative of the ride to and from the ranch. A lot of fun, riding, seeing the various animals on the farm, and terrific bbq meal to end the evening. Definitely worthwhile to do!
August 2012
This was a good trip. We were inexperienced with horseback riding so although we wanted to actually "ride" the horses we had to do the beginners trail and walk slowly. We would have preferred to have been able to move a little faster but we understood the reasons for the precautions. The dinner was delicious and the trip was a lot of fun overall.
August 2013
Pro's
- cool ranch with different kind of animals
- nice first time horseback riding experience
- pick up service
- evening with live music and nice atmosphere
Con's
- was split from my partner since she was put in the advance group and i was in the beginners group. We expected to have a romantic horseride together
- dinner was quite simple and not very tasteful
- long drive from palma
May 2014
This tour has a lot of promise and is at a great venue. It also offers some really beautiful views of the Mallorca countryside. I love horses so this was really attractive to me. The complaints I have, thought, are that I was picked up at 3:30pm from my hotel and was taken to the ranch, about an hour drive from the city. This was OK with me, I expected that and enjoyed seeing some of the country as we drove along.
However, there was a couple in the van with us who did not speak english and they were given all kinds of information in Danish the entire trip, while the rest of of who did speak english were not spoken to AT ALL the entire ride. And we were all on the English speaking trip, as requested. We were also not spoken to when we arrived at the ranch and not given the same instructions, leaving us confused. The actual ride did not start until after 6:00, leaving us just sitting around with nothing to do until then. There are farm animals on the property to see, but not enough to see for almost 2 hours. After the ride, we were also waiting around for at least an hour before dinner because they had another group coming in for the sunset ride and we had to wait for them to start and finish their ride. We then had to wait for them to finish their dinner before we could start the dancing and music. After the 1 hour drive back to the city, we did not return until 11:30.
I think it could have been coordinated a lot better and there was too much waiting around. If I had known this, I would have done the sunset ride. The evening one had about 1.5 - 2 hours worth of activity, and entertainment and 5-6 hours of just sitting in the van or sitting around at the ranch.
August 2013
no well organized and finally impression was very negative. First of all, lacal agent requested to be on the pick up place at 14.50 LT. The shuttle arrived at 15.25 LT It was plein of passengers. After long trip (about 1 hour 10 min.) arrived to rancho and ... was waiting more than 1 hour the ride to start (no any programm - only waiting). From 17.00 till 18.00 the horse ride took place. After that was waiting untill 19.30, but nothing happened. The responsible guy said the dinner will start after 21.00 after some competitions. We were hungry, I asked to arrange with BBQ (We saw the apetite peaces on the grill), but I received the answer that dinner will start after competitions only... At 20.00 LT competitions started , I called the taxi (90 euros fees) and went to hotel to eat STUPID ORGANIZATIION and additional costs I paid for nothing
Advertisement
Advertisement