Discover the highlights of Western Nicaragua; Granada, León and Managua, during this 5-day tour. With a knowledgeable local guide, visit the region's landmarks including Masaya Volcano National Park, the Cathedral of Granada, the National Palace of Culture, the ruins of León Viejo and the Rubén Darío Museum. Cruise Lake Nicaragua (Lake Cocibolca) on a boat to explore the archipelago of tiny islands and the wildlife that call them home. During 4 overnights, chose 4-star or 3.5-star hotels. Transportation, breakfasts and entrance fees to all sites are included.
Highlights
5-day guided tour of Managua, Granada and León
Enjoy a sightseeing tour in Managua and visit the National Museum
See León top sights on a city tour to the Cathedral of León and Rubén Darío Museum
Get up-close views of an active crater at Masaya Volcano National Park
Learn about Granada's colonial past on a sightseeing tour of its historic attractions
Take a boat tour on Lake Nicaragua to see its 300+ small tropical islands and Mombacho Volcano

4 nights of accommodation, breakfast, transportation and entrance fees included

What You Can Expect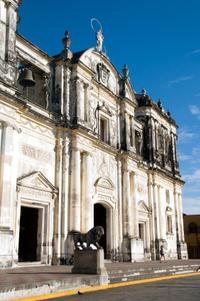 Immerse yourself in the culture and history of Nicaragua during this 5-day comprehensive tour. Enjoy engaging and informative commentary from you local guide while you visit cultural sites like the National Museum and the Rubén Darío National Theatre, natural attractions like Lake Nicaragua and Masaya Volcano and UNESCO World Heritage Sites like the the Cathedral of León and the ruins of León Viejo.
Chose from 4-star or 3.5-star hotels in each location. All transportation, entrance fees and breakfast every day is included.
Please see the Itinerary below for day-by-day details.
Itinerary
Day 1: Managua
After your arrival at the Managua airport, you'll be greeted by your driver and taken to your selected hotel. Spend the rest of the day and night exploring the city on your own or relaxing at the hotel.

Overnight: Your selected 3.5- or 4-star hotel in Managua

Day 2: Managua – León (B)
After breakfast, enjoy a sightseeing tour of Managua with your guide. Visit the National Palace of Culture, home to the National Archive, National Library and the National Museum, which houses exhibits ranging from prehistoric bones to pre-Colombian ceramics to modern paintings and sculptures. Take a guided tour of the museum, and then venture to Rubén Darío National Theatre, a well-known Central American theater named for Rubén Darío, a beloved writer who was a key figure in the Spanish-American literary movement of the late 19th century. The theater is one of the few buildings that survived the devastating earthquake of 1972, and is home to many shows, concerts and other cultural performances. Next, make your way to Tiscapa Historical National Park, where you'll find the statue of the silhouette of Augusto Sandino, Nicaragua's famous revolutionary leader of the early 1900s. As you walk around the park with your guide, admire impressive panoramic views of Tiscapa Lagoon and the city.

After free time for lunch near Tiscapa Historical National Park , leave Managua with your guide and head north to the city of León, where you'll have your second city sightseeing tour of the day. Visit the Ruins of León Viejo (Old León), declared an UNESCO World Heritage Site in 2000. Follow your guide on a tour of the ruins and learn how the former city is the second-oldest in Nicaragua, established in the early 1500s. You'll see foundations of centuries-old houses, as well as some restored buildings. Continue into the modern-day city of León, founded in the early 1600s. Known for its beautiful churches and stunning streetscapes, León is a picturesque colonial city with many historic attractions that you'll see with your guide, including the UNESCO World Heritage-listed Cathedral of León, one of the largest churches in Central America. Tour the church, admiring its interior filled with marble statues and other magnificent works of art.

Next, head to the Art Center of the Ortiz Gurdian Foundation, which you'll tour with your guide. Located in two restored colonial buildings, this center houses various exhibits of paintings, sculptures and contemporary art. Then visit the Rubén Darío Museum, located in the house where Darío once lived. Tour the museum and see photographs and hand-written manuscripts.

Overnight: Your selected 3.5- or 4-star accommodation in León

Day 3: León – Masaya – Granada (B)
After breakfast, you'll depart León and for the town of Granada, stopping along the way for a visit to Masaya Volcano National Park, where you'll see the active volcanic crater up close and explore the Ecological Museum to learn about the geology and history of the volcano. Before continuing to Granada, head into the town of Masaya to walk through the local market, where you'll find clothing, jewelry and beautiful handmade crafts made from wood and ceramics. It's a great place to grab a souvenir!

Next, re-board your coach for the rest of the drive to Granada, located on the shores of Lake Nicaragua. With your guide, enjoy a sightseeing tour and learn about the city's culture and colonial past. Visit Independence Plaza, where you'll find an obelisk dedicated to the heroes of the 1821 struggle for independence. Then head to Central Park, where you'll see the Cathedral of Granada, originally built in the early 1500s. Admire the cathedral's four chapels and 12 stained-glass windows, and then walk along the pedestrianized street of La Calzada to marvel at the colorful colonial buildings.

After your city tour, the day is yours to continue exploring Granada on your own.

Overnight: Your selected 3.5- or 4-star accommodation in Granada

Day 4: Granada (B)
Start your day with breakfast, and then get ready for your Lake Nicaragua adventure! The fun begins as you board a boat for an exciting cruise to more than 300 tiny tropical islands. Stay on the boat, learning about the lush flora from your guide as you cruise through the islands, which were formed more than 10,000 years ago when Mombacho Volcano erupted. While you listen to your guide's commentary about the history of Lake Nicaragua, which is home to freshwater sharks and sawfish, admire views of Mombacho and keep an eye out for native birds like tanagers, hawks, jays and warblers.

Your cruise will end in the early afternoon, and you'll have the rest of the day and night to do as you wish in Granada.

Overnight: Your selected 3.5- or 4-star accommodation in Granada

Day 5: Granada - Managua (B)
After breakfast, you'll be transferred to the Managua airport for your departing flight. If you don't have a flight today, you may be taken to the hotel of your choice or to the Managua or Granada destination of your choice.



February 2015
Managua it was not that great but once you get to Leon masaya and granada the history,art and the people friendly great
July 2013
Our 5 day Nicaraguan tour was wonderful! The guides (Martin and Juan Carlos) were both great! They were very friendly and knowledgeable. All guides and drivers were always on time. Hotels were excellent. The hotels in Leon and Granada were both located right next to the plazas in the middle of town. The boat/kayak trip on Lake Nicaragua was very scenic. We visited a private island with a tame pet monkey!The local vendor for viator was also able to provide us with a car and driver for our first day there in order to travel to the region of Boaco. It was a great side trip. Although it is not as popular a destination as Costa Rica, it is very interesting and worth visiting. Purchased gallon sized bottles of purified water in order to refill smaller bottles. You will go through a lot of water! We highly recommend this trip!
March 2013
Overall excellent . Always on time .Good guides.Great things to see.
November 2012
The tour was good overall except for one glitch. On our way to Granada, we stoppd in Massai and realised that a festival was taking place later on that day. We proceded to Granada and our tour guide told us that there is a visit to 2 museums on the program. We suggested that instead of the museums, we would rather go back to Massai to see the festival which is 10 or 15 minutes away. The guide came back to us saying that he spoke with the owner and he asked us to pay for the gas in order to go back to Massai.. I gave him $20 but I found it to be of poor judgement. The gas woul cost only $5 and since we don't want to go to the museums in Granada, that should make out for it.
Advertisement
Advertisement