Go sandboarding down Cerro Negro Volcano during this full-day adventure from Managua. Trek to the top of the volcano to admire its views out over San Cristobal and Telica volcanos, then hop on your custom sandboard (opt to sit or stand) and surf down. As you fly over the gravelly volcanic debris that makes up the sides of Central America's youngest volcano, watch the scenery rush by. Opt to stop for lunch (own expense) in nearby León. Round-trip transportation from Managua is included.
Highlights
Sandboard at Cerro Negro Volcano on a day trip from Managua

Hike to the top of Cerro Negro with your guide and admire panoramic views of the Telica and San Cristobal volcanos
Enjoy a unique, adrenaline-filled adventure of sandboarding down a volcano!
All equipment and hotel pickup and drop-off included

No sandboarding experience necessary!

What You Can Expect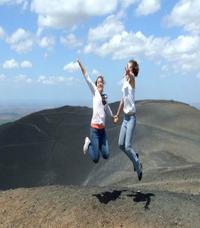 Meet your adventure guide during pickup at your Managua hotel, then board your vehicle for the ninety-minute ride to Cerro Negro, or 'Black Hill'.
When you arrive, see where it gets its name: the chunky, gravelly volcanic debris that litters the sides of the volcano, one of the youngest in Central America. Listen to a safety briefing and overview of sandboarding techniques from your guide before setting out on the challenging ninety-minute hike. The total distance is less than a mile, but it's steep and challenging, so come prepared with water, snacks and hiking shoes.
At the apex, enjoy views of the surrounding landscape, including San Cristobal and Telica volcanos. Strap on your sandboard, choose to sit or stand depending on your comfort level, and enjoy the ride down from the 1,640-foot (500-meter) summit.
After you reach the bottom, you'll have some time to stop for lunch in León (own expense) before returning to Managua for drop-off at your hotel.
May 2016
Outstanding tour. Frank, our tour guide was amazing. He was very knowledgeable and polite and could answer any question you had. spoke very clear English and Spanish. The tour itself was very fun. The hike up was relatively easy, and there were great views all the way up so bring your camera. The ride down was OUTSTANDING! These boards allow you to go as fast or slow as you like so it is fun for people who like to play it safe, as well as the true thrill seekers of the world. If you are visiting Nicaragua DON'T MISS THIS TOUR!
January 2016
We had a great time. Thank you to Roy for driving and to Alex for being a great tour guide.
September 2015
The tour is definitely worth doing. Be prepared for a strenuous hike for those that don't do it on a normal basis. It took about 45 mins to get to the top. And out guide was helpful each step of the way. Even ensured we got some awesome pictures along the way. It rained the day before our tour, which proved to make a less than desirable ride down. The sand has washed away from the rain, so it was mostly rocks. We would only go about 10 yards before the rocks would over take the board and bring you to a halt. Took us almost 10 mins to get down, and it was very frustrating. Cause there's no climbing back to the top to do it again. It's one and done. But I place fault only on mother nature and not the tour or the guide. Hopefully you will be able to plan around the rain, or just go during their dry season. But I would recommend everyone do it.
July 2015
Wow, what an experience! Rugged natural beauty, an excellent, informed, fun guide, and a sled ride down a volcano! Do not miss this!
June 2015
The tour guide was awesome and it was definitely a once in a lifetime opportunity. It is a steep climb though so be prepared.
March 2015
The hike up the volcano was much more difficult than I expected but boarding down was definitely a unique experience.
February 2015
Every needs to experience the amazing site and thrill
Mark USA
April 2014
Volcano boarding was a "must" on my Nicaragua itinerary and this excursion did not disappoint. I'm so glad the tour started so early in the morning because I would not have wanted to climb Cerro Negro in the afternoon heat. Our driver and guide were very friendly and knowledgeable. The climb took about an hour--it was definitely more challenging than I expected. The views along the way were incredible and the ride down was so much fun. Both my mom and myself will recommend this to anyone wanting to do something different, fun, and adventurous while on vacation!
Advertisement
Advertisement