Learn to survive in the Amazon Rainforest during this guided tour from Manaus. During this 5-hour excursion, follow your expert adventure guide on a forest trek and learn how you could use your natural surroundings to survive in the wild. Identify Brazil nuts, passion fruit and açai palm berries, which are edible, as well as which poisonous plants to stay away from. Practice building traps for jungle animals and learn how to find clean water. After your survival adventure, enjoy lunch and take a canoe ride to a local Amazonian village to see what daily life living in the rainforest is like.
Highlights
Guided survival-skills adventure in the Amazon Rainforest

Learn real survival techniques as you explore the Amazon with your expert naturalist guide
Discover how to identify which plants, fruit and nuts to eat and which ones to avoid
Find out how to locate sources of water and learn how to build traps to catch small animals
Enjoy a relaxing canoe ride and experience local village life with a visit to an Amazonian home
Lunch and hotel pickup and drop-off included

Recent Photos of This Tour
Amazon Rainforest Survival Tour from Manaus
What You Can Expect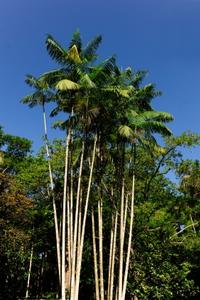 Following pickup at your hotel in Manaus, transfer to a boat and sail for the village of Tupé.
Trek through the rainforest with your expert naturalist guide, who will give you hands-on training and survival tips. Listen to commentary on the native flora and fauna of the area, including which plants are sources of nutrition and which are poisonous. Learn to identify the Brazil Nut tree, the passion fruit tree and the
açai palm berry tree, all of which provide fruits and nuts that could help you survive in the forest. Practice building traps to catch small forest-dwelling animals and learn which roots and leaves can be used medicinally.
After your survival lesson, stop at a local restaurant for a traditional Brazilian lunch. Then climb aboard a canoe for a paddle through the Amazon River's small channels while your guide quizzes you to identify the trees and plants you learned. End up back in the village of
Tupé to visit a local home, where you'll see what daily life is like in a rainforest village as well as the village's culture and traditions.
At the conclusion of your half-day survival tour, return to your Manaus hotel for drop-off.
Anonymous
May 2013
Can't believe I did this, but I did. I can now say I survived in the Amazon!

Bandit USA
May 2013
Cool tour, I leaned a lot about how to survive in the Amazon! Ate some odd things but it was fun! Definitely worth doing.

April 2014
July 2014
This was an interesting tour. Learned about plants, how to trap animals, shoot a blow gun, and climb some trees. It was a good experience. The tour guide was decent. They hustled us at the end for some "sacred ritual" for R$20 a person. I guess a way to help the guide and tribe make some extra cash on the side that Viator probably doesn't know about. Lunch was basically rice and beans and some bone in chicken. Overall, not bad, dont like getting hustled by the guides for some "sacred ritual"
Advertisement
Advertisement