Take a guided tour of the Museu do Seringal Vila Paraíso (the Rubber Museum) during this outing from Manaus. Stroll through the open-air museum, a replica of a 19th-century Amazonian rubber estate, with your guide to learn about the process of harvesting rubber. Learn about how this industry made Manaus one of the richest Brazilian cities during the 19th century, as well as the details of rubber making, which tools are used to tap rubber trees and see the docks from which rubber was shipped worldwide. Round-trip transportation from Manaus hotels is included.
Highlights
Visit the Museu do Seringal Vila Paraiso (Rubber Museum) on a half-day tour from Manaus
Explore a replica Amazonian rubber plantation
See rubber trees and observe the living conditions of the workers on the estate
Discover the rubber-making process, from collecting to processing to shipping
Learn about the significance of the rubber boom in Brazil in the late 1900s from your knowledgeable guide

Complimentary hotel pickup and drop-off

What You Can Expect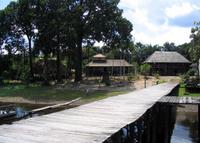 After pickup at your Manaus hotel, travel to the Museu do Seringal Vila Paraiso (Rubber Museum). Meet your local onsite guide and begin exploring the recreation of a 19th-century rubber estate. Start your tour with a 20-minute boat ride along the Rio Negro to a waterfront warehouse where boats were kept to ship rubber around the world.
Stroll along a short walkway in the jungle to see the rubber trees themselves and view various rubber-making tools. Watch your guide tap rubber from the trees and see how the smoking process worked. Then, visit the recreated homes of the typical rubber workers to see the poor conditions under which they worked and lived.
Step inside a replica of a rubber baron's home from that era, the Rubber Master House. The architecture and luxurious appointments in the home tell the tale of how much wealth rubber brought to some Brazilian citizens during its boom times.
After this fascinating 4-hour tour detailing one facet of Brazil's history from the 19th century, return to your Manaus hotel for drop-off.
April 2015
The rubber plantation is a movie set, not an original. No staff on hand to explain things. I did not know the tour was stopping for swimming with dolphins so did not have my swimsuit.
On the other hand, the guide was excellent and thecompany went out of their way to pick me up/return me to airport
Advertisement
Advertisement