The Hard Rock Cafe Manchester is the largest in the UK, doubling up as a live music and events venue at the iconic Printworks as well a much-loved American diner. Head past the table lines with a skip-the-line ticket, and enjoy either a 2- or 3-course American-style meal while admiring the stash of rock 'n' roll memorabilia. The cafe is home to impressive items that once belonged to some of the world's rock legends such as a Arctic Monkeys, The Beatles, Jimi Hendrix, Oasis, Elvis Presley and more.
Highlights
Enjoy skip-the-line entrance to Hard Rock Cafe Manchester
Savor classic American-style food and music inside Manchester's lively Printworks
Relax while eating your choice of 2- or 3-course meal with drinks
See the café's impressive stash of rock 'n' roll memorabilia such as an Oasis guitar and Arctic Monkeys costumes

Shop for souvenirs at the Hard Rock Cafe Manchester's store, if you wish
What You Can Expect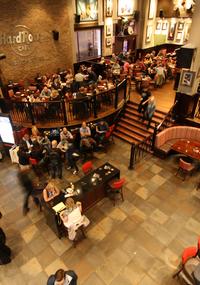 Located at the vibrant Printworks venue at the heart of Manchester's Exchange Square (opposite the National Football Museum), this Hard Rock Cafe is sure to rock your senses with authentic American fare, generous drinks and a staggering collection of rock memorabilia.

The largest Hard Rock Cafe in the UK, the Manchester branch is also one of the city's biggest live music venues, able to accommodate crowds of up to 450 people with a concert stage and Rock Lounge mezzanine floor. Visit in the evening and you may be lucky enough to catch an 'open mic' night or maybe see one of Manchester's top local bands play live.

Hard Rock Cafe Manchester is popular with locals and visitors alike, meaning queues for a table can be long. So don't waste time standing in line — head straight inside with your skip-the-line ticket and admire the cafe's impressive hoard of rock 'n' roll relics.

Priceless pieces from rock 'n' roll legends such as The Beatles, The Rolling Stones and Kiss are all on display alongside pop and rock artists from the 1990s and beyond. Admire a Gibson J-45 guitar that was owned by Liam Gallagher from Oasis and see costumes worn by the Arctic Monkeys for their 2007 Brit Awards acceptance speech.

Further highlights include an Elvis Presley shirt, a tailor-made suit belonging to Elton John and a Jimi Hendrix drum kit.

When you are ready to eat, choose from two different menus — the 2-course Gold or 3-course Diamond — and then sit back, relax and enjoy your meal. See the Itinerary for a sample menu. The cafe also has an on-site rock shop, which you can visit after your meal if you wish.
Itinerary
Gold Dinner Menu:
Choice of main course served with a side salad or fries:
Cheeseburger
Hard Rock burger (fresh beef hamburger, lightly seasoned and garnished with lettuce, tomato, onion and pickles)

Veggie Burger
Honey and mustard chicken sandwich
Hickory-smoked barbeque chicken
Chicken Caesar salad
Twisted Mac (Hard Rock Cafe's take on a classic macaroni cheese dish with chicken)
Dessert:
Hard Rock Cafe's signature ice cream
Drink:
Coffee, tea or soft drink
Diamond Menu:
Starter (choice of one)
Lil Caesar salad (Romaine lettuce tossed with Caesar dressing, croutons, Parmesan cheese and crispy bacon)
House side salad
Choice of main course served with a side salad or fries:
Twisted Mac
Hickory-smoked barbeque chicken
Hickory-smoked barbeque ribs
Legendary 10oz (283g) burger (topped with seasoned bacon, Cheddar cheese, fried onion ring, lettuce, tomato and pickles)
Veggie burger
Chicken Caesar salad
Dessert:
Baker's choice (dessert of the day)
Drink:
Coffee, tea or soft drink
*Menu items subject to change and availability

March 2015
Absolutely lovely meal, service and environment. Very good value for money and including priority seating . I could not have asked for more . I will recommend it to friends :-)
February 2015
Brilliant experience. Staff extremely friendly and we were shown to a table in a prime position with good service throughout our stay.
Well recommended
December 2015
Great personnel, food far exceeded our expectations, wonderful atmosphere, briefly: if you want to have a super fun night, just come to this place and you won't regret it :-
August 2015
Good location. Decent service.
September 2014
Importantly, the meal and service was very good. The memorabilia decorating the walls and interior spaces was certainly worthwhile viewing. In all a pleasant afternoon in downtown Manchester
September 2013
Great service, music to listen too and great burgers too, would recommend a visit.
July 2010
We booked this for my daughter's 12th birthday; unfortunately it was on Saturday and we made the mistake of going around 8p.m. No problems at all with the restaurant. It was just very noisy with a lot of hen and stag parties. I also had my 9-year-old daughter with us, so it wasn't really suitable. We should have gone earlier in the day when it would have been quieter. We did go back the following Monday for lunch, and everyone enjoyed it.
June 2012
As expected from Hrd Rock Cafe
Advertisement
Advertisement