Book your Manchester United Football Club ticket and see the world-class team play at Old Trafford stadium. Select a Northwest Executive ticket, which includes Kit Room lounge access, or enhance your experience with a Salford Suite ticket so you can watch the match from the halfway line and enjoy complimentary hot drinks at the swanky Salford Suite during halftime. You'll receive a program as a memento with both options. Tickets for Premier League football matches sell out fast due to limited allocations, so be sure to book your ticket ahead of time.
Highlights
Limited availability ticket to see Manchester United FC play at Old Trafford stadium
See Premier League players compete at the renowned football venue
Soak up the electric atmosphere and cheer along with the Manchester United fans
Choose a Northwest Executive ticket or upgrade to a Salford Suite ticket with close-to-the-action seating
Receive a match program to take home as a souvenir
What You Can Expect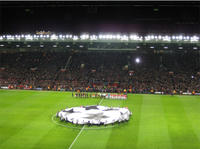 Make your own way to Old Trafford stadium, which has been home to Manchester United Football club since 1910. It is one of the country's largest and most famous football venues, and hosted several of the matches for the 2012 Olympics.
Head inside with your pre-booked ticket and take a seat alongside the 'Red Devils' — Manchester United's loyal fans — in the home section. Before kickoff, leaf through your included match program or enjoy pre-match refreshments (own expense) in the Kit Room lounge or Salford Suite, depending on the option you've selected.
Return to your well-placed seat for the game and join in with the fans as they chant 'Glory, Glory, Man United' and other team songs. Keep your energy up during the game with food and drinks from the snack stalls (own expense). Plus, if you opted for the Salford Suite ticket upgrade, you'll receive complimentary tea and coffee at halftime.
These tickets are provided by an authorized third party reseller of Premier League tickets.

Please note: Dates of scheduled matches may change; see Additional Information for details
Itinerary
Manchester United FC Fixtures:


August 20, 2016: Southampton
September 10, 2016: Manchester City
September 24, 2016: Leicester City
October 1, 2016: Stoke City
October 29, 2016: Burnley
November 19, 2016: Arsenal
November 26, 2016: West Ham
December 10, 2016: Tottenham
December 26, 2016: Sunderland
December 31, 2016: Middlesborough
January 14, 2017: Liverpool
January 31, 2017: Hull City
February 11, 2017: Watford
March 4, 2017: Bournemouth
April 1, 2017: WBA
April 4, 2017: Everton
April 15, 2017: Chelsea
April 29, 2017: Swansea City
May 21, 2017: Crystal Palace
October 2015
Great seats with Kit Room access. Husband totally enjoyed it. No need to queue to collect tickets.
March 2015
This was an amazing experience. From the very beginning when we had to collection the tickets, it was super easy. We just had to go to the Members Services Area, show our ID and done!! Super easy! Then, on our way to our seats, we had access to the Salford Suite lounge which is very comfortable! They received us with tea and coffee and we also had the possibility to buy food if we wanted. Beers and wine where also available to buy of course! The atmosphere at the stadium was amazing! It worth the money and I cannot wait to go to another match! Highly recommend it!! Sandra
March 2015
An amazing night at the Theater of Dreams to see Manchester United against Arsenal in the FA Cup. The atmosphere was incredible and the seats were located about half way up on the halfway line; the perfect place to see all of the action. Picking up the tickets was quick and easy from the main Manchester United Members ticket office.Highly recommended.
March 2015
May 2015
Das Angebot ist total überteuert und es wird kaum Leistung geboten Kitroom-Ticket. Für ca. 500 Euro/Ticket hatten wir mehr erwartet! Unsere Plätze boten gute Sicht auf das Spielfeld, befanden sich aber in der äußersten oberen Ecke - sehr gute Sehfährigkeit der Augen werden also vorausgesetzt. Der Extra-Aufgang war schwierig zu finden.
Advertisement
Advertisement