Leave the bustle of Manila behind on this day trip to Mt Pinatubo for a combo 4x4 and trekking adventure to Pinatubo Crater with an expert guide. Drive an off-road vehicle along a river valley made of lahar — the mudflow from the volcano's 1991 eruption. Then hike another 1.5 hours to the crater with free time to enjoy views of the emerald-colored lake. After following the same routes back to base camp, you're rewarded with a Filipino-style lunch (and shower) before your return drive to the capital.
Highlights
Full-day Mt Pinatubo adventure from Manila
Drive a 4x4 vehicle off road into a volcanic landscape
Hike with an experienced guide past valley streams to Mt Pinatubo Crater
Take in the breathtaking sights above the colorful crater lake
Relax with a Filipino-style lunch at V.E.S. Food Resort and Villas
Round-trip hotel transport included
Recent Photos of This Tour
What You Can Expect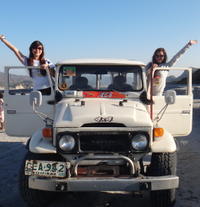 You're picked up in the predawn hours from your Manila hotel for the approximate 2.5-hour drive to Capas Tarlac, where you'll depart for Sta. Juliana Base Camp, located another 45 minutes away. Relax (or catch up on some sleep!) aboard your comfortable vehicle and enjoy any breakfast you brought along to fuel up before your Mt Pinatubo adventure begins.
After a safety briefing and orientation at base camp, hop in your enclosed 4x4 vehicle and follow your guide for 1.5 hours along a rugged lahar trail made of volcanic mudflow and rock debris. Drive (or ride in the passenger seat) along the bumpy route, referred to as the Sky Way, as you make your ascent over the volcanic landscape until arriving at the starting point for your trek.
Disembark your 4x4 at the base of Mt Pinatubo, and begin your guided hike on foot, starting down a lahar slope and then climbing into the forest toward Mt Pinatubo Crater. Along the way, your guide points out natural features such as valley streams and volcanic rocks The geological remnants are reminders of Mt Pinatubo's eruption in 1991, the world's second largest eruption of the 20th century!
It's a leisurely, but moderate, 1.5-hour hike to the crater, with cairns (piles of stones) marking the path. Upon arrival, climb the stairway to the viewing deck, where you're rewarded with a phenomenal vista of the crater-filled lake. Admire the sparkling blue-green waters from afar — swimming is prohibited — shimmering like a gemstone in the surrounding landscape.
Stop to enjoy a snack that you brought along and spend an hour exploring the region before starting your 1.5-hour trek back. When you reach the area where your 4x4 is parked, hop in for the 1.5-hour rugged ride back to base camp.
You'll be rewarded with a late-afternoon lunch at V.E.S. Food Resort and Villas. Enjoy authentic Filipino cuisine, such as seafood fried noodles or barbecued chicken, at the onsite restaurant amid a garden landscape. You're free to take a shower here before your return 2-hour drive to Manila, with drop-off at your hotel in the evening.
November 2015
Excellent trip except the van was not waiting for me when I returned from the climb. They had to be called and I waited for about 30 minutes. The trip itself was excellent. I was picked up from the hotel at the designated time and the driver was excellent. The climb to the crater was not difficult but it was long. The local guide was very helpful fording the stream and the jeep ride from the drop off point to the trail was an experience. Of note, you need to attest that you are no older than 59 to be able to climb and your blood pressure is taken before being allowed to proceed. They do not check the age just accept what you document.
February 2015
Firstly, this tour is not worth doing from Manila, its a very early pickup 4am, NOT 7am like in the voucher and you spend most of your day in a minibus 2-3 hrs each way. The guide we had barely spoke a word to us all day, and the expert guide for the hike didnt speak English at all. The guide asked us what time we wanted lunch, and we said noon, but he didnt inform us that you dont reach the summit until around 1pm and they dont bring lunch or any snacks for you even though every other guide we saw brought food up for his customers ours didnt. Its then 2 hours back to the minibus, and other 30 mins to lunch so we didnt eat until 3:30pm. They ordered the food in advance, and must have cooked it at that time because it was stone cold. But luckily we were starving by then and would eat anything. The 4x4 adventure was us crammed in the back of a jeep with 4 other people trying not to hit our heads on the roof while the driver went a breakneck speeds over rocks and streams. Fun for the driver, not for you. And the description is a complete lie, because its a local guy who drives the 4x4, NOT you. For the very high price of this tour we paid 250 CAD/pp this is a huge disappointment and rip-off. You can pay WAAYY less to go to Lake Taal for the day and its probably just as good. I feel cheated and would not recommended this tour to anyone.
Advertisement
Advertisement