Ride over rapids in a dugout canoe to Pagsanjan Falls, surrounded by the lush landscape of Pagsanjan Gorge National Park. You can
swim in a hidden cave, taste local specialties and enjoy a lunch buffet of traditional Filipino dishes while you're entertained by live music. Hotel pickup and drop-off are included o
n this day exciting day trip from Manila and Makati, led by an experienced guide.
Highlights
Day trip to majestic Pagsanjan Falls from Manila

Taste local specialties like coconut wine and balut (fertilized duck egg) on the drive
Enjoy exhilarating canoe rides through the rapids with your local guide

Spend time swimming and lounging at the falls and in a hidden cave

Feast on a buffet lunch of traditional Filipino dishes while enjoying live music
Round-trip hotel transport included
Recent Photos of This Tour
What You Can Expect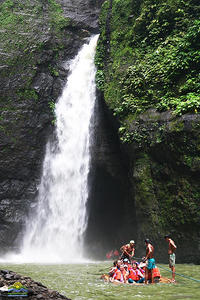 Meet your guide at morning pickup from your city hotel in Manila or Makati, and relax during the 2.5-hour drive south to Pagsanjan Gorge National Park, where you'll
embark on a scenic boat ride aboard a dugout canoe called a banca.
En route to
Pagsanjan
, your vehicle stops at a local village where you can taste local delicacies including fertilized duck egg, called balut. Then enjoy a
refreshing coconut drink before you slip on your life vest and float through the narrow Pagsanjan gorge lined with lush tropical vegetation.
Two expert boatmen skillfully maneuver your craft upstream to Pagsanjan Falls. You'll dock at a natural pool below the majestic cascade and take an optional raft ride to a hidden cave, where you can swim and explore — so prepare to get wet!
After some free time to frolic in the water, return downstream
as your river guides steer past huge boulders in churning waters at top speeds during an exhilarating ride known as
'shooting the rapids.'
Conclude your full-day tour with a Filipino lunch buffet at the visitor's center. Feast on a variety of traditional dishes and listen to a live band play music during your meal. Afterward, you'll be taken back to your hotel.
March 2015
the actual trip to the waterfalls is superb,
the tour operator provided lunch, this they don't need to both with
January 2015
THAT WAS PERFECT!
I even tried Balut.. and they show you around Laguna
We also got to try Lambanog!
Definetly 5 *****!!!
December 2014
Our guide was very knowledgeable about all the different areas we went to on our way to the falls and the falls were amazing. Definitely recommend making a visit to them if in the area.
October 2014
Long way to go, but a fantastic expierence with a wonderful boatride.

Bing USA
August 2014
Fantastic trip away from the hectic Manila! The falls are very beautiful! Don't miss out the chance to boat in the back of the falls:) On the way to the falls, we also stopped at some local vendors and tried out some local sweets, as well as the notorious balut! ohhh I had such a blast!
February 2016
it was different. It was very nice and relaxing and enjoying. Can cross it off the bucket list.

Sylva Australia
November 2015
The drive to the falls takes about 2-2.5 hours. The guide will talk the whole way be prepared. The trip up and back on the river takes about 2 hours and is fantastic. You will get wet. Take a towel, change of clothes and shoes. Suggest lunch after the boat trip so have a big breakfast.
December 2014
The offered tour here is considered a VIP tour from the tour company in the Philippines. It is a really convenient way to book a tour to Pagsanjan, and the tour would be just for you and your travel companions--essentially a private tour. The included meal is a nice way to end the river ride. Our guide was extremely knowledgeable (he was a retired history and literature professor of the University of the Philippines) about the local towns in Laguna as we made our way to Pagsanjan, and the resort staff where we boarded was very attentive.
For travelers on a budget, and not minding if there are others on the tour, it would be cheaper to contact the tour company directly. For a small group wanting a private tour experience with an included meal, this price here is still a bit pricey, but worth it for the convenience.
June 2014
Long drive because of traffic , but beautiful river canoe ride and falls was spectacular
February 2014
We were not given enough information prior to our tour regarding the fact we needed to be wearing bathers and thongs as we would be getting wet on the tour. Also the boatmen tried to rip us off by telling us they wanted 1000 pesos each as a tip and another amount for the other guy who towed the canoe on the first stretch of river. We had already paid for the tour and thought this excessive, especially as they expect you to buy them drinks and lunch as well. The actual scenery on the canoe trip was wonderful and the dexterity of the boatmen getting us through the narrow parts of the river and over the rocks was amazing.
Advertisement
Advertisement