Enjoy delicious cuisine and live entertainment with a view of Manila and the surrounding region on this 3-hour dinner cruise along Manila Bay. Choose from three cruise times: sunset, mid-evening or night, then climb aboard a dining yacht for a relaxing evening cruise along the shorelines of Manila Bay. Listen to live music (make some requests, if desired) and enjoy the passing sights, like the world-famous Manila Bay sunset and the frantic lights of popular Roxas Boulevard. Hotel pickup and drop-off included.
Highlights
Spend a cool tropical evening in Manila cruising along Manila Bay
Feast on a wonderful dinner of Filipino specialties and enjoy live entertainment by a local band
Admire beautiful bayside sights including the Mall of Asia and Roxas Boulevard

Enjoy personalized service by your friendly boat crew
Choose from three cruise times: sunset, mid-evening or night
Hotel pickup and drop-off included
What You Can Expect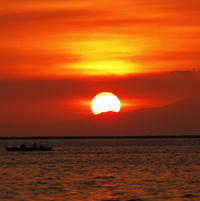 Start with a Manila hotel pickup in an air-conditioned motor coach. Then travel to the Cultural Center of the Philippines to experience a sightseeing dinner cruise along Manila Bay and the city's beautiful shoreline.
Climb aboard a dining yacht for the 3-hour journey. There are three cruises to choose from. On the sunset cruise, enjoy the world-famous Manila Bay sunset. The mid-evening cruise features the hustle and lights of Roxas Boulevard, the popular waterfront promenade which runs along the shores of Manila Bay. Or select the night cruise for a calmer atmosphere as the city settles down to close the day.
Enjoy traditional Filipino cuisine — like a fish fillet with buttered vegetables and rice, plus drinks and dessert — while savoring the sounds of a live, local band. Be sure to make requests for favorite songs along the way and enjoy a truly unforgettable evening.
April 2015
Our Guide Richard I think was his name was the greatest guide. He did an excellent job and made us feel very important and appreciated all the way thru the process, The driver was 30 minutes late arriving to pick us up and wasnt very friendly but the guide made up for it and was very professional. the cruise was awesome, very well planned and execute to perfection. Food was great, staff was great, music was a little loud when sitting upstairs but was tolerable. it was hard to talk and have a conversation with the music so loud. the sights and whole trip was excellent and will definitely do it again when in manila. I would recommend the cruise to anyone in the manila area. well worth the trip. fares were reasonable. 5 stars for sure. Thanks for a memorable evening.
May 2014
The Manila boat trip was great the veiws were fantastic, nice food really good band and our tour guide was very helpful it wad a great trip thanks.
August 2013
I can't rate this tour since there was bad weather on the night of our tour. Fortunately, our party was offered a dinner with cultural show which was absolutely great. Dinner at Zamboanga Restaurant was delicious and everyone was very polite and helpful. Maybe next time I will be able to make the cruise. I will rate the Zamboanga Restaurant and Traditional Cultural Show instead since I have to rate something to submit my review.
April 2016
You should have told the truth about the tour. Your ad said 3 hour tour. We were only on the water for 1 hour and 10 mins. The live music was for only 1/2 hour. The boat only goes in circle for most of the trip. Good thing the drivers that fetch us were very friendly. I would still have booked the cruise, even knowing the truth. I only wish you would have been HONEST in your ad.
Keith and Leah
November 2015
Lovely views from boat beautiful night very friendly knowledgable guide thank you richard
December 2014
Would have liked to have been on the top, but a private party took the top over. Food was good and plentiful. Being stuck down stairs was not fun.
January 2015
It was good, but NOT WORTH THE MONEY!
Tourguide was nice
Pick up Time was on time
Food was okay
but defintely not worth the money
June 2013
Very disappointing. The information provided by Viator upon which my booking was based was seriously flawed. False, even. My booking was for a 5:30pm start, but there is no such start time. It was a 4:30 start and this "sunset" cruise was over and back to shore again before sunset. Furthermore, the stated sites to be seen included the Mall Of Asia from Manila Bay, yet the cruise didn't even go anywhere near there. In fact, it went in the opposite direction altogether.
If it wasn't for the broken promises and the unfulfilled expectations, it would have been a pleasant enough little cruise, but it certainly was NOT what I booked or paid for. Frankly, I feel very ripped off.
Whose fault was it? Probably not Sun Cruises themselves. Their dockside signage of departure signs looks like it has been up on display for years, so that means either Brown's Travel (through whom Viator made the booking), or Viator themselves.
Whoever it was should have the moral conscience to send me at least a 50% refund, because what I got was NOTHING like what I promised.
January 2013
My family's experience of the recent boat trip is not so pleasant. The service car that picked up and brought us back to the hotel from our boat trip which is apparently too old and needs to be junked. Also, the food that was served to us is really not good, aside from being not sufficient. Before the boat departs, we heard the boat captain shouting at and have arguments with some boat riders who were unable to board the boat for reasons which we do not know. Such shouting should not have happend in front of the many other boat riders on board. For these reasons, we are not sure if we will be in a position to recommend this to our friends. Sorry for our comments but we are just being honest about it.
February 2015
The bay smell so bad .... They need to offer Variety of food choices when booked (for a price, let say Steak or lobster Dinner).
Advertisement
Advertisement