Tour code:
6202OUARZAZATE
Venture through the Atlas Mountains to the Sahara Desert on this unforgettable 3-day trip from Marrakech. Traveling by air-conditioned vehicle, cross the high Tizi N´Tichka pass, and stay in the desert town of Ouarzazate where scenes from movies such as 'Gladiator' were shot. Continue through the lush Draa River Valley and spend the second night in a traditional desert camp before witnessing sunrise over the Erg Lihoudi sand dunes on the edges of the Sahara. Accommodation, breakfasts and dinners are included. Numbers are limited to 18 for a personalized experience.
Highlights
3-day tour from Marrakech to the Sahara Desert in southern Morocco
Travel through the High Atlas Mountains to the gateway city of Ouarzazate
Explore the Draa River Valley's picturesque towns and villages
Stay overnight at a desert campsite in M'hamid for a taste of traditional Berber life
Watch a desert sunrise at the Erg Lihoudi sand dunes near M'hamid
Overnight accommodation and daily breakfasts and dinners included
Small-group tour limited to 18 people ensures a more personalized experience
Why Our Insiders Chose This Tour
This 3-day trip lets you explore beyond Marrakech and venture into Africa's mystical Sahara Desert. Seeing the sunrise over the sand dunes in the desert is a real highlight!
What You Can Expect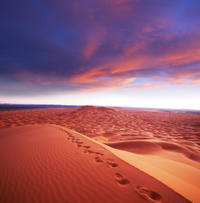 This 3-day trip lets you explore beyond Marrakech and venture into Africa's mystical Sahara Desert. Seeing the sunrise over the sand dunes in the desert is a real highlight!
Day 1: Marrakech – Ouarzazate (D)
Begin your small-group 3-day adventure with a morning pickup from your Marrakech hotel or a central meeting point. Settle into your air-conditioned sedan, minibus or coach – your vehicle depends on your group size — and soak up the scenery as you drive into the scenic High Atlas Mountains.
Ascend the rugged slopes and thrill as you traverse the famous Tizi N´Tichka, climbing to 7,415 feet (2,260 meters) to cross what is North Africa's highest mountain pass.
Refuel with lunch (own expense) at a local restaurant and then continue to Ouarzazate. Sometimes known as the 'doorway to the desert' for its location on the borders of the vast Sahara Desert, this bustling desert town is famed for providing the backcloth to many desert-set movies, including Lawrence of Arabia and Ridley Scott's epic, Gladiator.
Check in at your hotel and this evening, enjoy dinner with your fellow travelers.
Overnight: Hotel Kenzi Azghor (or similar) in Ouarzazate
Day 2: Ouarzazate – Zagora – M'hamid (B, D)
After breakfast at your hotel, travel along the Draa River Valley, an ancient trading route taken by merchant caravans that transported slaves, gold and other precious wares from beyond the Sahara to north Morocco.
Admire the views along the lush valley as you pass through timeless towns and riverside Berber villages, including Agdz and Zagora. This evening, arrive at the oasis town of M'hamid and take a camel ride on route to a Berber campsite.
Tonight, sit down to a camp dinner and stay overnight in a traditional-style nomads' tent under the desert stars.
Overnight: Berber campsite in M'hamid
Day 3: M'hmid – Zagora – Marrakech (B)
Rise early for an energy-boosting breakfast and then drive to the famous dunes of Erg Lihoudi. Behold an awesome sunrise over the ocean of dunes – colossal pillows of orange sand that reach heights of 328 feet (100 meters) and stretch almost as far as the eye can see on the fringes of the Sahara.
After snapping photos and drinking in the rarefied desert air, make the approximate 6.5-hour journey back to Marrakech, with a stop for lunch (own expense) in Ouarzazate on route.
Your 3-day trip then concludes at the original departure point in Marrakech this evening.
December 2014
I had a wonderful time on this tour. I booked the tour as an individual, so I was a bit annoyed at having to pay a substantial surplus, but it was worth it (especially as it meant I was by myself). I was promptly met by Mostafa, my guide and driver for the three days, at a pre-arranged meeting point just off to main square in the medina. Mostafa can communicate essential information in English and respond to simple questions, but he struggles beyond that. However, he speaks excellent French and is also one of the few people I have come across in my time learning standard Arabic who can talk fluently, at length and gladly in MSA, which was great for us both, if a little challenging at times. However, if there are other students of Arabic out there, I thoroughly recommend taking any tour with Mostafa, who is just a really great guy and excellent company.
The tour itself fits in an awful lot, so it will at times feel long, but there are plenty of opportunities to get out and about, including a self-guided tour of Aït Benhaddou, a tour of a movie set (in disrepair!) in Ouarzazate and then in Ourzazate itself on the first day. Incidentally, lunch on the first day was included as part of the movie set tour. We arrived into Ourzazate at about 4pm and checked into the hotel, which was quite nice, had lovely views from its pool and spa and hammam facilities (which weren't available).
Day two was more driving down through the Draa Valley to Zagora for lunch, arriving in Mhamid by mid-afternoon. In the end, we went to Erg Chiagaga, not Erg Lihoudi, which was great. I was alone at the camp and was very well looked after. The camels did, however, look a little sad. The camel ride up to the dunes was on arrival at about 16:30. In the early morning, I had a walk up myself, then breakfast and then back in the car to Marrakech. Lots of driving, but stunning views through the snowy and very windy mountains! We arrived back in Marrakech at about 18:00. It was a fantastic trip.
April 2014
Incredible value for money. Mustafa is a fantastic guide, who put our safety and wellbeing first. He was flexible and adaptable and tailored the tour to suit our personal interests. The first hotel in Ouarzazate offered a terrace pool and restaurant, spa facilities and a bar. The highlight for us was the basic camp that we got to by trekking on camels for a couple of hours into the heart of the Sahara. Surrounded by huge, soft sandunes, sitting around a campfire eating soup and tagine was a truly authentic experience. The mud huts were basic but comfortable and had rustic charm but we chose to sleep under the stars outside instead. Waking up to the sunrise over the dunes is an experience we will never forget. Although on the outset it looked like we were trying to see and do a lot in a very short time, we came away feeling like we've really seen Morocco while still having plenty of time to relax and take it all in.
March 2014
Trip to M'Hamid was spectacular. The hotel at Ousazarate was excellent. My guide Mostafa did everything possible to make me comfortable. I only wish he spoke English. Highlight of trip was listening to him recite portions of the Quran in Arabic. The Sahara camp was disorganized and never saw the dunes
Advertisement
Advertisement