Enjoy bird's-eye views of Morocco's deserts and the foothills of the Atlas Mountains on a sunrise hot-air balloon ride from Marrakech. Ride a 4x4 to the launch spot in the early morning and drift through the dawn skies over the desert valleys and hillsides just as the sun casts them in gold, orange and pink. Then, land safely back on ground to enjoy a tasty Berber breakfast and memorable camel ride. A flight certificate to commemorate your balloon ride is also included.
Highlights
Morocco hot air balloon flight and camel ride
See the Atlas Mountains on a peaceful hot air balloon ride at sunrise
Sit down to a typical Berber breakfast after your flight
Enjoy a camel ride through the Moroccan desert
Take home a flight certificate as a souvenir of your Morocco hot air balloon ride
Make use of a hotel pickup and drop-off service from central Marrakech
Recent Photos of This Tour
Atlas Mountains Hot Air Balloon Ride from Marrakech with Berber Breakfast and Desert Camel Experience
What You Can Expect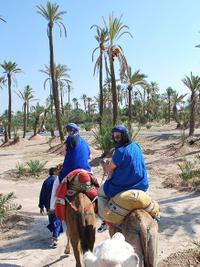 Rise early and leave your Marrakech hotel by 4x4 with your guide. Relax inside the air-conditioned vehicle as you travel to the launch site in time for your balloon ride.
On arrival, boost your energy with pastries, tea and coffee and look on as your experienced crew prepares your balloon.
Climb into the spacious basket for takeoff. Each basket accommodates up to 16 people, and there's ample room for you to sightsee comfortably as you fly.
Thrill as your balloon rises into the skies and ogle the aerial views of the desert as you float through the air. Take photos of the rocky valleys and peaks as your pilot steers your balloon over the foothills of the Atlas Mountains.
After around 40 to 50 minutes, (depending on weather conditions), touch down safely back to ground. Then, take a seat in a tent overlooking the mountains and savor a delicious breakfast of Berber staples such as corn bread, pancakes, olives, fresh fruit and mint tea.
Having enjoyed breakfast, take a camel ride around the sandy lanes of the Palmeraie desert complex next to the camp.
Receive a commemorative flight certificate to mark your balloon ride, and return to your Marrakech hotel by 4x4 to end your trip.
May 2016
I had booked this trip as a surprise gift for my wife for our forthcoming wedding anniversary. It most definitely didn't dissapoint!
From the moment we were collected from our Riad in the 4x4 we were both extremely excited.
The car was clean and the rest of the passengers seemed as excited if not a little tired as we were.
We drove for approximately 45 minutes, the drive itself was nice, pretty comfortable, considering there were 6 plus a driver. We had only booked for a 4 night stay in Marrakesh. So the drive meant we got to see outside the city of so much hustle and bustle.
We turned off of the main road and into a rocky desert, drove a little further and ended up at a berber house.
We were welcomed with Berber tea and coffee and various breakfast pastries. The guys then started work on erecting the balloon. Our excitement was looming. We were called across to the magnificent balloon and asked to jump in at various entry points, we were introduced to our pilot who was a cheeky Morrocan chap. His english was good, the group we were with were all english speaking, so i couldn't say if he spoke other languages, apart from arabic.
The pilot asked us all to dip down within the basket, as he fired off the above head burner.
We were dipped down for less than 30 seconds, he then said ok stand up. As if by magic, we were about 30ft from the ground.
I think everyone's elation was apparent, the pilot then cracked many jokes to settle everyone and to build a rapport with the group.
The views were amazing, peacefully rising higher and higher. It was everything I had hoped it would be.
The pilot then landed the balloon into the trailer of a jeep. The landing was textbook. We hopped out and were driven back to the berber house, this time to a full berber breakfast.
After about 45 minutes we were taken to what i could only describe as a camel park. We were all asked to put on some traditional Berber clothes... then hopped on board our camels.
May 2016
May 2016
The flight was awesome. The view from the top was magnificent it was calm and not at all scary as I was afraid of. The breakfast was yummy but quite high on breads which is apparently just a local thing. Dont expect a ride to be a real ride youll be dressed in some local clothes and led around for 10-15 min on a camels back. Just to get some cute pictures and some laughs which was perfectly fine with me. All in all I highly recommend it.
April 2016
We done this trip last Monday and it was absolutely fantastic. We were picked up promptly and really well looked after the whole time. Everyone involved was superb and I have to give a special thank you to the pilot who was great !! The take off and landing were very smooth and the flight was amazing. We had a hearty breakfast when we got back with lovely food and of course mint tea the best in the world . Then we set off for our camel ride.
What a fantastic morning, the whole experience was superb and I would recommend it to anyone visiting Marrakech.
April 2016
The balloon ride was amazing! It was so beautiful at sunrise. Our trip was actually supposed to be cancelled due to weather, but thankfully the wind and rain held out just long enough for us to still be able to go. The company was good with their communication as well. They called our Riad to let them know it may be cancelled and then called again when we were still able to go. The balloon pilot was hilarious and made the whole ride even more fun : The berber breakfast was good and there were many options. The camel ride was fun, but did leave a little to be desired. The lot that we walked around was not very nice, but I may be bias because the day before we had done a camel ride on the beach in Essaouira that was wonderful. Even with that though, I would still highly recommend this tour. We really enjoyed it!
April 2016
FANTASTIC FROM START TO FINISH CAPTAIN MADE THE DAY BUT ALL THE ITEM WERE WELL PREPARED THE MEALS THE FLIGHT AND THE CAMEL RIDE WOULD DO IT ALL AGAIN
April 2016
Thanks so much to our hilarious operator, you calmed our fears and did a great job of showing us the beautiful mountains.
April 2016
April 2016
Excellent tour. we loved every minute of it Highly recommended.
April 2016
Wonderful experience, the captain - Hamid was a great host, breakfast at a berber house twice and the camel ride fitted a lot in a morning, would highly recommend this tour.
graham
Advertisement
Advertisement