Gain a newfound appreciation for Moroccan cuisine during this small-group, 4-hour cooking class, including shopping at the market, preparation of a traditional dish and lunch. Learn some Arabic phrases from your guide to shop at the 'souq' (market) for ingredients. Then create a traditional Moroccan meal such as couscous or 'tagine' (a meat and vegetable dish named after the pot used for cooking). Finish by enjoying lunch with fellow students in the courtyard of a 'riad,' a traditional Moroccan dwelling. This small-group class, limited to 12 participants, also includes a recipe sheet so you can replicate the dish later.
Highlights
Cook and eat authentic Moroccan food with fellow food lovers
Learn some Arabic and shop for fresh ingredients from a local open-air market called a souq
Make a classic Moroccan dish such as a tagine or couscous with the help of your guide
Feast on your culinary creations in a peaceful riad setting
Recipe sheet included
Small-group tour limited to 12 people ensures more personalized attention from your guide
Recent Photos of This Tour
Experience Morocco: Visit a Souq and Cook a Tagine in Marrakech
What You Can Expect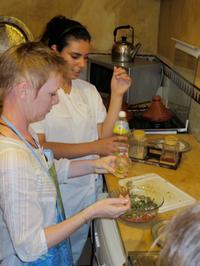 Get a taste for the lively flavors and vibrant culture of Morocco during this small-group cooking class, allowing you the chance to shop for ingredients at the market, cook a traditional dish and enjoy your efforts for lunch inside a typical riad dwelling. This food-lover's tour is the perfect blend of cultural immersion along with a chance to explore the delicious flavors that characterize this North African country's culinary heritage.

Start your trip by meeting your group and guide at 9am in the Djemaa El Fna, the central square at the heart of Marrakech. Follow your guide through the winding city streets back to a riad to kick off your food experience. Pick up a few Arabic words that you'll put to use as you bargain for ingredients like vegetables, meat and, most importantly, spices at the local souq. During your shopping trip you'll be on the lookout for typical Moroccan ingredients including mint and olives from the city of Meknes, saffron from Taliouine and citrus from Fez.

Once you've finished your shopping, return to your riad to begin your hands-on cooking session. Follow your guide's instructions as you prepare a typical Moroccan dish such as tagine or the comparable tangia (composed of couscous with vegetables and meat), pastila (an apple-based dessert) or harira (a traditional North African soup served with dates).

Afterward, dig into your freshly-prepared meal set inside the beautiful courtyard of your riad. You'll also leave your session with a recipe sheet, allowing you to re-create your dish when you return home (and impress family and friends).

Finish your culinary experience by returning to the city's Djemaa El Fna, where you can continue your day by shopping for spices and immersing yourself in the whirlwind of smells, sights and sounds that characterize this unique city.
June 2016
From the beginning it was awesome. Senna met us at Cafe de France as planned, took us shopping for the ingredients we needed then back to the riad where Karima awaited us. There were only four of us which was nice. We had a mint tea demostration, then it was time to get our hands dirty. Got yo make a Moroccan salad and a chicken, olive and lemon tagine, it was so much fun! Totally recommend this experience.
June 2016
Really enjoyed this cooking excursion. Our tour guide was very friendly and made us feel really welcome. I took my 10 year old daughter and although we are vegetarian and vegan this wasn and #39;t a problem. We had a great time and cooked some lovely Moroccon food.

May 2016
Absolutely CANNOT miss this one. If you love to cook and/or eat this tour is for you. By far the best tagine we ate on our 5 day trip and we helped cook it! The tour guide was so sweet and very knowledgable about the area and what ingredients to get.
April 2016
Would recommend this to anyone, had a thoroughly enjoyable time and our hosts were fabulous. Really enjoyed the experience of shopping in the Souks and cooking our own chicken tagine which tasted delicious, we have now managed to recreate this dish at home and it turned out great
March 2016
highlight of our 5 day stay in marrakech was this tour --dont miss it

February 2016
Karima was fantastic, the cooking was fun and very intimate, and it was a real eye opening experience
November 2015
Karima our host was perfect. She told us the Arabic words for all the ingredients she purchased from the souk. The chickens were alive when she bought them !! We then went to her family Riad to cook a tagine each, and a Moroccan salad to go with it. She also showed us how to make traditional mint tea. While the tangines were cooking over the charcoal, we relaxed up on the roof terrace where Karima served us tea/coffee and biscuits. There were 4 of us on this day 2 couples, and we all got on very well. Then came the great tasting - it was all delicious food. We had a great morning, with lovely people, and great fresh Moroccan food. This class is perfect for both good home cooks, and novices. Nothing too complicated and all well instructed. Thank you Karima
October 2015
My wife and I were met at the appointed place by Kamimcl may be misspelled We strolled through the souk and food market where we saw and tasted local foods. We purchased our products to cook later. We the walked to our host rial where we sat around a table and following instructions we prepared our products fo the tagine. It was cooked over charcoal while we prepared and ate a salad. This was an overall great experience and we would highly recommend it to anyone.
September 2015
This was fun, first we buy the groceries at the local market and then we cooked our own Tajine mael at Karima's house. It was a very nice experience and we loved Karima and her family. When you go to Marrakech you must do a cooking class!!!!!

September 2015
What a wonderful way to learn how to cook a proper Moroccan tagine, than in the beautiful traditional house of a local family.
We booked a the cookery trip via the website Viator, who in turn use a local business.
Its a must-do experience in Marrakesh!
We thoroughly enjoyed the whole experience. Our local guide Karima picked us up outside Café Paris in the chaotic Djemaa El Fna far right hand side of the square, and took us through the labyrinth of alleys and souks, where we stopped en route to her family home to purchase all the ingredients needed to each make our own lemon chicken tagine. The stops included a spice shop, mint stall, vegetable stall, olive shack and not for the faint hearted Westerner the live chicken counter. Dont worry, after she picked the ones required, and had them weighed we didnt stick around to see our fresh chicken prepared. You have to appreciate its a way of life, and one we are very ignorant to, as we are great at disconnecting such thoughts, where we do our weekly shop in Asda!
We stepped from the madding streets of Marrakesh into this beautiful tranquil home, and were made so welcome by the host family. Of course you have the obligatory welcome Mint Tea, and then set to work on making your own tagine traditionally over coals, where Karima taught us, with the assistance of her sister, and mother. The result was by far the best tagine we ate during our stay and we werent biased as we made it!.
What a lovely family-ran business, it was both a privilege and the highlight of our holiday to meet Karima and her family and to cook the native dish synonymous with Morocco.
Advertisement
Advertisement