Enjoy all the color and excitement of Moroccan folklore entertainment and a delicious meal at the evening Fantasia Moroccan Dinner and Cultural Show in Marrakech. Travel to a picturesque palm grove and settle inside a cushion-strewn Berber tent to enjoy a succulent Moroccan dinner serenaded by exotic singers, musicians and belly dancers. Afterward, sit around a sand arena to watch electrifying displays of tribal horsemanship, fire-eaters, acrobats and dancers, all culminating in a breathtaking flying carpet act.
Highlights
Fantasia dinner and cultural show in Marrakech

Watch a spectacular Moroccan show, complete with belly dancing
Enjoy a traditional meal while seated on cushions around the venue
Round-trip hotel transportation included
Recent Photos of This Tour
What You Can Expect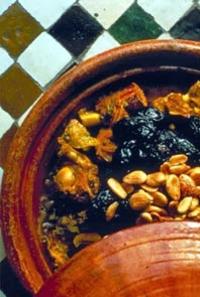 Begin your experience with a pickup from your Marrakech hotel or a central meeting point. Then, travel to the Fantasia show venue — a palm grove with Berber-style tents and a sand arena.
Head inside a tent and settle on the comfortable floor cushions. Then, savor a traditional feast of Moroccan dishes, such as roast lamb, couscous and mint tea accompanied by Berber music and belly-dancing displays.
Next, take a seat around the outdoor arena and enjoy an electrifying folklore show featuring horse riders, dancers, magicians and other exotic acts.
Watch a thunderous display of Moroccan horsemanship, with riders dressed in historical battle costume. Admire the speed of the pure Arab stallions as the riders act out battle scenes, performing stunts and blasting rifles into the air.
Then, watch a host of colorful entertainments as skilful fire-eaters, acrobats and magicians take the stage.
Keep your camera handy for the stunning finale — when two performers climb aboard a magic carpet to 'fly' through the air.
After the spectacular finish, your evening then ends with a drop-off at the original start point.
Sample Dinner Menu:
Fresh salad

Mechoui (roast lamb)

Couscous with seven vegetables

Fresh seasonal fruits

Moroccan pastry

Mint tea

May 2016
Was fantastic, We want to go again. I recomended
April 2016
The food, the show......AWESOME!!! Loved loved loved the entertaining cultural show....and the food was yummy! Had a grand time!
MissUK00 United Kingdom
November 2015
The Fantasia show and dinner was great. This was my third time visiting Marrakech and each time I booked the Fantasia show and dinner.
Dinner was soup, roast lamb, cous cous, a tray of fruit and mint tea.
Show was very good but not long enough. All in all I had a fantastic night.
August 2015
Great overview of Moroccan culture, very nice dinner and great cultural show. I definitely enjoyed it!
My only concern is: why a traveller needs to call the local agency even after receiving a confirmed booking from viator?
June 2015
Wonderful show, excellent food, beautiful setting. Well worth the price of the ticket. We had an unforgettable evening. :-
April 2015
Was a wonderful experience - the food was abundant and very tasty. A great time and very fun.
March 2015
Delicious cuisine accompanied a great show with singing, dancing, etc
September 2014
My wife Lorraine was quite concerned as we set off with 2 other couples and 2 tour guys into the backblocks of Marrakech, she whispered to me, "I think we are going to disappear into the desert and never be seen again". All of a sudden we were there at this fantastic enormous place like out of a fairy tale.
The food was great, the people and their costumes were great, the show was great.
Fantasia was the highlight of our stay in Morocco
August 2014
May 2014
Very glad we did this. The complex where the show is held is wonderful. While neither the food nor the show are the best I've ever experienced they were fine for what this is and it was great to see the costumes of various tribes and the little Berber museum. As part of the dinner we were served a whole shoulder of lamb on a large platter-never had it that way. And we were picked up at our hotel with an English speaking guide who was great,
Advertisement
Advertisement