Discover the maze-like souks, foods and must-sees of Marrakech's medina neighborhood on this 4-hour walking tour. With a local guide, roam the atmospheric souks around Djemaa El-Fna and visit the Bahia Palace, where the gilded pavilions and harem hosted sultans and their concubines. Sample fresh-baked bread at a communal bakery, see 'tanjia' ovens where locals bring clay-pot stews to be cooked, and head for the Marrakech Museum of Photography to view its stunning photographs of old and modern Morocco. Numbers are limited to seven people for a more intimate experience.
Highlights
Half-day walking tour of Marrakech's medina and major attractions

Experience the chaotic energy of Marrakech's medina without worrying about getting lost thanks to your local guide

Witness the spectacle of Djemaa El-Fna with its multitude of vendors

Enjoy guided tours of Bahia Palace and the Photography Museum of Marrakech

Small-group tour limited to seven people ensures more individualized attention from your guide

Why Our Insiders Chose This Tour
This tour takes you to some of Marrakech's most fascinating cultural attractions and gives you the chance to experience the vibrant atmosphere of the medina without getting lost!
Recent Photos of This Tour
Marrakech Medina Walking Tour Including Bahia Palace and the Photography Museum
What You Can Expect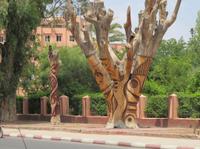 This tour takes you to some of Marrakech's most fascinating cultural attractions and gives you the chance to experience the vibrant atmosphere of the medina without getting lost!
Meet your friendly guide in Djemaa El-Fna, the buzzing square in the center of old Marrakech, and set off on your small-group walking tour.
Soak up the sights of the vibrant square, and then head into the warren of neighboring souks. With your guide to navigate the alleyways of the medina, you're free to drink in the atmosphere and peruse the enticing wares that range from carpets and hand-painted plates to spices, gold and textiles.

Make your way to one of Marrakech's historical highlights — the Bahia Palace (Palais de Bahia)— a lavish sultan's palace built in the 1800s. Explore the opulent pavilions and courtyards to admire the mosaics, halls and fountains as your guide recounts tales of the sultans who lived here with their wives and concubines.

Head back into the medina and follow the aroma of freshly baked bread to a traditional bakery. Learn how the locals bring their prepared dough here for baking, and sample some of the fluffy warm bread. Then, check out a tanjia oven, where clay pots filled with meat and spices are cooked for locals.
Lastly, visit the Marrakech Museum of Photography and Visual Arts to see its photographic exhibitions. Gain insight into old Marrakech from the photos charting life in the city in the last century, and inspect the stirring portraits of locals and Moroccan villagers, as well as contemporary works from around the world.
After around four hours, return to Djemaa El-Fna where your tour finishes. Get directions back to your hotel from your guide or continue exploring the medina independently.

November 2015
This was a first class way of introducing Marrakech and the local people to us shortly on arrival. We joined a group of 5 and we all got on really well . Could not fault this tour. We had continental breakfast at Cafe de France a bargain at 35MAD. Well done for getting our trip off to such a great start.
November 2015
Excellent tour Mustapha was very knowledgeable and took his time to allow me to explore, unfortunately my husband found the walking too much so caught a taxi back to the Hotel. I would certainly recommend this walking tour to anyone visiting Marrakesh as it allowed us to get our bearings for exploring on out own.
October 2015
We really enjoyed it. Our guide Abdul shared with us useful information and it was a great way to see the Medina and get a sense of the city. We were very pleasantly surprised that the tour included more sites than mentioned in the description. Thank you!
October 2015
It was great to start our trip to Marrakech with a tour guide like Mustapha. His English is impeccable and he has a wealth of knowledge on many topics. Our group was fairly small so he had the time for all of our questions, and there were a lot of questions! He seemed to cover more than what we expected, which was a treat, plus it was much easier to navigate the endless winding souks on our own after having been introduced to them by Mustapha.
October 2015
An excellent tour with an excellent guide: Mustapha !!
He was great really knew a lot on Marrakesh and Marocco and was never tired to tell more.
June 2015
This tour was a great idea at the start of our visit to Marrakech. We did it on the first morning, and met our guide Mustapha at the Café de France in the main square at 9AM. It allowed us to get our bearings on the first day. The tour lasted about 4 hours and provided a fascinating first taste of the Medina of Marrakech. Our group was small, only 5 of us in all, which was great because we could ask questions. Our guide was very nice, with excellent English, and made the tour very interesting. He provided enough detail to keep us interested but without bewildering us.
Among other things, we visited the Bahia Palace where you should watch out for the storks nesting on the pillars in front of the Palace! They provide a great photo opportunity. Inside, the palace there are some super friendly cats wandering around which I found charming. We also visited a bakery where locals bring their bread to be baked in a huge oven, and a pharmacy that sold spices and oils where we were given mint tea and offered a short massage for a few dirhams. A tour of the souks was particularly fascinating, as we watched tradesmen of all kinds making goods from leather and metal. The guided walk through the souk provided us with the only opportunity to go in there without being constantly pestered by the stallholders!! The tour finished up in the Museum of photography, where a lovely exhibition of photographs depicted Moroccan culture over the years. Overall, I would happily recommend this tour and our lovely guide. We all enjoyed it.
March 2015
This tour was excellent thanks to our guide who went beyond his call of duty to show and explain everything to us! I would recommend it to anyone who visits Marrakech-step one to understanding this incredible city! Other tours were nowhere near as informative and fun
March 2015
Mustafa was a great guide. Totally recommend the tour to walk around and know about the city!
March 2015
We are very happy that we took half-day walking tour of Marrakech's medina and major attractions on our first day. Our guide Mustapha shared his big knowledge about Marrakech and Marroco. We highly reccomend our guide Mustapha and the tour.
January 2015
Very nice tour, the guide explained everything we saw and knew much about the city history.
Advertisement
Advertisement