Experience three of the Atlas Mountains' beautiful valleys and traditional Berber life on this full-day trip from Marrakech. Traveling into the mountains by 4x4 or minivan, discover the lush Ourika Valley with its idyllic waterfalls, the timeless villages of the Oukaimeden Valley, and the orchards of the Asni Valley. Drive spectacular mountain roads and enjoy lunch at a restaurant, or, if you wish, in a Berber family home. Upgrade to also visit Takerkoust Lake and the high Kik Plateau. Numbers are limited to seven for a more personalized experience.
Highlights
Day trip to three scenic valleys from Marrakech with the option to also visit Takerkoust Lake and the Kik Plateau
Get away from the hustle-bustle of Marrkech to the stunning Atlas Mountains and witness traditional Moroccan life

Admire the many waterfalls in Ourika Valley and see native women extract Argan oil
See traditional Berber villages in Oukaimeden Valley and take the opportunity to dine with a local family

Pass acres of almond, peach and walnut trees in Asni Valley

Extend your adventure with a visit to idyllic Takerkoust Lake and the distinctive Kik Plateau
Small-group tour limited to 7 people ensures more personalized attention from your guide


Why Our Insiders Chose This Tour
Taking a day to explore the stunning scenery of the Atlas Mountains is a highlight of any trip to Marrakech. You get to see how different life is in the villages of the valleys and what a truly beautiful country Morocco is!
Recent Photos of This Tour
Three Valleys Day Trip from Marrakech with Optional Visit to Takerkoust Lake and Kik Plateau
What You Can Expect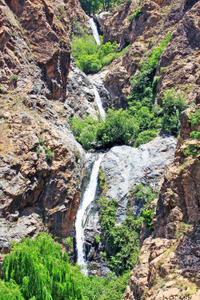 Taking a day to explore the stunning scenery of the Atlas Mountains is a highlight of any trip to Marrakech. You get to see how different life is in the villages of the valleys and what a truly beautiful country Morocco is!
Begin your small-group day trip with a pickup from your Marrakech hotel or riad, and board your air-conditioned 4x4 or minivan.
Hear about Morocco's rural way of life as you drive into the foothills of the Atlas Mountains. Admire the snow-tipped peaks as you head further into the spectacular range, and after roughly an hour, arrive at the Ourika Valley.
Ogle the greenery and terraced slopes and stop to admire the Ourika's stunning waterfalls — a lovely contrast to the rugged mountain slopes.
Walk to the falls and take photos of the tumbling waters, and then visit a local Argan Oil Co-operative, where Berber women extract the oil of Argan nuts to use in cooking and cosmetics.
Watch the women working and visit a bio-aromatic garden where plants and herbs are cultivated for medicinal, aromatic and decorative purposes.
Drive on into the beautiful Oukaimeden Valley. Climb to 5,900 feet (1,800 meters) up a winding mountain road, passing Berber villages of stone and adobe perched on the steep slopes.
Stop for lunch at a restaurant (own expense) or opt to visit a local family home for your meal. Meet your welcoming Berber hosts and enjoy a homemade lunch of salad or soup, tagine with couscous and a dessert and drinks.
Continue to the third valley — the Asni Valley high in the mountains. View Mt Toubkal, at 13,665 feet (4,165 meters) and pass the Asni's apple, walnut, peach and almond groves.
Afterward, return to Marrakech or, if you've upgraded, take the 1-hour drive to Takerkoust Lake. Admire the azure artificial lake framed by snow-capped mountains and pass traditional villages to the Kik Plateau, a limestone mountain plateau with epic views over the verdant valleys below.
Your trip then ends with a drop-off at your Marrakesh accommodation.
May 2016
Excellent. Our guide Abdul was so knowledgeable and friendly.
Lunch was amazing and in a stunning location.
We just loved the day.
Wear suitable footwear as the walk to the waterfall was steep and slippery. I suggest trainers or something with grip.
May 2016
Excelent tour! Abdul our main tour guy was really great, a really nice guy and very knowledgeable. The valleys were stunning, we get a great taste of the old berber villages scenery and lifestyle. The Ourika waterfalls walk was quite an experience and that lunch meal was amazing
May 2016
Our tour with Mostafa was first rate in all respects varied landscapes, coupled with excellent commentary and good humour made this the perfect day out. Informative and entertaining high spot the Berber village lunch - delicious. Excellent value.
May 2016
We really enjoyed this trip. Ouricha valley and waterfalls are a bit touristy but nice to see. The other two valleys and Kik plateau are more quiet and authentic. The Atlas mountains are beautiful, amazingly green and the Berber people are very friendly. We enjoyed the lunch at at the house of a Berber family. Our guide Mostafa was very friendly and told us a lot about the Berber way of live. We can recommend it to anybody who wants to see something else than Marrakech. We did it with two children 9 and 11 who also enjoyed it and we didn't have any stomach problems after the lunch.
May 2016
This was the highlight of my trip to Marrakesh. The valleys are very pretty and all very different from each other. It was also nice to experience the piece and quiet after the hustle and bustle of Marrakesh.
Also the lunch really was fantastic is was the best / most authentic food I had on my trip and there was so much of it it was so good I couldn't stop eating : . The view from the house is also breathtaking.
I highlight recommend this tour.

May 2016
Amazing, perfect, and professional. My day in the Atlas Mountains was the highlight of my trip to Morocco. Prior to my day trip of the three valleys i was emailed by Sara to confirm my pick-up time and location, which I really appreciated. Our guide, Chakib, arrived right on time and took us to the three valleys where he provided us with plenty of facts and figures about each of the valleys we'd be visiting. Chakib was so kind to everyone, and always made sure we were comfortable and accommodated everyone on the tour really well he's also a great photographer, too!.
What I appreciated most was the thought that went into the design of our itinerary. We started the day a bit early, and it was worth it. By the time we had finished our hike to the waterfall we saw the hoards of tourists piling in to experience the beauty of the region, but because we had gone earlier in the day everything was quiet and just absolutely perfect, giving us what felt like a truly unique and personalised experience. Chakib informed us that other tour companies start later in the day, which means one's experience isn't as great.
The lunch with the Berber family was absolutely delicious, and the views as we ate were spectacular! I was hoping for more interaction with the family, who did their own thing while we ate maybe there was a language barrier?. We would've liked more of an in-depth explanation of how the tajine was prepared and more about their culture. Chakib did a good job of talking to us about their lifestyle, so that was good!
Overall, the Three Valleys Tour was perfect, and I wish I had booked more excursions! And I encourage everyone going to Morocco to book this tour for an escape from the hustle and bustle or Marrakech.
April 2016
Perfect tour with 4 p. in good SUV. Very friendly, interested and good english speaking guide, sights are great. We recommend this tour !!
Dave and Johanna
April 2016
For three women and one teenage girl, this tour was our favorite day on our Marrakech visit. It started a little shakily because I hadn't thoroughly read the voucher where I was supposed to set the pick up time and location 24 hours in advance but I was able to call the company and set things up the night before. My bad for not reading the small print but it also seems like Viator could make those terms more prominent and/or send a reminder email. Anyhoo, the person I spoke to on the phone couldn't have been nicer and we set up a pick up location.
Although they were a little late, they called to let me know and were super courteous. Abdul was our driver and guide. Not only was he excellent at both, he really impressed me as he is passionate about the community of people who live in the Atlas Mountains. He is from the Atlas Mountains and has family that lives there now.
Everyone enjoyed the hike to the waterfalls including me although I didn't go quite to the end- there was a place where I would have to jump over rushing water between two boulders and I'm a terrible jumper, so I opted not to go but the view was great even from there. You definitely need good footwear and not mind climbing some rocks. The Argan Oil collective was very interesting and the views became more spectacular as we climbed. We had lunch at a Berber family house on a terrace with a breathtaking view. The food was delicious and plentiful, well worth the extra cost. Everyone agreed that lunch was fantastic. After lunch we continued to climb and saw another valley, then started down. During the drive, Abdul gave us a window into life in these mountains and that was probably my favorite thing. If you get a chance to take this tour, do it!
April 2016
Great Tour and cool Tour Guide!
April 2016
Collected at 8.30 from our hotel by 4x4, the driver introduced us to 3 others - Boris from Germany,
Giselle and son Luca from Brazil in such a warm way we were immediately at ease and made a happy group.
Mustapha was the driver with a lovely personality and sense of humour giving great info as we went into the Atlas Mountains following a river towards Ourika. A stop to experience crossing the river on a very rickety bridge was quite an experience. Arriving at Ourika we met a local guide for our trek onwards and upwards to the waterfall, hard going in places but a rewarding experience.
The tour continued by road with wonderful scenery of snow covered peaks and green foothills, several photo stops were made before stopping at a berber house for lunch in a beautiful setting with nice tagines served on an outside terrace with views to die for.
The tour continued on narrow roads through picturesque settings to a plateau and lake. We seemed to arrive back to the city from a much flatter route which was deceptive in time.
A very good day was had with Mustapha being the perfect host.
graham
Advertisement
Advertisement