Enjoy the convenience and reliability of a private transfer from Marseille International Airport to Marseille train station, or your Marseille or Aix-en-Provence hotel. Make your booking in advance complete with your pickup location, flight details, and your preferred pickup time. Daily service is available from 8am to 8pm. Prices are per person based on six passengers per vehicle. C'est simple!
Highlights
Pickup at Marseille International Airport for one-way transfer

Private vehicle with driver for one to six people

Transfer to a Marseille hotel, Marseille Train Station, Port of Marseille or Aix en Provence hotel

Service is available 8am to 8pm, seven days a week

What You Can Expect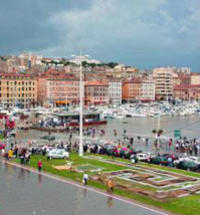 It's easy! Make your booking in advance complete with your pickup location, flight details, and your drop-off details. Daily service is available from 8am to 8pm. Within 24 hours of booking, you'll receive confirmation and a voucher to present to your driver at pickup. Upon arrival at Marseille International Airport, a comfortable private vehicle will meet you and provide luggage handling (gratuity is optional,
but appreciated). Service is provided to hotels in Marseille and Aix-en-Provence as well as to Marseille Train Station.
Please enter REQUIRED details that follow in the "Special Requirements" box when booking.
Arrival Airline
Arrival Flight Number
Departure Airport and Arrival Airport
Arrival Time
Full Hotel Name and Address
Price is per person, based on 6 adults per car/vehicle
April 2016
The service on this tour was suburb. The driver Matthew did everything possible to ensure our trip from the airport to our hotel net our needs. He met us with a sign, helped get out party together, helped with our ligggage and provided information we could use.
September 2015
Our driver, Renaud, arrived early and was very helpful. He even provided us with fun facts about Marseille on the drive to the hotel. I was very pleased with the service and would definitely use it again. It was so much more relaxing that a taxi or taking the train.
May 2015
Excellent,driver met us at arrival exit with a sign. Spoke good English and assisted in euro exchange. We were delivered to hotel in Aix on time. Definitely will you again.
December 2014

Frank H USA
October 2013
Absolutely great! On time, very personable driver. My wife couldn't stop commenting on how cute he was!
He WAS friendly, informative and extremely helpful. Having had a bad experience in Barcelona with another company I am a firm supporter of Viator transfers!,
January 2013
the driver was on time and very nice!
Don McPherson USA
September 2012
Outstanding in all respects!!! On time and properly positioned.
Joan M USA
August 2012
Appreciated being picked up at the airport and taken directly to the hotel.
Great service.
April 2012
Happy with the quality of the service. Polite and friendly driver, no problems at all.
Yanna Australia
August 2011
Advertisement
Advertisement