Leave the busy streets of Lahaina splashing behind in your wake, as you cross the channel to snorkel the crystal clear waters off of Lanai. During this Maui snorkeling tour, spend 45 minutes motoring towards the isolated coast of Lanai, where sea turtles, fish, and occasionally dolphins swim circles above the reef. Once tied to a mooring off eastern Lanai, splash down the waterslide that leads from the boat to the turquoise waters below, and enjoy a hot, BBQ lunch on the leisurely cruise back to Maui.
Highlights
Hawaiian snorkeling adventure at East Lanai Landing from Maui

Enjoy continental breakfast on the 45-minute cruise to Lanai Island

Keep your eyes open for dolphins!
Spend the afternoon snorkeling, swimming and water-sliding
Enjoy a BBQ lunch on your cruise back to Maui

What You Can Expect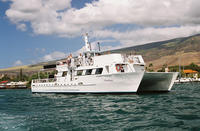 From Lahaina Harbor, embark on a journey to the island of Lanai that sits on the western horizon. Home to only a few thousands residents and miles of untouched shoreline, Lanai is a sliver of the white sand, palm-fringed, Hawaiian Islands of old. Here on the isolated East Lanai coastline, sea turtles regularly surface for air over colorful coral reefs, and schools of bright, tropical fish swim casually through turquoise waters.

The tour begins with a 45-minute cruise from Lahaina Harbor, during which time you might spot dolphins or Humpback whales in winter. While crossing the channel, enjoy a leisurely continental breakfast that's served with fresh island juice, and prepare to splash in the warm blue waters that line the East Lanai coast. Once the boat is tied up to a mooring, spend between 2 and 2.5 hours exploring the coral reefs, or maybe taking multiple runs on the waterslide off of the boat.

On the motor back towards Lahaina Harbor, this Lanai snorkeling tour breaks out the BBQ and cooks up a filling lunch, which is served with sweeping ocean views of the towering West Maui Mountains.
June 2016

June 2016
Terrific crew and delicious breakfast and lunch. Recommend highlt.
April 2016
Snorkelling was fun and we got to see whales and dolphins along the way. The crew was top knotch and efficient. Tons of food that was delicious, more than we anticipated. There are a lot of people on the boat so it isn and #39;t intimate, but the 2 snorkel sites and the beauty surrounding made a great day.
September 2015
This trip was awesome! The crew were young and enthusiastic, and seemed determined to find the perfect spots for us to snorkel! We were taken out to Lanai for a great hour near the cliffs, and then back to a ruined pier outside of Lahaina for some more snorkeling. On our trip out to Lanai were were surrounded by a pod of dolphins, which was a truly magical experience. In the water, we saw many sea turtles and innumerable fish. I saw one crewmember helping two ladies who were having a really hard time with seasickness but were determined to get in the water. He allowed them to hang on to his surfboard and 'snorkel' while hanging on. Really kind and considerate staff, who obviously love their jobs in this beautiful place. The boat was a real workhorse, so don't expect any glamour on this trip! If you want to see some real beauty - even if you have never snorkeled before in your life!
September 2015
The best day ever ! And the captin and the crew were awesome ! Recommend to everyone !
September 2015
The captain of the boat was awesome with explanations and all, the sailors were very great with the instructions for those of us who hadn't snokeled before or in a long while. The scenery was absolutely gorgeous! Awesome tine.
August 2015
Amazing trip and wonderful crew!!!
July 2015
This tour was great! The crew was awesome made everyone comfortable and had a great time. Our 8 year old loved it and got to swim with a sea turtle. If you love snorkeling then this is definitely for you!
June 2015
Just an overall great trip! My 90 year old father enjoyed the boat trip although he didn't snorkel. The captain and staff were wonderful and we even saw dolphins cavorting. Only 1 suggestion for the tour company: Please upgrade your snorkels. They were short and water kept getting in. Otherwise, everything was just perfect!!
June 2015
Amazing experience! The crew was very friendly and helpful. Highly recommend.
Advertisement
Advertisement