Here's fun for all the family! This value-added package combines the Atlantis Submarine Adventure with a traditional Hawaiian feast at Royal Lahaina Luau.
Highlights
Combined Atlantis Submarine Adventure and Royal Lahaina Luau
50-minute submarine experience
View the underwater reef and marine creatures
Seasonal whale watching
Return shuttle cruise to the submarine dive site
Choice of morning and afternoon departure times
All-you-can-eat luau buffet and Polynesian dancing revue
Aloha shell lei greeting
What You Can Expect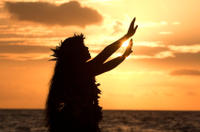 Likely to Sell-out!
The Royal Lahaina Luau regularly sells out weeks in advance, so book ahead to avoid disappointment!
Your once-in-a-lifetime Atlantis Submarine Adventure takes you into a spectacular aquatic world in a Maui submarine, and an evening luau is a must for any visit to Maui.
The Atlantis Submarine Maui adventure begins with a 15-minute cruise to the dive site. Here, you will board an Atlantis Submarine, the world's first and most technologically advanced passenger submarine. On your 50-minute underwater adventure into submarine Maui you'll see coral reefs and marine creatures.
From December through May, you may enjoy whale watching during the ship-to-shore journey to the Maui submarine, as humpback whales make their annual migration through the warm Pacific waters.
Then, in the evening, complete your Maui experience with a luau. It's an evening packed with traditional Polynesian entertainment, including a lei greeting, Polynesian music and dance, an imu (underground oven) ceremony, an all-you-can-eat buffet, open bar for island beverages and a gorgeous Hawaiian sunset.' Your traditional Hawaiian feast is held at Royal Lahaina Luau, a dazzling oceanfront property on Kaanapali Beach.
Sample Menu (subject to change at anytime without notice):

Main Entrees
Kalua Pig, Kalua Turkey, Fresh Island Fish, Island Chicken

Accompaniments
Hawaiian Sweet Potatoes, Fried Rice, Corn, Seven Assorted Salads, Fresh Pineapple, Poi, Lomi Lomi Salmon, Taro and Guava Bread

Desserts
Coconut Cream Cake, Chocolate Cake, Haupia (Hawaiian Pudding)

Keiki Kids Buffet
Hot Dogs, Chicken Nuggets, Macaroni and Cheese, Corn on the Cob and Potato Chips
February 2015
Good tour. They took us down to 130 ft and we saw a lot of marine life. Overall a good experience. Friendly and knowledgeable staff.
March 2014
Great!!!Just to be 130 feet under in a real submarine was exciting.Not so many "exotic" fish,but great.Very well organized. Must see.
March 2011
Very well organized and conducted tour and Luau
May 2015
Worth doing. not bad... ok. price
January 2011
Submarine was pretty neat, though don't expect the bright colours you see in brochures - everything's pretty muted when you're a hundred feet underwater. Luau wasn't anything special either - the combination tickets only get you mid range seating, don't expect to be close to the stage for the show. Drinks are very sweet but don't pack much of a punch, they reminded me of what you get at an all inclusive resort. Overall it was worth doing, but I wouldn't do either again and I'd have a hard time recommending this combo when you could do something way cooler (like take a helicopter flight) for the same price.
January 2011
I had taken an Atlantis submarine tour when I visited the Caymon Islands, so I knew what to expect. I was not disappointed in the service, however, there were not as many specimens to see as I had hoped and the visibility was not as good as in the Carribean. This is certainly not the fault of the tour operator, but I would not recommend this tour.
January 2011
Not worth the money by a long shot. Show was just ok, not amazing. And the submarine tour was just ok as well. The coolest part was seeing the sub surface.
July 2010
The food was just okay and the show was boring. And because we booked with Viator we had to pay more money to get a better seat.
Advertisement
Advertisement