Imagine exploring the ocean floor on a submarine tour in Maui, pressing your face against circular port holes in search of reef sharks and fish. On the Maui Atlantis Submarine tour, descend over 100 feet (30m) in an air-conditioned sub, experiencing the sights, sounds, and scenes of life beneath the waves.
Highlights
Underwater adventure in an Atlantis Submarine
50-minute submarine experience
View the underwater reef and marine creatures
Seasonal whale watching and wildlife spotting
Great photo opportunities

Return shuttle cruise to the submarine dive site
Choice of morning and afternoon departure times
Professional narration available in English and Japanese

Recent Photos of This Tour
What You Can Expect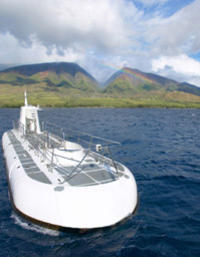 The Maui Atlantis Submarine tour begins in Lahaina Harbor, where a 15-minute, open air cruise brings you out to the dive site and sub. Transfer aboard the state of the art, air conditioned submarine, for a 45-minute aquatic experience in search of wild marine life.

In 2005, an old whaling ship, the Carthaginian, was scuttled off of Lahaina, and today serves as an artificial reef for colorful coral and fish. Prior to its scuttling in 2005, this area was simply a sandy bottom with very little marine life, and today it houses indigenous fish and a vibrant coral reef.

In winter, from December-May, there's even the chance of spotting whales on the journey out to the sub, and you never know if one might pay a visit while underwater!
April 2016
Everything excellent!!! Crew and adventure
April 2016
I highly recommend this tour. It was fun from beginning to end. John was a great narrator, and Robert was a great pilot. The whole crew was funny and friendly and all around amazing!

April 2016
This was great, we enjoyed it very much.
April 2016
A unique experience. Excellently and professionally done. I consider this the highlight of my visit to Hawaii.
March 2016
Fabulous! Very informative and not scary at all being underwater! Plenty of room on the sub!
February 2016
This trip was very well done, and there is no need to fear it at all. All pros on deck and under the waves. Lots of fish, other creatures, and even Sponge Bob well, sort of.... I highly recommend this trip for all ages!
January 2016
Well worth the time and money. Very enjoyable morning. Saw lots and lots of aquatic life. Would do again.
January 2016
Excellent ride. I thought too expensive for what you get but it is something you only do once.
November 2015
Well done would recommend.
June 2015
Advertisement
Advertisement