Remember the exhilaration you felt coasting downhill on your bicycle when you were a kid? Soak up the stunning scenery on the Maui Bike Volcano Ride as you coast down the slopes of Haleakala, the world's largest dormant volcano. Cruise down the ever-changing landscape from the lava- encrusted top of Haleakala, biking all the way down to the lush seaside plantation town of Paia, located 38 miles (60km) away.
Highlights
Maui downhill bike ride on the slopes of Haleakala
Breathtaking views of the beautiful landscape while Maui downhill biking
Learn about the historical background of Maui
Professional Maui mountain biking guide and commentary

Complimentary pickup and drop off from most Maui hotels
Recent Photos of This Tour
What You Can Expect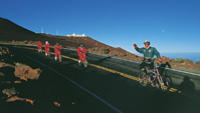 Haleakala bike tours offers an unforgettable island experience! The downhill Maui Bike Volcano Ride is the world's longest downhill bicycle cruise down the slopes of Haleakala, the largest dormant volcano in the world. The Maui downhill bike ride will start just outside Haleakala National Park and is approximately 28 miles (45 km) in length.

Haleakala bike tours cycle at a leisurely pace, pedaling past open fields and pastures and a stunning Maui landscape spotted with colorful flowers and regal trees. Stop for great photo opportunities as your bike guide shows you the rich cultural and historical background of the area.

Your Haleakala biking tour also includes a light continental breakfast before the Maui downhill bike ride begins. This tour is for experienced riders only, it is not suitable for beginners.

Summit Sunrise - This tour option includes entry into the Haleakala National Park where you'll be able to view the spectacular sunrise.
September 2015
We enjoyed this ride very much. We highly recommend it. It is very exciting. Our tour guide was very informative and made it fun. We viewed from the top of the volcano. Got great photos.
We felt it was very safe, they watch your back.
February 2015
October 2014
awesome experience plus the stop for photos was icing on the cake - loved every part of it!! will do it again next time we return to maui!
August 2014
The tour and the guide were great! Very entertaining, safe, organized, and knowledgable! Thank you for a great experience! We will recommend it to others.
July 2014
Amazing! Best part of our trip. We were so impressed by our guides. I felt very safe the entire time. What a beautiful way to see the island!
March 2014
By far our favorite adventure we had while on Maui; talk about exhilarating! For those who are skeptical: you can do it! I don't ride often and did just fine as it was ALL coasting down hill. Highly recommend for anyone looking for a unique ground level perspective of the beautiful Maui terrain.
March 2014
They took us to the top hoping to get a view the crater of Mt. Haleakala. It was a rainy day, but the clouds cleared just long enough for us to get a few snapshots and them rolled in again. It rained almost the entire time during the downhill bike ride, but the crew (Tomas and Drew) provided rain gear that kept us dry. Tomas (riding the lead bike) and Drew (covering the rear in the van) were in constant communication so that we would know when to pull over to let cars pass. The entire experience was great fun, in spite of the rain, and we would do it again in a heartbeat!
March 2014
It was great!!! The guides were funny but very safety conscious. They were very knowledgeable about the plants and history of Maui. I would do it any time again.
February 2014
First class on safety and scenery. No water on trip and seamed possibly too early at top.
January 2014
We did the later ride, that is, we were picked up at 6:40am. We had a great time! I was terrified before starting the ride, but our guides, Drew and Tomas, were very encouraging and helpful. I really enjoyed this experience, even though I am not what you would call an experienced biker. I'm glad my husband and I decided to do this.
Advertisement
Advertisement