Special Offer
All bookings made by December 31, 2016 include a complimentary upgrade to 'Week Journey Pass'!VIP Journey Pass must be purchased at least 24 hours prior to your arrival to receive this special offer. Week upgrade not offered if tickets are purchased on the same day as your visit.
Explore the Western Hemisphere's largest tropical reef aquarium with full-day admission to the Maui Ocean Center. This impressive facility features more than 60 interactive exhibits, including the Sting Ray Cove and Turtle Lagoon, with close-up views of your favorite marine life. Learn about Hawaii's incredible underwater world as you discover jelly fish, tropical reefs and octopi. To enhance your experience, trained naturalists are available for presentations at select exhibits.
Highlights
Discounted admission to the state-of-the-art Maui Ocean Center

Visit the marine park and learn about Hawaii's native ocean life

Explore more than 60 interactive exhibits at your own pace

Trained ocean specialists are available to answer questions and share their insights

See and learn about tropical reef fish, octopi, moray eels, sharks, stingrays, jelly fish and much more!

Optional Round-Trip transportation from select hotels available
What You Can Expect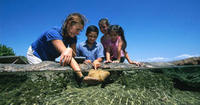 Discover the Maui Ocean Center at your own pace with this full-day admission ticket and explore over 60 interactive exhibits. This journey through the expansive underwater world is unique to Hawaii, as all of the marine life you see is native to the islands' shores.

To deepen your experience, trained ocean naturalists will share presentations at the Turtle Lagoon, Open Ocean, Discovery Pool, Living Reef and Hammerhead Harbor exhibits. (More details about the exhibits can be found below in the Itinerary section.) These expert guides are also available on sight to answer any questions you have about the fish, plant life or coral that you see.

This facility is engaging for travelers of all ages, and provides a richer understanding of one of the most unique aquatic environments on the earth, the Hawaiian waters. See tropical reef fish, octopi, sharks, sting rays, eels, jelly fish and more immersed in their natural habitat.
March 2016
Went just yesterday with my stepson, his wife and 14 month old. We were sure how the babe would be but, he loved it! The fish kept him so engaged but he loved the most touching the starfish, sea cucumber. A great time. The aquarium is very informative as well. We were there for 2 hours and could have stayed longer.

June 2015
February 2015
Great experience, loved it!
May 2014
Such a surprise! Loved every bit of it. We could has stayed for two more hours, but it was closing time.
February 2014
The maui ocean center was very well set up and a lot bigger than expected. Kids really enjoyed it.
December 2013
Very clean! Fun family environment. Has a lot to do, even has fun hands on areas.

October 2013
Loved the Maui Ocean Center. We took our 18 month grandson and it kept his attention for 1 1/2 hours. Truly a miracle.
August 2013
Very well designed aquarium. We saw fish that we never thought existed. We're from Florida and we realized how different the Pacific was from the Atlantic. Very nicely done.
May 2016
The kids loved it. We went during inclement weather and it was perfect to go before we went snorkeling, the kids were able to learn about ocean life. Very educational
November 2015
Very beautiful to see sea life and the ocean view was a plus, all of the exhibits were breath taking. Aloha and Mahalo.
Advertisement
Advertisement