12 Reviews
Location:

Maui, Hawaii

Duration:

Varies
With this admission to the Maui Ocean Center, discover the largest tropical reef aquarium in the Western Hemisphere! Unlock a magical underwater world at this impressive facility featuring more than 60 interactive exhibits. Engage your senses and gain an understanding of Hawaii's marine life as you encounter tropical reefs, fish, octopi, stingrays, jelly fish and more.
Highlights
Admission to the state-of-the-art Maui Ocean Center

Visit the marine park and learn about Hawaii's native ocean life

Explore more than 60 interactive exhibits at your own pace

Trained ocean specialists are available to answer questions and share their insights

See and learn about tropical reef fish, octopi, moray eels, sharks, stingrays, jelly fish and much more!

What You Can Expect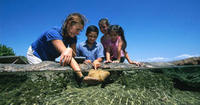 Your visit to the Maui Ocean Center will be a journey of discovery through the vast, extraordinary underwater world that lies beyond Hawaii's surf-ringed shores.

Explore the marine park at your own pace and discover more than 60 interactive exhibits. All of the marine creatures you will encounter are native to Hawaii, including the coral, the fish and the plant life. The Maui Ocean Center seeks to portray the integrity of these animals' native habitats in order to help you develop a deeper understanding of Hawaii's seas -- one of the most unique aquatic environments on earth.

To enhance your experience, trained ocean naturalists are available to answer question and share their insights through presentations at the Living Reef, Turtle Lagoon, Hammerhead Harbor, Discovery Pool and Open Ocean exhibits.

Exhibits:

The Living Reef
Discover how Hawaii, an island more than 2,000 miles (3,218.7 km) from any continent, has produced a unique assemblage of marine life unequaled on earth due to its isolation.

Turtle Lagoon
The most common sea turtle in Hawaii is the honu , or green turtle, which is named for the color of its body fat . This outdoor exhibit allows a close-up view of these marine reptiles from both above and below the water's surface.

The Discovery Pool
Constructed as an ocean rock pool, the Discovery Pool holds a variety of harmless marine animals, including sea stars, sea urchins and sea cucumbers. You are welcome to touch and handle many of the inhabitants of this display.

Sting Ray Cove
Sting Ray Cove is home to stingrays, eagle rays and occasionally juvenile hammerhead sharks. Because it's rare that rays spend much time near the water's surface, this large outdoor pool is shaded to protect their sensitive eyes.

The Open Ocean
In this 'Underwater Journey' exhibit, predators and prey coexist in a 750,000-gallon (2.8 million-liter) saltwater aquarium, the largest in the state. Stroll through a long, clear tunnel, which provides a 240-degree view of nearly 2,000 fish !
June 2015
February 2015
Great experience, loved it!
May 2014
Such a surprise! Loved every bit of it. We could has stayed for two more hours, but it was closing time.
February 2014
The maui ocean center was very well set up and a lot bigger than expected. Kids really enjoyed it.
December 2013
Very clean! Fun family environment. Has a lot to do, even has fun hands on areas.
October 2013
Loved the Maui Ocean Center. We took our 18 month grandson and it kept his attention for 1 1/2 hours. Truly a miracle.
August 2013
Very well designed aquarium. We saw fish that we never thought existed. We're from Florida and we realized how different the Pacific was from the Atlantic. Very nicely done.
September 2014
August 2013
It went from so-so to a recommended activity solely because of the knowledgeable employee. We learned a lot about marine life in Hawaii but the quality of the aquarium did not match the price.
November 2013
Not worth the money compared at 25 dollars to other aquariums that we have been to. The centre was very small and only took 1 hour and 15 minutes to go round. The tanks were small and poor quality. The gift shop was the bigger!
Advertisement
Advertisement