Learning to surf is one of Maui's most popular visitor activities, and this Maui surf lesson takes place in the waters off the Cove Park in Kihei. Learn the history of surfing in Hawaii and the proper way to paddle your board, before heading out for the chance to stand up and ride your very first wave. With its calm and consistent ocean conditions, this protected spot is perfect for learning at any time of the year, and a local instructor will help you experience the stoke of surfing in Maui.
Highlights
Surf lessons in Maui
Small group ensures personal tuition
Choice between group and private lessons
Certified professional instructior
Top of the line surf equipment
Photos available to purchase

What You Can Expect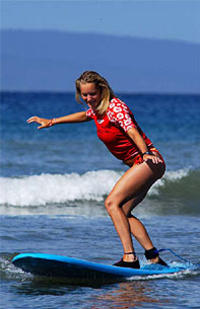 There's a specific joy that comes along with the feeling of riding a wave, where you momentarily feel as if you're one with the ocean as it surges and rolls beneath you. By booking a surfing lesson in Maui, you'll learn with the help of a local instructor how to experience the thrill for yourself, with the sun on your shoulders, the salt in your hair, and the warm water all around you.
You'll be given a stable soft-top board that is wide and perfect for learning, and paddle out at the popular Kihei spot that's known locally as 'The Cove.' You'll be given a rash guard and neoprene booties to protect your skin and your feet, and after a safety briefing on shore where you'll learn about techniques and etiquette, you'll head towards the waves for the chance to experience the excitement of surfing on Maui.
For this 2-hour lesson, all of the necessary equipment is provided to get you up and riding, and just bring along sunscreen, a sense of adventure and perhaps a camera to capture the moment.
June 2016
Great experience! Loved the photos. Something to remember forever. AWESOME!
David United States of ...
February 2015
I know as well as anyone getting into a new sport can be tough. Brandon did a great job of making us newbies feel comfortable. By the end I felt like I was just surfing with some friends. That's right, actually surfing. His A+ instruction made the learning curve more of a fun wave. Highly recomended
August 2014
Brandon was the best! He gave our family of four his personal attention! Showed us how to stand, balance and ride waves! Great for first timers! I would highly recommend! 5 stars!
June 2014
Surfing wasn't something on my 'must-do' list at the start of the trip but I am so glad my partner and I ended up doing it and chose this company in the end as we had an amazing instructor (Brandon) who was clearly passionate about surfing and imparted lots of information during the 2hour lesson. Because we chose the 8am lesson, we were also the only ones there so it made it more personal and gave us more one-on-one time with the instructor. Would highly recommend to anyone as I was a first-timer and stood on the board after the 2nd wave. We also had a chance to watch dolphins and had some close encounters with sea turtles. Overall, very memorable. Thanks Brandon!
November 2010
We ended up having 1 instructor for just myself and my husband. It was lots of fun and good workout!
Advertisement
Advertisement