What a perfect introduction to surfing! And there's no better place for surfing lessons Maui style! Surfing is a great sport, getting you actively involved in the Maui Hawaii surf. With patient and friendly local Maui surf school guides, you will have a fun and enjoyable lesson!
Highlights
Surf lessons in Maui
Small group ensures personal tuition
Choice between group and private lessons
Certified professional instructior
Top of the line surf equipment
Photos available to purchase

What You Can Expect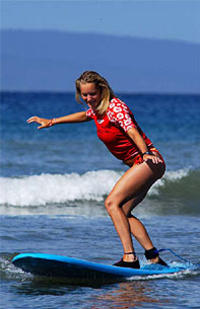 Maui surfing lessons will get you riding the waves and enjoying surfing to make the most of your time in the water. Surfing is one of the most enjoyable ways to release high energy fun in the water. Easy to use, safe and fun soft- top equipment provides each guest with the boards specific to their size, along with rash guards and booties for their protection. Your instructors will provide the beach basics on shore including surf etiquette, safety and the rules of the wave to get everyone off on the right foot.

After your lesson at the Maui surf school, you will have acquired the basics and can continue to develop your new found skills. We take care of the equipment, so all you have to bring is your spirit, energy, swimwear and sunscreen. All lessons take less than 2 hours and you'll spend some time on the beach doing a dry run before getting wet. Remember to bring your camera as it's likely you'll want some proof of your surfing day!
David United States of ...
February 2015
I know as well as anyone getting into a new sport can be tough. Brandon did a great job of making us newbies feel comfortable. By the end I felt like I was just surfing with some friends. That's right, actually surfing. His A+ instruction made the learning curve more of a fun wave. Highly recomended
August 2014
Brandon was the best! He gave our family of four his personal attention! Showed us how to stand, balance and ride waves! Great for first timers! I would highly recommend! 5 stars!
June 2014
Surfing wasn't something on my 'must-do' list at the start of the trip but I am so glad my partner and I ended up doing it and chose this company in the end as we had an amazing instructor (Brandon) who was clearly passionate about surfing and imparted lots of information during the 2hour lesson. Because we chose the 8am lesson, we were also the only ones there so it made it more personal and gave us more one-on-one time with the instructor. Would highly recommend to anyone as I was a first-timer and stood on the board after the 2nd wave. We also had a chance to watch dolphins and had some close encounters with sea turtles. Overall, very memorable. Thanks Brandon!
November 2010
We ended up having 1 instructor for just myself and my husband. It was lots of fun and good workout!
Advertisement
Advertisement