With the Maui Value Pass, visitors gain entry to four Maui attractions for one conveniently low price. Explore the Maui Ocean Center with its famous aquatic shark tunnel, and go underwater with Atlantis Submarines to explore the ocean's depths. You'll also gain access to the Bailey House Museum and Maui Tropical Plantation.

Highlights
Maui Value Pass
Four popular Maui attractions for one low price

Atlantis Maui Submarine Adventure to explore a coral reef and its marine inhabitants
Maui Ocean Center, with its Living Reef and Open Ocean
Maui Tropical Plantation, with free samples, shopping and a tram ride
Bailey House Museum to learn about Hawaii's rich history
What You Can Expect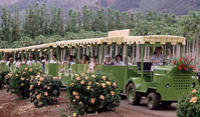 Atlantis Maui Submarine Adventure
Take a dive to the ocean floor off Maui's southern coastline, where you'll search for fish, turtles, rays—and maybe even a shark. On this 1 hour and 45 minute adventure (with 45 minutes underwater), you'll travel from inside Lahaina Harbor on a comfortable, open air shuttle boat, before boarding a submarine that will drop 100 feet (30m) to the ocean floor below.

Maui Ocean Center – the Hawaiian Aquarium
As one of Maui's best family activities, the Maui Ocean Center introduces visitors to the fascinating underwater world, from critters inhabiting the coral reefs to sharks circling high above your head! Learn about Maui's marine ecosystem and native Hawaiian culture, and explore everything from coastal tide pools to the depths of the big blue Pacific.

Maui Tropical Plantation
Peer back into Maui's plantation days on this 60 acre (24 acre) farm, where a tram ride weaves through sugar cane, pineapples, and colorful tropical plants. Purchase fresh, Maui-grown products at the neighboring plantation gift shop, and learn the rich, agricultural history that has helped sculpt Maui today.

Bailey House Museum
Set on the road towards Iao Valley, step inside this 19the century home that was once a boarding school for girls. Built in 1837, it's one of the island's oldest examples of original missionary homes, and hosts a collection of Hawaiian artifacts and old photographs and maps. You'll even see one of Duke Kahanamoku's surfboards resting outside on the lawn!
May 2016
My family loved this pass, but think the Bailey Museum should not be attached. It was small and a waste to drive an hour from our condo. People sitting in the art room sounded like they were arguing. Not much to see, no one to explain what we were looking at. The three other events were spectacular. They should be the Maui Value Pass only. Truly memorable for our first time to visit Maui. Something to do each day or maybe two in one day. We had to ask the coffee shop to have someone report to the tour bus to drive us around. She got busy inside the shop. Maybe more than one or two employees should work the site. One that just drive tours. Maybe no babies aloud in submarine, little kids at mid trip saying they needed to use the bathroom. Staff on submarine was outstanding. Can not say enough about that experience. Ladies do not wear dresses u climb down steep steps into a sub with men below.
January 2016
It was a great experience and the young man who narrated the dive was amazing. This was great for young and old alike. I would highly recommend it.
maria r USA
November 2015
It was a great time, The pass worked just as expected, it saved us a lot of money. I would recommended getting this pass before you go. All The attractions that came with it are fun things to do and see.

November 2015
Very professional tour, great sites and great staff...

April 2015
It was very professional. Very informative and fun!
February 2015
Maui value pass was a great deal, the ride in the submarine was the best, the ocean center was nice and educative. the plantation tour was short but nice, beautiful place.
December 2014
The combo tour is an excellent way to see four attractions on Maui. After visiting the first attraction, a voucher is received for the remaining attractions which can be visited on your schedule within two weeks. All attractions were interesting and depicted a history of Hawaii above and beneath the water.
October 2014
The submarine was great fun, enjoyed the weather, fish and ocean. The Plantation was beautiful, the ground keeping crew keeps busy with the presentation. The aquarium was informative, I enjoyed every fish that I saw, some even knew how to pose for pictures. This is a money saving package that I would enjoy for the family. You will need a car to get to all of the different venues.
July 2014
Awesome the California bleach blonde narrator was really good
May 2014
WOW! EXCELLENT VIEWS AND CREW!
Advertisement
Advertisement