Snorkeling in Molokini is undeniably one of the best parts about visiting Maui. Here in this crescent, submerged volcano off Maui's southern coastline, over 250 species of fish inhabit a world-class reef. On this Molokini snorkeling tour, experience water so exceptionally clear you can see down 75 feet, and swim with schools of tropical fish while cruising the vibrant reef. You can also just sit and suntan a while by lying a towel on the deck—with sweeping views of Haleakala set just off the back of the boat.
Highlights
Molokini morning snorkeling adventure

Cruise along the Maui coastline and soak in the picturesque scenery

Snorkel and explore the colorful reefs and sea life
View the underwater sights from the glass bottom viewing room
Enjoy a complimentary breakfast and lunch
Recent Photos of This Tour
What You Can Expect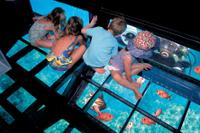 From Maalaea Harbor, board a 55-ft, glass bottom catamaran for a Molokini snorkeling tour, where you'll enjoy a breakfast of bagels and fruit served with juice and Kona coffee. On the hour long cruise to Molokini Crater, drink in the views of Haleakala volcano as seen from out on the water, and try to identify the four other island that are scattered across the horizon. You'll also hear talks from an onboard naturalist who serves as an expert guide.

Upon arrival at Molokini Crater, splash into the crystalline waters that teem with thousands of fish, and cruise your way above one of Hawaii's healthiest coral reefs. With its deep sand channels, shallows sections of reef, and wealth of colorful marine life, Molokini Crater is an exceptional outing for experts and first-timers alike.

Or, to view the marine life without getting wet, view the bottom of Molokini Crater through glass on the bottom of the boat, where children and families can watch schools of fish without even getting their hair wet. If you decide you want to at least cool off after touring the glass bottom boat, take a turn on the waterslide that ends in the turquoise waters.

Once finished snorkeling in Molokini Crater, enjoy a freshly cooked BBQ lunch of chicken breasts, pulled pork, or hot dogs, and there's even a vegetarian option of filling and tasty garden burgers. Lunch is accompanied by chips and dessert, and an open bar of beer and wine is served on the cruise back home.
May 2016
This was a really great experience and the skipper Capt. John and his crew were great and informative as well as very helpful. Well organised, good food and plenty of drinks. We would highly recommend this trip. We spotted a Humpback Whale quite some distance away even though it was late in the season. Capt John diverted the boat to have a closer look but kept his distance not to disturb the whale and her calf. We saw the beautiful coastline of Maui and Mt Haleakala from the sea. Awesome.
May 2016
Super caring, on time and good food too!
May 2016
The Molokini Sail and Snorkel excursion was absolutely outstanding!! My wife and I stayed in Lahaina, so the short drive to the harbor dock for the early morning Catamaran departure was easy. The sailboat was luxurious, comfortable, and not overbooked with guests. The Captain and Crew were friendly, VERY service oriented, and took great pains to create a memorable, beautiful experience. An awesome surprise that both breakfast and lunch grilled chicken on boat! plus beer / drinks all included on the boat!
And Oh, the breathtaking beauty of the sailing and aquatic life at Molokini! The most exhilarating part of our trip to Maui! Put this trip on your Maui Musts list!
Doug Dean
Birmingham, Alabama
May 2016
We weren't able to go out to the crater due to high winds so the captain took us to a discrete location to snorkel and it was beautiful. The entire crew was amazing and so kind. We'll definitely do this again!
April 2016
We had a great morning with these guys. Everyone was really helpful and the snorkelling was good we often visit the Great Barrier Reef so our standards for coral and fish viewing are pretty high!.
They serve breakfast when you get on the boat which is good as it's an early start. They also serve lunch - good food and plenty of it - but lunch is served at about 10am during the trip timings.
I'd recommend these guys Four Winds to others.
April 2016
Very fun day on the water. Everyone on the boat was very friendly, helpful and interested in making our day happy and memorable. The food was great! Best grilled chicken I've ever had. Several of us even went for seconds. The water was very choppie because the wind was so powerful. The Captain knew how to work with the wind and took us a different direction that was just spectacular. Go Go Go on this trip, well worth the
March 2016
It was fantastic! My wife and I had a great time
March 2016
Geat tour. Unfortunately windy and Captain Dan made the call I think we all agreed with, which was to not actually go to molokini crater and go to a nice calm spot called coral gardens. Though the air was still moving quick the water was soft and we saw some turtles there too, which the crew said we wouldn't likely have seen at the crater. Food was great, crew excellent and a wonderfull bonus to start. While cruising to get final word on determining how rough the water was at the crater we had a humpack whale swim right near us and then proceeded to tailslap the surface while we were floating near by and then her baby began to copy. Quite the fortunate display but I imagine whale sightings are a fairly common added bonus going this time of year!
March 2016
Great trip. Water/wind was still so they never hoisted the sails which disappointed me, but otherwise it was a great time. They even provided me with a mini boat on which I could float on and it had a 14 window to look through. I tend to fight the snorkel, so this was a great option for me. Great and thoughtful crew. Good trip.
March 2016
We had a fantastic sailing adventure to Molokini Crater. The highlight was the whale watching - so many around! The crew were very attentive, provided tips on snorkelling to the beginners and kept a close eye on us in the water. The breakfast on arrival and BBQ lunch was delicious, high recommend the marinated chicken, with a nice cold beer to the top deck with magnificent views.
Advertisement
Advertisement