On this unforgettable Pearl Harbor day trip from Maui, journey back to December 7, 1941, when the United States was tragically thrust into fighting in World War II. Relive the "day that will live in infamy" while visiting the Arizona Memorial, and stroll the decks of the USS Missouri where the surrender agreement was signed. Coupled with a tour of downtown Honolulu, this day trip from Maui to Pearl Harbor is great for visitors of all ages with an interest in America's history.
Highlights
Full-day trip to Oahu's Pearl Harbor and Honolulu from Maui

Ride in a Navy launch across Pearl Harbor to the Arizona Memorial
Guided tour of the USS Missouri
Scenic drive through historic downtown Honolulu attractions
Kawaiahao Church, Iolani Palace, King Kamehameha statue
Waikiki Beach
Diamond Head Crater (if time permits)
Nu'unanu Rainforest and Pali Lookout
Professionally narrated tour
Roundtrip flight from Maui to Oahu

Why Our Insiders Chose This Tour
A well-organized and comprehenive tour of Hawaii's most populous island; you see all the top sights of Oahu, including Pearl Harbor, Iolani Palace and Waikiki Beach. It's a long day but well worth it!
Recent Photos of This Tour
What You Can Expect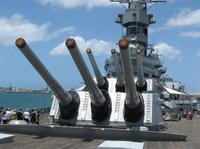 This day trip from Maui to Pearl Harbor is easily one of the most moving and dramatic days you can spend in Hawaii. After the 30-minute flight from Maui to Oahu, tour the historic grounds of Pearl Harbor where Japanese bombers emptied their payloads on America's Pacific fleet. Stand on the Arizona Memorial, where thousands of soldiers lost their lives and sank in a watery grave, before walking the decks of the USS Missouri where the Japanese armistice was signed. Peer over the side of the ship, and it's still possible to see the dents from kamikaze bombers. This historic battleship was in active service until after Desert Storm, and dramatic details of its military service are told on the guided tour.

After the guided tour of Pearl Harbor, the tour continues with a historic journey through downtown Honolulu. Highlights include:

• Iolani Palace—the only royal palace on American soil
• The Mission House Museum
• Kawaihao Church
• The famous statue of King Kamehameha
• Waikiki Beach
• Honolulu Hale
• Punchbowl Crater
• Nu'uanu Rainforest and Pali Lookout
• Diamond Head Crater (if time permits)

Before returning to the Honolulu airport for the return flight to Maui, you'll take a moment to remember the fallen at the Punchbowl National Cemetery. This also includes a short stop at the dramatic Courts of the Missing.

May 2016
The trip was wonderful! It was very frustrating getting there. We was supposed to meet a greeter at the airport and couldn't find them. Called 3 times and had to find my own way. People at the airport helped us more than anyone. Then when we got to Honolulu we finally come in contact with a rep from the local tour operator. From that point this guy was with us through the entire day and he was more than GREAT!!! Wonderful experience!
March 2016
Great day! Enjoyed the whole day...very well worth it.
March 2016
A long enjoyable day. Very informative.
March 2016
Awesome tour, everything we expected and more. Garfield was a great tour guide. Our thanks.
February 2016
The trip was outstanding , everything went smoothly ,we really appreciated how organized it was.
Our van driver was great, lots of fun, knowledgeable and entertaining! He made the day a lot of fun!
December 2015
We had a great day! The morning shuttle to the airport was prompt and quick the flights were smooth the tour guide on Oahu was super, giving us much background on the culture and history of the area. The only negative was the shuttle pick-up on our return--it was raining, no one was in the terminal to direct us, the directions to the pick up point were a bit confusing, and the van driver did not get out of the van where he was parked at curbside in the dark, so had some trouble finding him. Overall, I would recommend this tour to everyone!
November 2015
Our day on Oahu met our expectations of time well spent. Our guide, Cody, exceeded our expectations and was one of the highlights of the trip. Cody treated us like VIPs. We appreciated his commentaries and his clear communications regarding what to see and how much time to allow at each site. Cody is a public relations treasure. Thank you Cody from the two Debby!
November 2015
Ernie our guide was great and entertaining. The trip was educational and interesting. We saw so much of the island and the history of Pearl Harbor was a solemn experience yet learning so much about what really happened. I would do this again it was so good.
October 2015
Everything went smoothly, great tour guide. I think we got lucky that we did the tour on a Sunday as there was not a lot of traffic.
October 2015
It was a wonderful day. The bus arrived on time for pick-up, driver was GREAT!! The airport greeters were very well prepared and nothing left to doubt. The bus driver/guide BEN was absolutely the best. Very knowledgeable and GREAT personality.
I would use this travel service again and would suggest to others.
Advertisement
Advertisement