On this guided Pearl Harbor day trip from Maui, take a journey to 1941 when Japanese bombers forever changed the course of America's history. Visit the somber Arizona Memorial, which remembers over 1,000 sailors who were tragically lost in the attack, and walk the decks of the USS Missouri where the Japanese surrender was signed. On the USS Bowfin, step inside a deep diving sub that served in World War II, and hear the tales of death and victory while fighting the War in the Pacific.
Highlights
Live narration by an expert state-certified tour guide for all four venues: USS Arizona Memorial, USS Bowfin, Pacific Aviation Museum, and USS Missouri

View the dramatic film of the Pearl Harbor attack at the Arizona Memorial Visitor Center
Tour the USS Missouri, the site of the 1945 Japanese surrender to the Allies

Admission is included in for the USS Bowfin, Pacific Aviation Museum, and the USS Missouri
What You Can Expect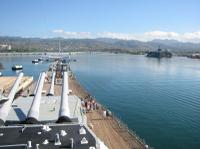 Start the day with a 30-minute flight between Maui and Oahu, where you're quickly transported from Honolulu Airport to begin the tour of Pearl Harbor. Begin at the Arizona Memorial Visitor Center, where in addition to info on the day's events, you'll also find original artifacts left over from the Japanese attack.

From there, board a boat for a short ride to the Arizona Memorial, where over 1,000 sailors rest inside the battleship's sunken remains.

Once back on shore, grab a headset and explore inside the famous USS Bowfin, which was often referred to as "The Pearl Harbor Avenger" for its service in World War II. Follow this up with a visit inside The Pacific Aviation Museum, where you'll learn about some of America's greatest aviation heroes.

To bring the tour to a dramatic close, stroll the decks of the USS Missouri on a specially guided tour, and see the spot where the Japanese surrender was signed in 1945. Having the Missouri here in Pearl Harbor is a fitting spot for its retirement, seeing as it brings the war full circle to where America first joined.
March 2016
Our guide Robert was very informative and funny! Wish we had had a little more time on the Missouri but was toward the end of day and guide had to get us all to the airport!
April 2015
The tour was well organised and very informative. All of the logistics worked well.
July 2013
We really enjoyed the visit to the USS Arizona Memorial and the USS Missouri.

March 2013
Tour guide was great. Everything was on schedule. However, disappointed that trip to Arizona was canceled due to weather conditions. Yet, they did a great job finding alternative venues to see.
February 2013
Great experience to see a lot in 1 day
Advertisement
Advertisement