15 Reviews
Location:

Maui, Hawaii

Duration:

6 hours 30 minutes

(approx.)
Maui's ultimate full-day ocean adventure takes you on a Maui kayaking adventure through Makena Bay, snorkeling over colorful reefs, and surfing Maui's ocean waves. What better way to spend the day on Maui!
Highlights
Paddle, snorkel and surf combination tour on Maui

Paddle through Makena Bay
Snorkel reefs and Turtle Town
Close-up encounter with green sea turtles, dolphins and possibly humpback whales
Great views of Molokini and Haleakala

2-hour surf lesson from experienced guides

Small group for personalized tuition
Beach lunch included
Snorkel and surfing equipment provided
Recent Photos of This Tour
What You Can Expect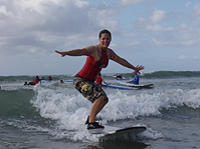 Your morning starts with your guide leading you on a leisurely paddle through Makena Bay. As you cruise along the beautiful coastline you'll have fabulous views of Molokini and Haleakala Volcano.

Next, try Maui snorkeling over colorful reefs and through Turtle Town, where you'll see Hawaii's endangered green sea turtles and a variety of colorful marine life. Don't be surprised if you spot dolphins - and during the season, you'll possibly encounter humpback whales.

After Maui snorkeling and kayaking, come out of the water for a break and a delicious lunch, before meeting your surf instructor at the surf location. Lessons are designed for first-time surfers, and your expert instructor will teach you surfing etiquette and wave riding fundamentals.

Lessons last two hours with a maximum group size of six, to ensure you receive the personal attention you need to develop your skills in surfing, the sport of Hawaiian royalty!

It's guaranteed you will be surfing in one easy lesson or your next lesson is free!
November 2014
The actual surfing and kayak/snorkeling experiences were outstanding. I did not realize that we had to drive from the surfing to the kayak/snorkeling takeoff points on our own. I was alone and was handed a paper with directions after surfing on how to get to the kayak takeoff. There was a vague map and tiny print directions, which I could not read while driving, so got very lost. I wish we could have gone as a group to the second site. I eventually found it and they were waiting for me, so it turned out OK.
August 2014
Loved this tour! The snorkeling was amazing, saw more with this tour than other places we went to on our own. Surfing was great too, way easier than I expected.
April 2013
My husband and I were the only ones surfing, it was like we had a private lesson. We literally swam with the turtles and we saw a shark (a harmless shark) the only thing that would keep me from booking this tour again is that it was REALLY exhausting to surf, kayak and snorkel all in one day.
April 2013
Surfing was great! Amazing instructor... Was patient, calm, and very helpful.
Kayaking instructor was not only able to instruct those in the group who had never been, but a great tour guide. His passion for the water and island was exspresed in his line of work. Never a dual moment
January 2013
My wife and I really enjoyed this comprehensive experience. Learning to surf was a great experience. Our instructor Kyle did a great job teacing us the basics and was very attentive. We also enjoyed the kayaking portion with Aaron. We had a great time snorkeling and just floating with a group of sea turtles
July 2012
This was an excellent package. The surfing was a blast and the instructor was terrific!! We were also pampered on our kayak/snorkel trip. Saw lots of turtles. It was a fantastic day.
May 2012
This was one of the best days of our trip! Both the surf instructor and the kayak/snorkel staff were amazing! Friendly, helpful, and funny! The lunch that is included is huge...we were shocked for all that was involved with the price of this package. Well worth it! Can't say ebough!
April 2012
it was awesome. I booked this for my son and daughter who are 18 and 14. They had a blast with the surfer instructor who was very attentive and an excellent teacher. My son and daughter enjoyed their lesons very much and by the end, they were able to stand up on their boards and catch some really good waves. I was impressed and extremely pleased with the instructor. They also liked their kayak and snorkeling guide, SCOTT. He was very pleasant and knowledgable about the reef and its surrounding areas. He took some great underwater shots of my children, the fish as well as turtles while they were snorkeling. They absolutely love their Maui snorkeling experience. We would do this again in a heart beat and next time, my wife and I are going on this excursion.
December 2010
Our instructors/guides were fabulous! The surfing lessons were first thing in the morning lessons were great. The snorkel and kayak trip was by far the best! The guide/instructor was awesome; took us to great snorkeling place and was very attentive to 11 yr old grandson that was very scared. We will definitely do this again.
August 2014
It was great. I went with my daughter. Our surf instructor was really good. I never surfed before, can't ride a skateboard or snowboard but he had me up on the waves by my third try. I'm hooked for life now. Kayaking and snorkeling was a lot of fun as well. We saw turtles and some pretty fish. Afterwards we were exhausted but it was a great time.
Advertisement
Advertisement