On this guided Maui kayaking tour, begin your paddle on a white sand beach at the base of towering sea cliffs, and slowly cruise a section of coast that's inaccessible by land. The tour starts at Papalaua Beach at the base of the pali sea cliffs, and also includes snorkeling in crystalline coves in search of turtles and fish. Maybe a passing manta ray will decide to pay you a visit, and this Maui kayaking tour is a great way to spot Humpback whales in winter. Enjoy a small group, deli-style lunch on an isolated white sand beach—a welcome reward for paddling 5.5 miles along the coast!
Highlights
5-hour kayak and snorkel adventure along the Pali coast
Paddle 5.5 miles (8.9 km) with experienced guides, round-trip to the Pali lighthouse
Enjoy breathtaking views of Maui's coastline and towering sea cliffs
Admire tropical marine life and coral reef as you snorkel
Includes deli-style lunch, snacks and refreshments
Small-group tour limited to 10 people ensures a personalized experience
Recent Photos of This Tour
Pali Sea Cliff Kayak Discovery
What You Can Expect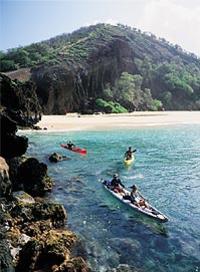 Start the day on the sandy shores of Papalaua Beach, only 10 miles (16km) south of the town of Lahaina. Here you'll meet your Maui kayaking guide and learn about safety and paddling strokes, before embarking on an adventurous paddle beneath the pali sea cliffs. From the seat of a single or double kayak, gaze upwards at wave-sculpted cliffs that plunge their way down towards the sea, and keep an eye out for Hawaiian green sea turtles that surface for gulps of air.

On this 5-hour Maui kayaking tour, paddle along a rocky shoreline that visitors rarely see, and tuck inside a protected cove at the base of McGregor Lighthouse. Along the way, you'll have the chance to splash in the water and snorkel with turtles and fish, and from December-May your snorkeling takes place to the soundtrack of distant whale song.

Throughout the paddle, your expert guide will point out facts about Maui's marine life and shoreline, and ensure your safety while paddling along the rugged section of coast. Right when all the kayaking on Maui has helped you work up an appetite, enjoy a small-group, deli style lunch on an isolated section of beach. Since this tour is capped at only 10 people there's always personalized service, and with a paddling distance of over 5 miles, the tour is best for experienced paddlers who are fairly physically fit.
November 2015
My husband and I thoroughly enjoyed this kayak trip, it was an early start but very much worth getting up for! Our guide was AMAZING and had all of the kayaks and gear set and ready to go. He gave us a quick but effective lesson on the proper technique for rowing and explained in detail the importance of kayak and snorkel safety. The morning was beautiful and during our 5 mile journey he shared much information about the geographical area, island history and native animal and sea life. During the snorkeling he was very attentive to the needs of everyone and was mindful to point out the unique fish and coral as we passed. The small group atmosphere was really nice and we enjoyed getting to know the other participants. I would highly recommend this excursion to anyone who loves adventure and has a desire to learn more of what makes the beautiful island of Maui so special.
September 2015
Garret was an awesome guide and pointed out a plethora of cool facts about the island and surrounding history along the snorkel and kayak tour. We saw handfuls of turtles at the cleaning station, marine fish, and along the whole trip felt safe. We'll definitely return for the whale season and ask for Garret as our guide! Highly recommend this tour for anyone wanting a more private tour with an edge of excitement and personal attention.
September 2015
We had great time on this tour. We did the 5 hour excursion and enjoyed every minute. Our guide, Garrett was really excellent. He snorkeled with us and took the time to dive down and point out things we would have missed and then came up and identified them for us. He handled guests needs with discretion and patience, and stayed very aware of the conditions of the water--we just happened to be there when there was a hurricane stirring to the south. Would do this again for sure.
July 2010
The guide was very experienced and knowledgeable. He made the trip very enjoyable.
August 2015
The kayaking, snorkeling and guide were great. Obviously this is all dependent on the weather so if it gets windy and wavy, you won't see as much and you may have to cut it short. But we saw lots of creatures, our guide knew a ton or was a really good liar, who knows? and even saw some turtles. Downsides: these was nothing remotely like what you see in that image of people kayaking out of a cave in still water into a bay. This was just along a rocky gorgeous coast line in open water. Also, the directions were pretty vague and said to look for a green van or truck, which the guide knew nothing about when we finally found him.
August 2015
April 2015
Unfortunately, due to high winds, this was not the tour that we ended up taking. Our guide offered to reschedule for another day or we could drive to Makena, which was about 25 minutes along the coast, and proceed some paddling and snorkeling there. About half our group had either never snorkeled or paddled and so he was patient and reassuring with us. Took us to 2 remarkable snorkeling sites and it was a beautiful day. Totally worth getting up in the morning and even the extra 25 minute drive to the alternate location.
Advertisement
Advertisement