This 5-hour Maui kayaking adventure takes you paddling from Papalaua Beach along the stunning sea-cliff shore off the Pali coast, where you're treated to some of Maui's most scenic coastline and exceptional snorkeling. In a small group of 10 maximum, kayak with experienced guides past white-sand inlets and towering cliffs to expansive coral reefs where you're likely to spot sea turtles and an array of marine life as you snorkel. A deli-style lunch is served on a remote beach — the perfect reward for paddling 5.5 miles!
Highlights
5-hour kayak and snorkel adventure along the Pali coast
Paddle 5.5 miles (8.9 km) with experienced guides, round-trip to the Pali lighthouse
Enjoy breathtaking views of Maui's coastline and towering sea cliffs
Admire tropical marine life and coral reef as you snorkel
Includes deli-style lunch, snacks and refreshments
Small-group tour limited to 10 people ensures a personalized experience
What You Can Expect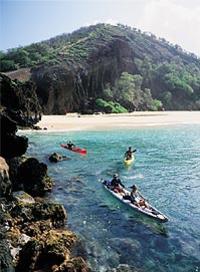 Make your way to palm-fringed Papalaua Beach in west Maui, less than 10 miles (16 km) south of Lahaina town, and meet your experienced kayak guides for a safety briefing. Learn paddling techniques on shore and then settle into a single or double kayak. A guide helps you launch as you take off for the remote shores and sea cliffs in a spectacular coastal area known as 'the Pali.'
During your 5-hour Maui kayaking tour, paddle toward the Pali lighthouse and enjoy water views of rugged shoreline and jagged cliffs rarely seen by visitors. You'll stop for snacks and refreshments, and spend time snorkeling at a couple of secluded snorkeling sites that boast excellent ocean visibility and include expansive coral reefs teeming with tropical marine life.
Then continue paddling along this scenic shoreline where verdant cliffs lead into the water. Your guides point out the diverse flora, showcasing Maui's natural splendor that hovers over white-sand beaches.
Once you've worked up an appetite, you're rewarded with a deli-style lunch at a remote beach while gazing at the picturesque sights of Maui.
This small-group activity, with a paddling distance is approx. 5.5 miles, is best suited for those who are in good physical condition and enjoy a longer paddle.
September 2015
Garret was an awesome guide and pointed out a plethora of cool facts about the island and surrounding history along the snorkel and kayak tour. We saw handfuls of turtles at the cleaning station, marine fish, and along the whole trip felt safe. We'll definitely return for the whale season and ask for Garret as our guide! Highly recommend this tour for anyone wanting a more private tour with an edge of excitement and personal attention.
September 2015
We had great time on this tour. We did the 5 hour excursion and enjoyed every minute. Our guide, Garrett was really excellent. He snorkeled with us and took the time to dive down and point out things we would have missed and then came up and identified them for us. He handled guests needs with discretion and patience, and stayed very aware of the conditions of the water--we just happened to be there when there was a hurricane stirring to the south. Would do this again for sure.
July 2010
The guide was very experienced and knowledgeable. He made the trip very enjoyable.
August 2015
The kayaking, snorkeling and guide were great. Obviously this is all dependent on the weather so if it gets windy and wavy, you won't see as much and you may have to cut it short. But we saw lots of creatures, our guide knew a ton or was a really good liar, who knows? and even saw some turtles. Downsides: these was nothing remotely like what you see in that image of people kayaking out of a cave in still water into a bay. This was just along a rocky gorgeous coast line in open water. Also, the directions were pretty vague and said to look for a green van or truck, which the guide knew nothing about when we finally found him.
August 2015
April 2015
Unfortunately, due to high winds, this was not the tour that we ended up taking. Our guide offered to reschedule for another day or we could drive to Makena, which was about 25 minutes along the coast, and proceed some paddling and snorkeling there. About half our group had either never snorkeled or paddled and so he was patient and reassuring with us. Took us to 2 remarkable snorkeling sites and it was a beautiful day. Totally worth getting up in the morning and even the extra 25 minute drive to the alternate location.
Advertisement
Advertisement