Enjoy a hassle-free arrival on Maui with this private transfer service by luxury sedan, SUV or limo. Meet your professional driver at Maui International Airport (OGG) and relax on the journey to your hotel in Kihei, Wailea, Makena, Lahaina, Kaanapali, Honokowai, Kahana, Napili or Kapalua. Prebook this one-way transfer and skip the stress of finding a taxi or shuttle. Private vehicles can accommodate up to eight passengers in your private party.

You MUST select a hotel that coincides with the area in the itinerary section of this product. Failure to do so will result in a cancelled booking.
Highlights
Private arrival transfer from the Maui International Airport to Maui hotels in Kihei, Wailea, Makena, Lahaina, Kaanapali, Honokowai, Kahana, Napili or Kapalua
Relax in a comfortable, clean, luxury and prompt service in a Mercedes-Benz sedan, Mercedes-Benz SUV or stretch limousine
A convenient and hassle-free way to start your vacation
Service available 24 hours a day, seven days a week
What You Can Expect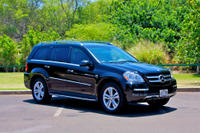 Skip the stress of finding a taxi or sharing a shuttle at the start of your trip. Simply enter your details when you book, pay in advance, and then show your voucher to your driver when you land at Maui International Airport (OGG).
Travel in a stretch limousine, a Mercedes-Benz SUV or a luxury Mercedes-Benz sedan. Sit back and enjoy the ride without worrying about taxi meters or getting lost. It's a private Maui transfer service that's available 24 hours a day, seven days a week. Drop-off area #1 includes (Kihei, Wailea or makena), area #2 includes (Lahaina, Kaanapali or Honokowai) and area #3 (Kahana, Napili or Kahana).

Price listed is per person, based on 8 passengers per vehicle.
Itinerary
Area 1 Hotels:

Haggai
Hale Hui Kai
Hale Kai OKihei
Hale Kamaole
Hale Ki Ili
Hale Mahialani
Hale Pau Hana
Hale Piilani
Haleakala Gardens
Haleakala Shores
Island Surf
Kamaole Beach
Kamaole Bch.Royal
Kamaole Nalu
Kamaole Sands
Kealia Condo.
Keawe Terrace
Kihei Akahi
Kihei Alii Kai
Kihei Bay Surf
Kihei Bay Vista
Kihei Bch. Resort
Kihei Cove
Kihei Garden Est.
Kihei Holiday
Kihei Kai
Kihei Kai Nani
Kihei Manor
Kihei Park Shores
Kihei Regency
Kihei Resort
Kihei Sands
Kihei Surfside
Kihei Villages
Koa Lagoon
Koa Resorts
Lanikai Condo
Lihikai Cottages
Luana Kai
Maalaea Surf
Mana Kai Resort
Aston at the Maui Banyan
Maui Beach Resort
Maui Coast
Maui Court
Maui Gardens
Aston Maui Hill
Maui Kamaole
Aston Maui Lu
Maui Ocean Front
Maui Parkshore
Maui Schooner
Maui Sunset
Maui Vista
Menehune Shores
Nani Kai Hale
Nona Lani Cott.
Pacific Shores
Punahoa Bch.
Royal Mauian
Shores of Maui
Sugar Beach Res.
Sun Seeker
Village by the Sea
Wailea Ocean Frnt.
Waiohuli Bch.Hale
Worldmark
KeoniKai Villages
South Pointe
Wailana Kai
Hotel Wailea
Four Seasons
Grand Champions
Grand Wailea
Kea Lani (Fairmont)
Wailea Marriott
Palms At Wailea
Andaz Maui at Wailea
Wailea Ekahi
Wailea Ekolu
Wailea Elua
Wailea Fairway Villas
Polo Beach Resort
Wailea Point
Ho'olei Resort
Wailea Beach Villas
Makena Surf
Makena Beach & Golf Resort

Are 2 Hotels:

Lahaina Inn
Lahaina Shores
Aina Nalu
Pioneer Inn
Plantation Inn
Puamana Bch.
The Makai Inn
Lahaina's Last Resort
Eldorado (Maui)
Hyatt Regency
Kaanapali Alii
Kaanapali Beach Hotel
Kaanapali Royal
Aston Maui Kaanapali Villas
Maui Marriott
Royal Lahaina
Sheraton Maui
Westin Maui
The Whaler on Kaanapali Beach
Westin Villas North Tower
Westin Villas South Tower
Kaanapali Beach Club
Hale Mahina Bch.
Hale Maui
Hale Ono Loa
Honokowai -Sunrise
Honokowai Palms
Honokowai Villa
Hoyochi Nikko
Aston Kaanapali Shores
Kaleialoha
Kapalani Estates
Kulakane
Kuleana
Lokelani
Aston Mahana at Kaanapali
Mahina Surf
Mahinahina Beach
Makani Sands
Maui Kai
Maui Park
Maui Sands
Noelani
Nohonani
Aston Paki Maui
Aston at Papakea Resort
Pikake
Polynesian Shores
Honua Kai Resort and Spa (Konea Tower)
Honua Kai Resort and Spa (Hokulani Tower)

Area 3 Hotels:

Hololani
Kahana Falls
Kahana Manor
Kahana Outrigger
Kahana Reef
Kahana Sunset
Kahana Village
Kahana Villas
Pohailani Maui
Royal Kahana
Sands Of Kahana
Valley Isle Res.
Kahana Beach
Garden of West Maui
Hale Napili
Honokeana Cove
Mauian
Napili Bay Resort
Napili Kai Bch
Napili Point
Napili Shores
Napili Sunset
Napili Surf
Napili Hau Villages
Kapalua Villas
Iron Woods
Montage at Kapalua Bay
Ritz Carlton
Pineapple Hill
Kapalua Ridge Villas
Kapalua Bay Villas
Kapalua Golf Villas
August 2014
The driver was there when we arrived and all went well.
January 2014
Had same driver on return trip who turned up right and time and was still had a good trip back to air port..
Spanish traveller Spain
April 2013
We went straight to the shuttle desk on arrival and the lady was expecting us. She took us outside to where the driver had the car ready and took us immediately to our hotel, which took about 45 minutes. We had decided to take a private transfer because, coming from Spain via London and LA, we had been up for 24 hours, and I did not want to hire a car (with all the associated paperwork) and drive somewhere I did not know, in the dark. A very good decision, and if you have come a long way, well worth the expense.
Advertisement
Advertisement