45 Reviews
Location:

Maui, Hawaii

Duration:

5 hours

(approx.)
Discover the amazing array of marine life that populates Maui's Molokini Crater during this 5-hour small-group snorkeling trip. Head by boat to this long-extinct volcanic crater just off Maui, a top-notch snorkeling site where visibility often surpasses 180 feet (55m). Among the many creatures you may spot during your adventure are rays, tropical fish and variety of other wildlife. Finish your trip at 'Turtle Town,' another well-known snorkel site where you can glide through the water Hawaiian Green Sea Turtles. Your snorkel trip also includes, breakfast, lunch, local guide and snorkel equipment.
Highlights
5-hour Molokini Crater snorkeling and green sea turtle experience from Maui
Look for dolphins at La Perouse Bay
Snorkel the waters of Molokini Crater with visibility exceeding 180 feet (55 meters)
Swim with the Hawaiian green sea turtle!
Enjoy complimentary breakfast and lunch
Recent Photos of This Tour
Small-Group Molokini Snorkel and Green Sea Turtle Adventure from Maui
What You Can Expect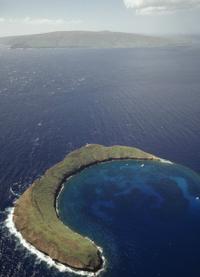 Spend your day in Maui enjoying an up-close encounter with the island's diverse marine life during this snorkeling adventure to some of the island's top sites. You'll stop by Molokini Crater and Turtle Town, allowing you the chance to spot a wealth of tropical fish, rays and Hawaiian Green Sea Turtles.
Check in for your day's snorkel adventure at 6:30am at the Kihei Small Boat Ramp, departing at 7am. Skim over the waters near Maui in a speedy, eco-friendly military-inspired raft, heading first to Molokini Crater. This crescent-shaped crater is all that remains of a volcanic eruption millions of years ago. Today it plays host to a wealth of marine life like rays and tropical fish.
Thanks to your early start time, you'll be the first boat at the site, ensuring an uncrowded snorkeling experience. Enjoy a continental breakfast before jumping into the water. Visibility at this top-notch diving and snorkeling site often exceeds 180 feet (55m), ensuring you clear sight lines all the way to the bottom. If you want to relax, feel free to take a break on the boat's comfortable pontoons for some sunbathing. Then head to the backside of Molokini Crater, a snorkel site few visitors ever see.
Leave Molokini behind as you head to your next snorkel spot at 'Turtle Town,' stopping on the way to see some recent lava flows and at La Perouse Bay, a favorite habitat for Hawaiian spinner dolphins. Arrive at your final snorkel site, 'Turtle Town,' where you'll have a chance to swim with the gentle Hawaiian Green Sea Turtles that inhabit the area. When you come back up, dig into a deli lunch before returning back to your departure point in Maui.
December 2015
The trip was great, the guides were sooo nice, the food was very good and the snorkeling spots were top-notch! We stopped 4-5 times, although the last one was after lunch when everybody was full :-
However, we saw plenty of turtles, snorkeled Molokini front and back into the blue, saw Delphins, aso.. i highly recommend this tour! No complains at all!
October 2015
Loved the small group and the personal attention from the crew. I will recommend this trip to anyone going to Maui.
October 2015
The tour with this group was outstanding. We were greeted at the launch site by our leaders who explained just what to expect, fitted with wet suits and off we went. The ride to Molokini was wonderful on the beautiful Hawaiian morning and we arrived at Molokini before most of the bigger boats got there. The snorkeling was spectacular! On getting back into the boat, one of our party has knee issues and the ladder to re-enter the boat was very difficult. The staff were wonderful and provided help, but be warned - if knee issues are a problem for you, this may not be the correct tour to take. The rest of the day was a wonderful experience except for the turtle adventure. The turtles were few and far between, and difficult to find. I guess I sort of expected more of a Turtle Refuge with tons of the guys swimming around. The use of the words Turtle Town in the tour description is a bit misleading. However, all in all, a great day with lots of fun snorkeling with two very good guides. The experience is highly recommended!
October 2015
LOVED it - the trip was great. The guides did a great job of handling newbies/fraidy cats like me about the snorkeling and more experienced and adventurous people. I was nervous I would feel out of place. The boat ride was GREAT - they were knowledgeable and kept a good commentary with all of us. Everybody seemed equally pleased. Would DEFINITELY do this again and hope to get the same guides again.
September 2015
Sean and Chase did an outstanding job! My wife and I were on our honeymoon, and this was one of our favorite adventures of the trip!
Compared to the other snorkel tours, this was by far the smallest, which in my opinion pays dividends. Sean referred to each and every person by their 1st name. Chase was great at small talk giving tips on where to eat, and he also gave us a location of a waterfall/pool to check out that wasn't too far from our hotel.
There are 4 stops on the tour and all are very unique. The 3rd stop was my least favorite, but we did get to drive by some lava rock, which was very neat.
We saw plenty of fish and coral, but our favorite part was swimming with the sea turtles. We saw 3!
The breakfast and lunch are lite, but filling. Sean does a great job giving the history of what you're looking at, which I believe really brings it all together.
Finally, we were the 1st ones out to sea, and the last ones back. We will certainly be back the next time we are in Hawai'i!
September 2015
If you have only have time for one tour to do in Maui, this is the one!
August 2015
This was a great experience and a must-do for Maui visitors! Very different from just snorkeling off of the beach as you get to boat into deeper waters next to Molokini and experience the awesome island and all of the beautiful reefs, corals, and colorful fish.
Seth, our tour guide and raft driver, was excellent as he had so much information about everything we were seeing and about Hawaii in general. He has a great personality and sense of humor, and played some great music on the boat ride as well. Definitely recommend this tour!!!

August 2015
SO MANY SEA TURTLES!! If I could give this tour 6 stars, I would! Our guides, Seth and Kelly, were fantastic and could not be more helpful. Kelly jumped right in the water with us to show us interesting sealife and Seth did a great job navigating and guiding us along the way. Their rapport was great and kept everyone laughing. We were provided with much needed wetsuits to stay warm, a delicious breakfast of fruit and cinnamon rolls, and a perfect lunch to cap off the day. With the boat's design, they really can get to places the larger boats cannot and offer a unique experience. Highly recommend!
July 2015
Kiki and Chase were especially helpful, knowledgeable and friendly. When there was too much wave action behind the crater, they found wonderful alternatives. The breakfast and lunch were delicious and bountiful! Snorkel equipment and wet suits were trouble free. They thought of everything to make this a very enjoyable trip!
July 2015
This tour was excellent. Our captain Sean and first mate Chase. Were friendly, professional, and very knowledgable about the islands. The snorkel was excellent. We went to 4 snorkel spots,saw amazing fish and swam with at least 4 turtles. I would highly recommend and ask for Sean!!!
Advertisement
Advertisement