Discover the amazing array of marine life that populates Maui's Molokini Crater during this 5-hour small-group snorkeling trip. Head by boat to this long-extinct volcanic crater just off Maui, a top-notch snorkeling site where visibility often surpasses 180 feet (55m). Among the many creatures you may spot during your adventure are rays, tropical fish and variety of other wildlife. Finish your trip at 'Turtle Town,' another well-known snorkel site where you can glide through the water Hawaiian Green Sea Turtles. Your snorkel trip also includes, breakfast, lunch, local guide and snorkel equipment.
Highlights
5-hour Molokini Crater snorkeling and green sea turtle experience from Maui
Look for dolphins at La Perouse Bay
Snorkel the waters of Molokini Crater with visibility exceeding 180 feet (55 meters)
Swim with the Hawaiian green sea turtle!
Enjoy complimentary breakfast and lunch
Recent Photos of This Tour
Small-Group Molokini Snorkel and Green Sea Turtle Adventure from Maui
What You Can Expect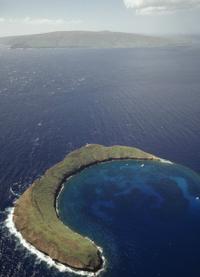 Spend your day in Maui enjoying an up-close encounter with the island's diverse marine life during this snorkeling adventure to some of the island's top sites. You'll stop by Molokini Crater and Turtle Town, allowing you the chance to spot a wealth of tropical fish, rays and Hawaiian Green Sea Turtles.
Check in for your day's snorkel adventure at 6:30am at the Kihei Small Boat Ramp, departing at 7am. Skim over the waters near Maui in a speedy, eco-friendly military-inspired raft, heading first to Molokini Crater. This crescent-shaped crater is all that remains of a volcanic eruption millions of years ago. Today it plays host to a wealth of marine life like rays and tropical fish.
Thanks to your early start time, you'll be the first boat at the site, ensuring an uncrowded snorkeling experience. Enjoy a continental breakfast before jumping into the water. Visibility at this top-notch diving and snorkeling site often exceeds 180 feet (55m), ensuring you clear sight lines all the way to the bottom. If you want to relax, feel free to take a break on the boat's comfortable pontoons for some sunbathing. Then head to the backside of Molokini Crater, a snorkel site few visitors ever see.
Leave Molokini behind as you head to your next snorkel spot at 'Turtle Town,' stopping on the way to see some recent lava flows and at La Perouse Bay, a favorite habitat for Hawaiian spinner dolphins. Arrive at your final snorkel site, 'Turtle Town,' where you'll have a chance to swim with the gentle Hawaiian Green Sea Turtles that inhabit the area. When you come back up, dig into a deli lunch before returning back to your departure point in Maui.
June 2016
Sean and Alex were above our expectations!!!! They were very personable and helpful. Sean stopped several times and gave great history and science lessons about Maui and surrounding volcanos. We want to four different dive sites each was amazing.
June 2016
Small group makes it faster to jump from one spot to the next. You snorkel inside the crater, the back side, and La Perouse bay which is where the sea turtles are. Earlier start means calmer seas, and not having to deal with other group crowds. Ride back was choppy, but was cool with 80s rock music.
June 2016
The best snorkeling trip I've had! The smaller group made it all more personalized and the boat/raft was a lot of fun.
June 2016
Seth and Shane were excellent guides and knew what they were doing and where they were going. We had an excellent time snorkeling Molokini Crater and Turtle Town. Everyone was very friendly because Seth and Shane were great at including us all in their communication, and knew a lot about the areas where we traveled. The boat ride was fun and smooth.

June 2016
This tour was the way to go...Our guides, Tim and Kelly, took great care of our small group. Giving us various history on our way to Molokini. We were also able to snorkel the backside of the crater. On the way to La Perouse Bay to see recent lava flows, some bottle-nose dolphins swam around us. Lots of turtles in turtle town. At no point were we rushed at any of our stops. The tour revolved around us and not the clock! A delicious deli lunch was provided before we headed back to round out the day. This tour is a definite must do!
June 2016
Our guides were alot of fun. Best snorkeling trip I have ever been on. We got to swim with schools of fish and the green sea turtles came right up next to us.
April 2016
Best guides: Kiki and Alex. Only 20 people in the boat and you get to snorkel the backside of the crater which was amazing. Saw 10 dolphins at La Perouse bay, and if you're luck, snorkel with them. We swam with 5 sea turtles at turtle cove.
March 2016
Our guides were friendly, knowledgeable and professional. Within our first 20 minutes we were lucky enough to see two hump back whales, had a wonderful time snorkeling. We saw beautiful fish, coral and two sea turtles. Kelly and Keki always kept an eye on everyone and made sure we had a great trip.
March 2016
Ok, this costs more than the other tours but it is worth the price. First, you need to get up earlier, but that means when you get to snorkeling the other boats have not arrived! Second, if the weather is right, you hit the other side of Molokini, awesome 140 deep view. Kelly and Seth were awesome. We saw whales, dolphins, turtles as well as the reef fish. There was an amazing boat ride at high rev down the coast. So yes, dig deeper and do this one, it is worth it. Food was great.
February 2016
Magical. Swam with clouds of fish on the back side of Molokini. Heard whale song. Swam with sea turtles. Felt safe in the hands of captain and crew.
Advertisement
Advertisement