25 Reviews
Location:

Maui, Hawaii

Duration:

8 hours

(approx.)
Begin your day in Maui with an incredible sunrise view from on top of Haleakala, the island's highest peak, during this exclusive small-group trip, limited to just eight guests. Journey by luxurious limo-van through Haleakala National Park, eventually reaching the massive crater of this 10,000-foot (3,000-meter) summit. Watch as the first rays of light creep across the horizon, painting the sky in an unforgettable array of pastel colors. After the sunrise, head back down to earth for your included breakfast and a trip to view exotic native flowers at a protea garden. Your trip also includes round-trip hotel transport, snacks, breakfast, a local guide and entrance fees.
Highlights
Luxury Haleakala sunrise viewing on Maui
Ascend to the top of Haleakala to watch a spectacular sunrise
Enjoy a guided tour of exotic flowers at a protea garden
Light snack and breakfast at a local restaurant included
Hotel pickup and drop-off included in a luxury limo-van
Small-group tour limited to eight passengers ensures a more intimate experience
Why Our Insiders Chose This Tour
Hotel pickup and the extra-comfy ride make it easier to handle starting out in the wee hours. After the sublime Haleakala sunrise, enjoy a yummy breakfast in a lovely hillside setting. It's hard to think of a more perfect way to start the day!
Recent Photos of This Tour
Small-Group Tour: Luxury Haleakala Sunrise Experience
What You Can Expect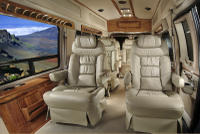 Say hello to a new day in Maui from the island's best vantage point: on top of the amazing Haleakala Peak. This small-group luxury sunrise trip by limo-van, limited to just eight guests and including breakfast, is the perfect way to experience this unforgettable natural sight.
Start your sunrise adventure with an early morning pickup from your Maui hotel. Get situated in your comfortable luxury limo van for the 1.5-hour drive through Haleakala National Park. Continue climbing in your limo-van toward the 10,000-foot (3,000-meter) crater at the summit of this massive shield volcano. As you ascend the 35 miles (56 kilometers) from sea level toward the summit, the desolate rocky terrain will make you feel like you've traveled to a distant alien planet.
Soon you'll arrive at the summit, following the suggestions from your guide about where to sit to get the best views. You'll also receive a light snack to help tide you over until breakfast. Then soak up the slowly increasing waves of light as they creeps across the sky, setting the horizon on fire with an unforgettable light show of pastel colors.
Once your sunrise show has ended, follow your guide back to the limo-van for breakfast, enjoying a meal at a charming local-Hawaiian spot with fantastic views of the surrounding countryside. After fueling up (and getting some caffeine) continue to a local protea garden, where you'll explore a beautiful array of exotic flowers, 90 types of which grow on Maui. The species is actually part a family of wildflowers originally native to South Africa and Australia. Explore this lush botanical site with your guide, listening to a story about the unique journey of these beautiful plants and how they ended up in Maui.
Finish your day in the late morning with a return drop-off at your Maui hotel.
December 2015
The most recommended, like a private tour with only four person, which I love it. Our tour guide was super nice and friendly, it was quite chilly on top of the mountain, our beloved guide prepared blankets and hats for us, helping us to take photos and secure the best standing/sitting position to view the sunrise. The view was breathtaking and the trip was worthwhile, thank you for taking care of us, Mahalo!!
November 2015
The trip was well planned and we were able to see things we would have never seen without the experienced tour guide!
November 2015
We travelled in a group of six, vehicle was as promised, luxurious! We were picked up at agreed time and our guide, Scotty, was involved throughout telling us about Maui and the flora and fauna. The provision of extra clothing was greatly appreciated and well needed. The experience of the night sky with his knowledge of the stars and planets made the wait for sunrise interesting and very enjoyable. Of course the run up to sunrise was spectacular and Scots knowledge and help with cameras and phones was an added bonus. The group had a great time rounded off by the enjoyable breakfast and tour of the garden. We were even blessed with some fantastic photo opportunities with some beautiful rainbows. Altogether a fantastic trip and worth every penny, highly recommended
October 2015
Scott picked us up right on time, 2:30 AM. Luckily there was only 4 of us on this tour today or my husband would not have been able to go. He uses a walker. After picking up the other couple we took the long ride up Haleakala. I am very glad we took the tour because I could relax and enjoy the scenery, not worry about the long, winding road. When we got to the top Scott got the 3 of us settled in the prefect spot he went back for my husband. He made sure my husband was well taken care of. On the way up we could see plenty of stars, but when we got to the top it was socked in. Yikes. Then it started to drizzle. Scott brought out his own supply of jackets and made sure we were all covered with something that would keep us dry. It was really cold and my husband was not handling the cold very well, so Scott got him settled in the observation center. The time for sunrise came and passed and still no beautiful sunrise. I was a bit disappointed, but it's not always guaranteed that you will see the sunrise. After waiting a little while Scott took us up to the very top of the volcano, 10,023 feet. We could not even see the observation building just a short distance off. But we did get to see the Ahinahina plant. It is an endangered plant that can only be found on top of Haleakala. It takes 5 years from seedling to flowering. Very beautiful. On the way down Scott got word that the State bird, the Nene, was at the front gate. So we stopped to see it. It is also an endangered bird. Nice. Breakfast was at the Kula Inn. Great food and beautiful scenic view. A quick guided stroll through the flower garden and off we went. On our drive home Scott was very knowledgeable about the local culture and scenery. Back to our room by about 10:00. Glad we took the tour, no beautiful sunrise, but 2 endangered species. Worth it.
October 2015
This was a great tour! The small group size 6 people and very comfy and roomy van was great - especially for such an early morning departure. Scotty, our guide, was amazing and really made this adventure awesome! He was very invested, truly cares and ensured that he did everything he could to help make this tour a terrific experience for his guests! I wouldn't hesitate to book another tour with the local tour company and would request Scotty as the guide!
September 2015
Had a great tour of Haleakala Crater and our guide was exceptionally knowledgeable. Scotty had us there first in line for our photos of the sunrise. We were fortunate the weather cooperated with us and we didn't freeze too much, although Scotty had us covered there too and had extra jackets for us to wear. Breakfast afterwards was a welcome addition. All in all a great experience.
June 2015
Highlight of week on Maui.. stunning view of the milky way followed by sun rise over the volcano.
Al our guide was very entertaining and informative and made the trip feel special.
March 2015
This tour was epic! The guide was fun and knowledgeable, knew where we had to be and when. The sunrise was spectacular, what was unexpected was how simply amazing the stargazing was prior to the sun showing up - and the guide knew everything to point out! EPIC!
December 2014
Got out of bed at 2am and thought "what was i thinking"?
Aron was FAN TASTIC.
The sunrise FANTASTIC.
The breakfsst FANTASTIC.
The park service sunrise "chant" FANTISTIC
The memory of tjis trip will be my mental break to a HAPPY PLACE!! THANK YOU VIATOR
October 2014
Amazing Experience - well worth the 2 am pick up time.
Looked like we were looking at the moon. Colours of the sunrise were spectacular. The guide was very knowledgable as well. Would recommend to all.
Advertisement
Advertisement