Begin your day in Maui with an incredible sunrise view from on top of Haleakala, the island's highest peak, during this exclusive small-group trip, limited to just eight guests. Journey by luxurious limo-van through Haleakala National Park, eventually reaching the massive crater of this 10,000-foot (3,000-meter) summit. Watch as the first rays of light creep across the horizon, painting the sky in an unforgettable array of pastel colors. After the sunrise, head back down to earth for your included breakfast and a trip to view exotic native flowers at a protea garden. Your trip also includes round-trip hotel transport, snacks, breakfast, a local guide and entrance fees.
Highlights
Luxury Haleakala sunrise viewing on Maui
Ascend to the top of Haleakala to watch a spectacular sunrise
Enjoy a guided tour of exotic flowers at a protea garden
Light snack and breakfast at a local restaurant included
Hotel pickup and drop-off included in a luxury limo-van
Small-group tour limited to eight passengers ensures a more intimate experience
Why Our Insiders Chose This Tour
Hotel pickup and the extra-comfy ride make it easier to handle starting out in the wee hours. After the sublime Haleakala sunrise, enjoy a yummy breakfast in a lovely hillside setting. It's hard to think of a more perfect way to start the day!
Recent Photos of This Tour
Small-Group Tour: Luxury Haleakala Sunrise Experience
What You Can Expect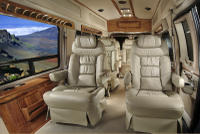 Say hello to a new day in Maui from the island's best vantage point: on top of the amazing Haleakala Peak. This small-group luxury sunrise trip by limo-van, limited to just eight guests and including breakfast, is the perfect way to experience this unforgettable natural sight.
Start your sunrise adventure with an early morning pickup from your Maui hotel. Get situated in your comfortable luxury limo van for the 1.5-hour drive through Haleakala National Park. Continue climbing in your limo-van toward the 10,000-foot (3,000-meter) crater at the summit of this massive shield volcano. As you ascend the 35 miles (56 kilometers) from sea level toward the summit, the desolate rocky terrain will make you feel like you've traveled to a distant alien planet.
Soon you'll arrive at the summit, following the suggestions from your guide about where to sit to get the best views. You'll also receive a light snack to help tide you over until breakfast. Then soak up the slowly increasing waves of light as they creeps across the sky, setting the horizon on fire with an unforgettable light show of pastel colors.
Once your sunrise show has ended, follow your guide back to the limo-van for breakfast, enjoying a meal at a charming local-Hawaiian spot with fantastic views of the surrounding countryside. After fueling up (and getting some caffeine) continue to a local protea garden, where you'll explore a beautiful array of exotic flowers, 90 types of which grow on Maui. The species is actually part a family of wildflowers originally native to South Africa and Australia. Explore this lush botanical site with your guide, listening to a story about the unique journey of these beautiful plants and how they ended up in Maui.
Finish your day in the late morning with a return drop-off at your Maui hotel.

June 2016
Our guide, Sean, was great...lots of knowledge and always had an answer to our groups many questions. He got us up there before any other group which afforded us the best spot for viewing the sunrise. He was also well prepared with blankets for anyone who didn't realize how cold it could be. There are no words to adequately describe the sunrise...to say spectacular would be an understatement. After the sunrise, many left to head back down, but we stayed to see the magnificent views from the Summit. What a treat. Breakfast at the Kula Lodge was delicious and a walk through their beautiful garden was a great end to our tour
May 2016
Sean was our tour guide and was on time for our early morning pickup and got us to the front of the line for a great view. The breakfast at the Kula Lodge was nice and their gardens are beautiful. Sean was friendly and informative throughout the trip.
May 2016
This was the perfect tour for me. Our tour guide, Aaron was the best!! He took excellent care of us and made sure we had the best spot for viewing this expectacular event. He even provided us with blankets and gloves to keep us warm!!! I would recommend this tour to my friends and family.
April 2016
My wife Debbie and I did the small group sunrise tour to Haleakala, and absolutely LOVED it! Our driver, Scott, was the absolute best! We were picked up on time, and the whole ride there he talked about the sights we were seeing obviously, he was very knowledgeable. He got us to the top nice and early enough to get a prime photo-taking spot. Good old Scott was prepared, too - it was cold up there, and he had blankets, hats and coats, in case. He also showed us some neat tricks on taking pictures with our phonew, which was very helpful! After the sunrise, we took some great pictures of the flowers and vegetation, and Scott even took our picture at the summit sign. We left, and had a very delicious breakfast at a lodge near the bottom of Haleakala. Then, we took a tour of the surrounding garden, where we took more awesome pictures. We then went into the flower shop, where we ordered a beautiful arrangement of local flowers and had them sent to friends of ours they later told us it was the most gorgeous arrangement of flowers they had ever received! We proceeded back to the hotel, with Scott telling us a great story about the sugar cane fields, and teaching us how to speak Hawaiian. We got back to our hotel in plenty of time to enjoy the rest of our day, which we did on the beach by our hotel catching up on our sleep - ha ha! We highly recommend the small-group sunrise tour to Haleakala - you will not be disappointed!
KCO USA
March 2016
This is a tour to be taken once, very early start! Our tour guide, Aaron, was very knowledgeable and considerate. He had blankets for all of us, which were very much appreciated. Temptation tours has a very comfortable fleet of vans and limits the number of people on each trip. Our tour had only myself, my husband and a family of four. I would highly recommend.

Johanna United States of ...
March 2016
Great experience, Scotty was very professional and proud to make our trip memorable, making sure we saw it all....Well worth the time and expense, definitely recommend the small tour..
March 2016
Awesome, amazing, spectacular stargazing and sunrise!!! Our tour guide was very knowledgable!
March 2016
This turned out to be a private tour, just the two of us and Scott, our guide. All started out well the night was clear, and there were lots of shooting stars. However, as we climbed the mountain, clouds rolled in. By the time we got to the top, there was a slashing rain storm and wind gusts of 60 mph. Scott provided us with extra jackets to keep out the rain and cold and found us a sheltered spot to try to wait out the rain. At no time did he make us feel like he minded standing out there in the rain and cold. Unfortunately, the rain did not stop and we had to abandon our hopes for star gazing and a memorable sunrise. However, we did enjoy the breakfast down below and the tour of the Protea garden, which was lovely. Scott was so knowledgeable about the flowers and really made the whole disappointing experience as pleasant as he could. Would love to go back and see the sun!
December 2015
The most recommended, like a private tour with only four person, which I love it. Our tour guide was super nice and friendly, it was quite chilly on top of the mountain, our beloved guide prepared blankets and hats for us, helping us to take photos and secure the best standing/sitting position to view the sunrise. The view was breathtaking and the trip was worthwhile, thank you for taking care of us, Mahalo!!
November 2015
The trip was well planned and we were able to see things we would have never seen without the experienced tour guide!
Advertisement
Advertisement