213 Reviews
Location:

Maui, Hawaii

Duration:

7 - 8 hours
Special Offer
Book with us and save 10% compared to another travel site!
On this Haleakala Sunrise Tour, witness dawn break above the clouds from Maui's highest peak. Standing high above clouds that roll like waves off the blue Pacific Ocean, you'll watch as sunlight illuminates cinder cones inside Haleakala Crater. On this Haleakala Sunrise Tour, visitors will experience a natural wonder unlike any other in the world.

Highlights
Sunrise trip to Haleakala on Maui
See the sun rise over Haleakala crater
Breathtaking views of Maui at sunrise

Scenic drive through Kula District and Puu Ulaula Overlook
Professionally narrated tour
Pick-up and drop-off at Maui hotels
Why Our Insiders Chose This Tour
The departure time is super-early so there's no need to sleep the night before -- take a nap after you've seen one of the most majestic sunrises of your life!
Recent Photos of This Tour
Spectacular Haleakala Maui Sunrise Tour
What You Can Expect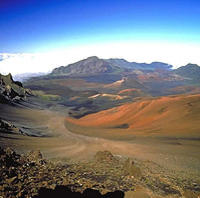 Haleakala rises over 10,000 feet (3,000 meters) above sea level and is one of Maui's most stunning icons. Mark Twain, when writing about sunrise at Haleakala Crater in 1866, called it "the most sublime spectacle I have ever witnessed, and the memory of it will remain with me always."

To take in the magnificent sunrise for yourself, your day begins with an early morning drive through the Kula District, where you'll pass the Puu Ulaula Overlook and Maui's rare Silversword plants. Arrive inside the National Park in the early, pre-dawn hours, and seek out a spot on the crater rim for a front row seat to the show. When the sun finally crests the clouds and bathes the crater in light, you'll witness the legendary sunrise of Haleakala!

October 2015
Peaches was our guide for the day, she did an outstanding job! Very informative. If you get a little queasy you might consider something for motion sickness, the road is winding. The breakfast was delicious, everyone at our table concurred. Thanks for a great morning.
September 2015
This tour is worthwhile alone to experience a new creation moment. Go prepared to stand for about an hour and a half to observe the crystalline night sky and the diamonds glittering there, and the creeping daylight that finally exposes shadows and crevices, and finally, the explosion of our star sun over the horizon! As the NPS guide indicated, each new day is unique so make it your own. Our driver, Glen, seemed knowledgeable, but perhaps not as engaging as I'd enjoy, but it's a good trip. Breakfast at the golf clubhouse was plentiful and good. It's cold so go prepared...some do,some don't. The firing of the cane fields was unique. The number of bicycle riders descending the mountain is amazing.
September 2015
It was a once in a lifetime experience that was magical to watch as the sun rose above the white fluffy clouds!
September 2015
Rory our tour guide was the best! He brought such great energy to the trip which was much needed since the tour starts at 2am. He was also very knowledgeable about the history of Haleakala and Hawaii, he made everyone laugh and feel comfortable and safe throughout the tour. He simply made this tour awesome. Coffee, pastries and breakfast on this tour was another plus!
August 2015
The Sunrise Tour was the highlight of our vacation. It was well organized with bathroom and breakfast breaks. The tour guide, Glenn, was a wealth of knowledge. We enjoyed it tremendously! The sunrise was lovely!
August 2015
Out guide, Glen, was knowledgable and entertaining. The bus was comfortable and our breakfast delicious but nothing can compare to the breathtaking views Mother Nature and Haleakala had in store for us. Mahalo.
August 2015
This tour really is spectacular just like the title intimates. It was cold up there, not as cold as it could have been but still quite cold so anyone doing this tour should definitely dress warmly, bring gloves, wear layers, carry a blanket, whatever you need. Once warm just stand and wait for the most breathtaking views you will see and experience. Totally worth it, I highly recommend!
August 2015
Overall highlight of our trip to Maui....despite getting up at 130am to be picked up at 2am. Rory our driver was excellent, he provided a great history of other islands no he way back as well as getting us to the top in enough time to have a prime spot for viewing. While it is a good chunk of time to devote and you have to get up early we were back by 11am with enough time to lounge by the pool and take a much needed nap! Glad we did it and we'll worth it, but no need to do it again on our next trip back whenever that might be!
August 2015
The sunrise was indescribably amazing! The tour was great and especially the tour guide!
Note: Dress very warmly, it is freezing up there!! Bundle if you can.
August 2015
This was pretty cool. We weren't thrilled about being picked up so early at our hotel but it takes awhile to get up to the top of the crater so it was best to have someone else do the driving in the dark in unfamiliar territory. and it was worth it!
Beautiful sunrise above the clouds! Do it!
Special Offer
$136.35 Save $13.65
Advertisement
Advertisement