Experience an incredible daybreak view from top of Maui's highest peak during this 7- to 8-hour Mt. Haleakala sunrise tour. Journey with a guide to the summit of this massive volcano to witness the orange and red-colored dawn of a new day set amidst the clouds, enjoying the sublime beauty of a sight that once inspired literary great Mark Twain. This Maui sunrise excursion also includes round-trip hotel transport, continental breakfast and entrance fees.
Highlights
Sunrise trip to Haleakala on Maui
See the sun rise over Haleakala crater
Breathtaking views of Maui at sunrise

Scenic drive through Kula District and Puu Ulaula Overlook
Professionally narrated tour
Pick-up and drop-off at Maui hotels
Why Our Insiders Chose This Tour
The departure time is super-early so there's no need to sleep the night before -- take a nap after you've seen one of the most majestic sunrises of your life!
Recent Photos of This Tour
Spectacular Haleakala Maui Sunrise Tour
What You Can Expect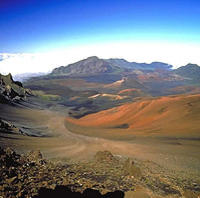 Start your day in Maui with a breathtaking sunrise view of the island from atop its highest peak on this daybreak excursion to Mount Haleakala. This exceptional sunrise experience is sure to be a highlight of your trip to Maui.
Start your trip in the dark of the very early morning with a pickup at your Maui hotel. You'll then continue by air-conditioned minibus on a scenic drive through the island, passing the Kula District, Puu Ulaula Overlook and Maui's rare silversword plants.
Continue with a steady climb by minibus up Haleakala, rising more than 10,000 feet (3,000 meters) above sea level. The views from up above are nothing short of spectacular. Writer Mark Twain, upon visiting the peak in 1866, wrote that the volcano was "the most sublime spectacle I ever witnessed and the memory of it will remain with me always."
Arrive at the summit and settle in as you observe the first rays of the new day slowly creep across the distant horizon. Soon the sky fills with the majestic glow of the new day, and the warm beams of light creep across the island of Maui, illuminating the land below. It's a sight you're sure to remember for many years to come.
At the end of your morning sunrise experience you'll receive a drop-off back at your Maui hotel, tired but thrilled by your amazing morning trip.
June 2016
Nettie is the best of the best tour guides! she made the early morning trip to Mt Haleakala so much fun! She was very knowledge, a great personality, and our family of 9 thoroughly enjoyed the 4:50am sunrise!
June 2016
So happy we had this experience. Definitely worth the 2am pickup. Our driver Rory was fabulous, so knowledgeable, friendly and funny!
Would highly recommend this tour to anyone visiting Maui.
June 2016
The tour guide was knowledgeable it was one of my favorite experience
June 2016
Years ago I did the bicycle ride down Haleakala. So this trip I opted for the sunrise. Good choice. The pickup at the hotel was early-middle if the night early, The sunrise was spectacular. It had me singing it was so beautiful. Well worth the cost and the early rise. Highly recommend
June 2016
We had a wonderful tour on our honeymoon. Though we had a rental car, neither of us fancied driving winding roads in the middle of the night with other tourists and tour buses going the same direction.
Amazing sunrise but make sure you wrap up warm!! It and #39;s freezing!

June 2016
Though the word 'awesome' has gotten overused over the years, this was a genuinely awesome tour to go on. I recommend dressing warm, for it can be 20 to 40 degrees on Haleakala early in the morning. The view form the summit is breathtaking, but it's watching the dramatic sunrise that is the climax of this tour.
June 2016
The Sunrise Tour to Haleakala was excellent! Nettie was our guide and she did an excellent job. She was very informative and entertaining. Make sure you take a warm jacket on this tour as it is very chilly at the top! And go to bed early as you will be picked up at your hotel around 2 am. It is a very fun experience! I highly recommend it!
June 2016
Tour guide Rory was great. Very knowledgeable and new the road up to the top very well. We really enjoyed the trip.
May 2016
Glen was our tour guide. He was very knowledgeable and interesting. He made the trip extremely enjoyable. He was prompt and very courteous. I would recommend this tour to anyone visiting Maui as a must see. We had a blast. Spectacular.

May 2016
I thought the tour was amazing however I would and #39;ve loved better communication about the time of pick up since I was told to be in the hotel lobby at 1:50am and was not picked up until 2:50am.
Advertisement
Advertisement