Embrace the island spirit as soon as you land in Maui with a fresh flower lei greeting at Kahului Airport. Soak up the sweet scent of the local symbol of love and friendship, made from island orchids. Enjoy your choice of single- or triple-strand leis, or upgrade to the deluxe package for honeymooners.

Highlights
Fresh flower lei greeting at the Kahului Airport
Professional meet and greet assistance upon arrival at Kahului Airport (OGG)

Enjoy the symbol of love and friendship and true Hawaiian welcoming
Multiple lei options available!
What You Can Expect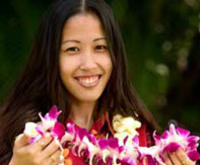 The history of the lei dates back to the ancient Hawaiians, who wore native flowers, braided leaves, shells, feathers, stones and bones to beautify themselves. They often offered these garlands to each other and to their gods as a symbol of love and friendship.

Look for your lei greeter once you stroll past security at Kahului Airport in Maui. Enjoy a warm, Aloha welcome while a fresh strand of orchids is placed around your neck. Inhale the sweet fragrance and make the immediate switch into relaxation mode for the beginning of your trip.

For honeymooners, upgrade to the deluxe package to include two, ornate orchid leis.
February 2016
The Lei greeting was just what we expected. The floors were beautiful and the person meeting us was friendly to work with.....I would recommend it for anyone who wants the traditional Hawaii greeting.
January 2016
This was my granddaughter's first time to Maui she was thrilled with the lei! It was fresh and lasted long after we were home! Thanks
July 2015
It was a great surprise for my family after a very long flight from NY to Maui! The greeting was lovely and they helped us with our bags and onto our car rental shuttle . In addition, they gave us good travel tips for Maui .
December 2014
Our flight was late but our greeter was there and friendly and very helpful. Excellent
October 2014
She was there with a sign and was very friendly and helpful...thanks so much for making our welcome to Maui special!
December 2013
Lei's were beautiful and made it really feel like you had made it to Hawaii. The greeters were very helpful and helped us find our way to our shuttles.
June 2013
They loved the leis. The flowers lasted a long time. Worth every penny.
May 2013
It was lovely because they greet you with a personalized sign. Nice touch!
February 2013
We arrived late Friday night and our Leis were waiting for us. Greeter was friendly and offered great advice for rental car and our luggage pick up.

September 2014
The leis were beautiful, but the greeting was a joke. The guy was standing there with a sign and the leis. We gave them to us without any ceremony or real greeting. Maybe this was because we arrived in the evening. We would not do it again. We got a better getting for free at Disney's Aulani.
Advertisement
Advertisement