Leave your cares and worries behind when you join this Maui kayaking tour, which casually paddles the turquoise waters above Turtle Reef in Maui. Launching out of Makena Landing just 10 minutes south of Wailea, this Maui kayaking tour hugs the shoreline of an historic volcanic cove. In addition to teeming with schools of fish, this area is home to everyone's favorite—the endangered Hawaiian Green sea turtle.
Highlights
Kayak tour off the south side of Maui
Snorkeling adventure in the tropical underwater world
Close encounter with marine life including endangered green sea turtles

Stunning views of Haleakala
Optional swimming or snorkeling adventure

What You Can Expect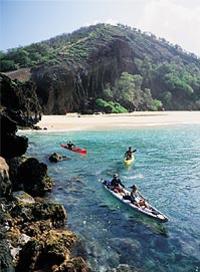 This 2.5 mile (4km) Maui kayaking tour is a short and leisurely paddle, designed as a family friendly activity for paddlers 5 and up. It doesn't matter if you're a seasoned pro or it's your very first time in a kayak, as everyone who experiences this kayaking in Maui can appreciate the tropical beauty.

Hear the history of Makena Bay and get views of Haleakala volcano, with the main highlight being snorkeling with sea turtles as they casually float above the reef. Makena is one of the best spots for a family to go kayaking in Maui, where the warm, clear, protected waters are just waiting to be explored.
May 2015
Great experience! We had a such a knowledgable and wonderful guide!
March 2015
This was fantastic! I would do it again in a heartbeat! The tour guide was very knowledgeable and fun!
February 2015
This trip was one of the best things we did during three weeks on three different islands in Hawaii!
Our guide was so awesome, down to earth, very personable, and seemed to let us just kind of go with the flow. We got to hear whales singing, swim with turtles, and touch some sea urchins. Loved it.
February 2015
Our guide Garette was awesome! Great experience!
October 2014
We loved this "tour." The visibility wasn't great, but our guide made the most of the conditions, and we saw many fascinating fish, several turtles - and a manta ray! The guide was informative and clearly had a strong interest in the environment. He informed us without being tedious, and his knowledge certainly enhanced our experience. We were pleased we did it this way rather than with a larger group off a boat.
August 2014
Really great Tour. Had Steve as our guide he was funny and knowledgable of the area and the marine life, great guy. Would definitely recommend doing. The snorkelling was great and we were able to see heaps of turtles up close
June 2014
Excellent, saw and swam with 6 green turtles. Fantastic guide.
5/5
May 2014
Wife and I went on this kayak tour and it was great! We had a small group and our guide was very knowledgeable about the islands and its history. My wife went snorkeling while I stayed behind in the kayak and she enjoyed it very much. It was her first time snorkeling despite her fears of the ocean
January 2014
Great tour, highly recommend for all level kayakers and snorkelers.
December 2013
Loved our guide, Garrett. He was very patient, well-informed and enthusiastic.
Advertisement
Advertisement