Ancient Polynesians used the spoken word to pass the legends of Hawaii from generation to generation. Today those stories are given form in the Ulalena Show, the dynamic musical extravaganza playing to standing ovations for over three years at the state-of-the-art Maui Theatre. Dazzling special effects, a breathtaking musical score and intense performances make the Ulalena Show an experience not to be missed!
Highlights
Ulalena show at the Maui theater
Explore Hawaiian history through music, dance and theater
Over 25 professional performers
What You Can Expect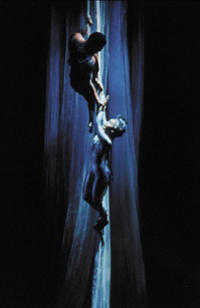 This performance is an artistic tribute to the unique cultures and traditions of Hawaii, exploring the depth of Hawaiian mythical history through the whimsical adventure of the Ulalena Show.

Over 25 professional performers bring the images of Hawaii to life through the power of imagery, music, dance, song, humor and acrobatics. You'll participate in an intimate dialogue with the universal elements of nature - where gods and goddesses coexist within the hearts and imaginations of everyone who dares to go beyond the visible images of their own existence.
March 2015
My wife and I have attended a number of theatrical performances over the years, Broadway, major city theatres, Cirque du Soleil performances,etc. As vacationers on Maui, we expected more of a luau type
show of Hawaiiana. What a shocking and splendid surprise Ulalena was. It is masterfully choreographed, beautifully presented and a most pleasant theatre experience. I have since recommended it to a number of friends who are on their way to Maui! R. Huston Los Angeles
June 2014
this was an excellent show. the best show ever.
Advertisement
Advertisement