Delve into Hawaiian history at the 90-minute Ulalena Show in Maui. Incorporating island folklore, music, dance, theatre and special effects, this show is a thrilling way to experience Hawaii's rich culture. See over 25 professional performers bring legend to life through stunning choreography inside the state-of-the-art Maui Theatre.


Highlights
Ulalena show at the Maui theater
Explore Hawaiian history through music, dance and theater
Over 25 professional performers
What You Can Expect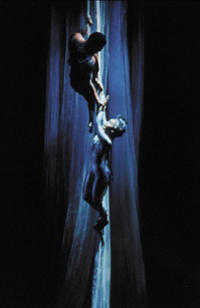 This performance is an artistic tribute to the unique cultures and traditions of Hawaii, exploring the depth of Hawaiian mythical history through the whimsical adventure of the Ulalena Show.

Over 25 professional performers bring the images of Hawaii to life through the power of imagery, music, dance, song, humor and acrobatics. You'll participate in an intimate dialogue with the universal elements of nature - where gods and goddesses coexist within the hearts and imaginations of everyone who dares to go beyond the visible images of their own existence.
November 2015
This is an interpretive show. If you read the brochure given at the box office before when you get your tickets, you MIGHT be able to follow the story. If you cannot follow very well, do not sweat it, enjoy the spectacular dance, percussion and lights. To me, the highlight was the three musicians and the lead singer on stage. Absolutely amazing, and when over, the entire cast minus the musicians are in the lobby to say Aloha. The concessions are wonderful, the seats very comfortable, and I doubt this will run for a whole lot longer, our theater was only 1/3 full. Do not miss this wonderful show.

June 2015
Ulalena is a beautiful showcase of the Hawaiian culture. The Maui Theatre is a smaller auditorium, so no matter where you sit you will have a great view. I am a big fan of Cirque du Soleil shows, and this one had just a touch of Cirque feel to it. This, mixed with the culture and legends of Hawaii made for an awesome show. The performers are wonderful; the main singer is absolutely amazing. The costumes and dancing are wonderful. We had a fantastic time. I highly recommend this show – It's a great way to spend an evening in Lahaina.
June 2015
Beautifully produced, this is a great way to learn of the history and myths of Hawaii. If you do this early on, the rest of the trip and stories you hear about Maui make more sense. The performers are outstanding, the music stirring. A delightful way to learn something. The theater is spacious, well appointed and comfortable. Highly recommend.
March 2015
My wife and I have attended a number of theatrical performances over the years, Broadway, major city theatres, Cirque du Soleil performances,etc. As vacationers on Maui, we expected more of a luau type
show of Hawaiiana. What a shocking and splendid surprise Ulalena was. It is masterfully choreographed, beautifully presented and a most pleasant theatre experience. I have since recommended it to a number of friends who are on their way to Maui! R. Huston Los Angeles
June 2014
this was an excellent show. the best show ever.
Spanish traveller Spain
April 2013
This was a very interesting show, all about the history of the Hawaiian people from the beginning, with a simulated sea cruise from Tahiti, where they followed the birds, knowing that birds would have to stop somewhere. Then we saw how people lived before the first Europeans arrived, and afterwards, and how the volcanoes erupted. Very well done and well worth a visit. However, I found that as senior citizens, we could have got in for half price, so this worked out quite expensive. If you are 65+, then book your ticket when you arrive on Maui. (Sorry, Viator, maybe you shoud consider a senior category, as well as adult and child?)
February 2013
This was an amazing show. Art Direction and Choreography was worthy of Broadway.
September 2012
Of all the shows I've ever seen, this has to be my favourite and I'm amazed that it hasn't travelled the world! The music, singing and acting are of the highest standard. This is a "Must See".
January 2012
March 2016
Advertisement
Advertisement