This 60-minute Maui helicopter tour is packed with jaw-dropping sights, from waterfalls tumbling through hidden valleys to the tallest sea cliffs of Earth. During this Maui helicopter tour of the West Maui Mountains and Molokai, visitors will soar above mist shrouded ridgelines that are covered in native ferns, and get bird's eye views of parts of the island that are only accessible by air. Crane your neck up as a 1,000 ft. waterfall spills all the way down towards the sea, or casually look down as the blue Pacific rolls right underneath your feet.
Highlights
60-minute helicopter tour over west Maui and Molokai

Soar above the beautiful landscape including Halawa Valley, the "Wall of Tears", dormant volcanoes, lava flows, tropical rainforests, waterfalls and coastline
Enjoy breathtaking bird's eye views of Maui
Learn about the fascinating history of Maui from an expert personal guide
What You Can Expect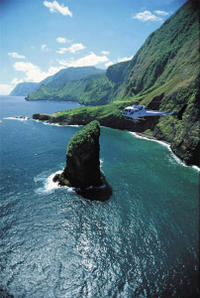 When you book a helicopter tour on Maui, you gain entry to a world that only a handful of visitors will see.

From the moment you lift off from Kahului Heliport you're surrounded by gorgeous views—from fields of green sugar beneath your feet to the turquoise northern shoreline. In the luxurious, 6-seat, A-star helicopter, cruise your way towards the knife-thin ridgelines of the rugged West Maui Mountains, while your expert pilot provides historical narration through the comfortable two-way headset.

As you buzz through the middle of the eroded volcano, soar past the famous "Wall of Tears" and its dozens of cascading falls, and see 1,100 ft. Honokohau Falls—the tallest waterfall on Maui. When you exit the middle of the West Maui Mountains, you'll fly above the white sand beaches of the island's Kapalua coast, before crossing the whitecapped Pailolo Channel that separates Maui from Molokai. In winter, there's an excellent chance you'll see Humpback whales as they slowly cruise the channel—occasionally spouting, slapping their fins, or disappearing for a dive.

Upon reaching Molokai's isolated coastline, one of the first sights you'll see beneath you is Moku Ho'oniki rock. This islet was used for target practice by US military bombers, and is right offshore of Halawa Valley—the very first settlement on Molokai. As you whir across Halawa Valley, keep an eye out for Moa'ula Falls that spills through the back of the valley. Even more impressive is Kahiwa Falls, which drops 1,750 feet (533m) towards a black sand beach below. Finish the tour with a flight along the tallest sea cliffs in the world—an exclamation point on the tropical beauty you'll see on this Maui helicopter tour.
January 2016
The trip was amazing. Awesome views and very knowledgeable pilot.
December 2014
April 2014
Wow - what an amazing way to see Maui and it's neighboring islands - truly an incredible experience
December 2013
Good from start to finish. Pilot was very informative, personable and made the trip memorable. Highly recommended.
July 2013
Best activity of trip. I would do this again. Our pilot was great! Best views on trip.
March 2012
What spectacular views. Maui is so beautiful.

March 2013
Beautiful views and sights, with a knowledgable pilot. We brought our 8 and 11 year old daughters and they loved it, as did we.
June 2016
Amazing and unforgettable views! An experience I won't forget. The only downside was the very loud rock music that was playing the whole time, and the pilot was nice, and gave a few facts here and there, but overall wasn't too engaged with the tourist group. I had the feeling he enjoyed flying helicopters more then giving tours, and this was a way to pursue his passion. Nothing wrong with that, just that felt he was there more for himself then for us.
July 2012
The views were breathtaking and well worth it!
The tour guide however was was too touristy and boring... Rather than being informative about the island and its culture it was as cheap advertisement for sites nd restaurants etc.
Could have and should have been better!
August 2015
It was OK, but could have been better.
Advertisement
Advertisement