On this exclusive helicopter tour of Maui, soar past valleys and hidden waterfalls that are inaccessible by land, and hover above ridgelines that sit at the heart of the rugged West Maui mountains. Cross the channel to neighboring Molokai, where vertical sea cliffs spill 4,000 feet to the turbid shoreline below, and get up-close views of a part of the world that has barely been touch by man.
Highlights
45-minute helicopter tour over west Maui and Molokai

Fly over spectacular scenery including dormant volcanoes, lava flows, tropical rainforests and deep valleys
Enjoy breathtaking bird's eye views of Maui
Excellent narration provides background to all sights

Learn about the fascinating history of Maui from an expert personal guide
Recent Photos of This Tour
West Maui and Molokai Exclusive 45-Minute Helicopter Tour
What You Can Expect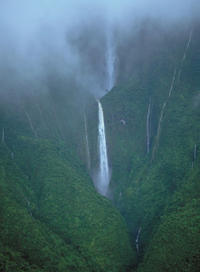 There's no better way to see Hawaii than from the seat of a helicopter, since most of the valleys, ridgelines, and waterfalls can only be viewed from the air. On this 45-minute helicopter tour of the West Maui Mountains and Molokai, you'll be instantly transported from Kahului Heliport to the heart of the ancient Hawaii, where it's said that the bones of ancient chiefs are still secretly buried in these valleys.

Hover above ridgelines carved by 1.5 million years of wind and rain erosion, where mists cling to the bright green leaves of indigenous trees and ferns.

Staring out the window of the A-star helicopter—which has six, forward-facing seats—watch as dozens of cascading waterfalls carve rivulets down the cliffs. After circling the center of the West Maui Mountains, this Maui helicopter tour continues to Molokai for a flight past the world's tallest sea cliffs, which dramatically plunge nearly 4,000 feet to waves crashing on the coast.

Throughout this helicopter tour of Maui, your expert pilot provides narration on history, geology, and wildlife, and DVD's of the entire experience can be purchased at the end of the flight.
June 2016
The pilot made the flight extremely enjoyable, even though it was an overcast day with drizzling rain. Flight was as he said, a magic carpet ride. I highly recommend Air Maui.
June 2016
The experience was incredible and the process was a well-oiled machine. Awesome views and pleasant and knowledgeable pilot.
May 2016
Fantastic experience. Highly recommended!!!
March 2016
Our guide spoke very quietly, had a problem making out what he was saying sometimes. But it was still spectacular views. Well worth the cost, although the pic and flash drive you can buy is not worth what they charge. do yourselves a favor and save your money for something else.

February 2016
It was our first experience of helicopter tour and must say it was indeed a great one.
Our pilot Cameron was very experienced and was great guide.
The view from the top is simply superb and you get to see the hidden beauty of the island.
You can see the lush green valleys, blue sea, volcanic mountains, sharp edged cliffs, beautiful waterfalls and so much more and feel so close to the nature.
Helicopter tour is must recommended activity for all visiting Maui.
According to my wife it was the best anniversary gift for her.
Thanks Air Maui for making our first wedding anniversary all the more memorable.
December 2015
Molokai was simply beautiful from the air but make sure you take air sick pills those turns overlooking waterfalls were stomach flipping! I would take this tour again in a nanosecond!
Willard M USA
November 2015
The staff was excellent. Views were incredible. Was well worth the cost. Pilot was very skilled. Only wish he could have been a bit more outgoing. I would highly encourage taking this trip. North Molokai sea cliffs and waterfalls are outstanding.
November 2015
Amazing. Absolutely amazing. Bought this as a birthday gift for hubby and it was a hit plus more. We just loved it. And our pilot Troy was really lovely. Informative and fun. Thanks

November 2015
See sights that are only accessible by air. Everyone associated with the company was great to us.
October 2015
Great experience!!! The views were awesome with the waterfalls. Everyone at the helicopter company was friendly and professional. I felt safe in their helicopter when I found out they have a perfect safety record.
Advertisement
Advertisement